Posted on
Fri, Jul 12, 2013 : 10:30 a.m.
Frugal Friday at Achilles Coney Restaurant - order a whole meal for $5, or a snack for even less
By Mary Bilyeu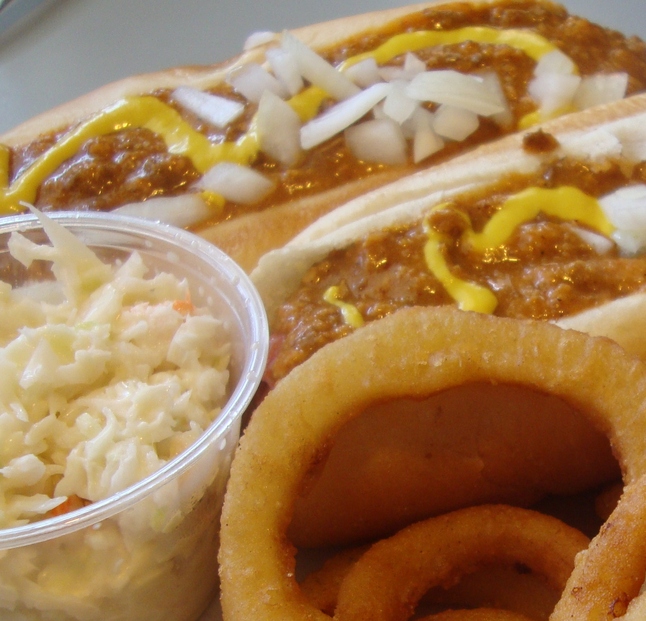 Mary Bilyeu | Contributor
Frugal Floozie Friday is a feature that seeks out dishes — appetizers, drinks, snacks, desserts, sandwiches, whatever — for $5 or less per person. Sometimes I split generously-sized items with loved ones, saving both money and calories; sometimes I find a great deal on a single serving that fits perfectly within the mandatory budget. I try to showcase several options to choose from, and you never know where I'll find them. Check out the column every Friday!
Craig is a big fan of coney islands — both the food and the diners. Of course, who doesn't love 'em? They offer a wide range of dishes at reasonable prices, many of which even qualify for our mandatory Frugal Floozie Friday budget of $5 per person.
Achilles Coney Restaurant was a bright, friendly respite one evening recently, after a frazzled afternoon of errands and changes in plans. Craig ordered consummate comfort food - a coney combo with one dog, coleslaw, and onion rings for only $3.99. (He also ordered an extra coney, since we were there on a day when they were one of the featured discounted specials.)
I could hear the homemade rice pudding calling to me as I perused the rest of the menu... ah, the sweet tooth will get me nearly every time! But I determined to eat my vegetables first, and thus ordered a mini Greek salad full of fresh greens for $3.99. Then I rewarded myself with dessert, a rich and creamy bowl of delicious pudding for only $2.59. Of course, when asked, I opted for the whipped cream on top; I can't conceive of saying "No, thank you" to a waitress who makes such an offer!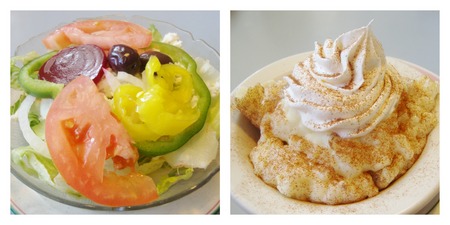 Mary Bilyeu | Contributor
Achilles offers many frugal options throughout the day. Breakfast choices include two eggs with a side order of sausage, bacon or ham plus toast and jelly for $4.89; homemade biscuits 'n' gravy for $4.69; a large order of French toast for $4.99; or an array of side dishes (ideal to cobble together when one is indecisive) ranging in price from $1.89 for a bagel to $3.99 for corned beef hash.
Later in the day, a bacon cheeseburger or a mushroom Swiss burger can be enjoyed for $4.99. A coney with a tossed salad and onion rings costs $4.69. A patty melt is $4.99, or a grilled cheese sandwich is $3.29. Cups and bowls of either soup or chili also come in under our strict budgetary guidelines, as do all of the desserts (from cheesecake to pie to a root beer float).
So whether you need a full meal or just a snack, Achilles Coney Restaurant has something to offer you!
Achilles Coney Restaurant
3075 Packard
Ann Arbor, MI 48108
734-971-2020
Monday-Friday: 6:30 a.m. - 9 p.m.
Saturday: 7 a.m. - 4 p.m.
Sunday: 8 a.m. - 3 p.m.

Mary Bilyeu - a self-proclaimed Food Floozie (named for her blog, which is taking a summer vacation) - writes for AnnArbor.com on Tuesdays, Wednesdays, and Fridays, telling about her adventures in the kitchen. She is also on a mission to find great deals for her Frugal Floozie Friday posts, seeking fabulous food at restaurants on the limited budget of only $5 per person. Feel free to email her with questions, comments, or suggestions: yentamary@gmail.com.

The phrase "You Should Only Be Happy" (written in Hebrew on the stone pictured in this post) comes from Deuteronomy 16:15 and is a wish for all her readers - when you come to visit here, may you always be happy.