Posted on
Fri, May 4, 2012 : 10 a.m.
Frugal Friday at Afternoon Delight Cafe - cup of chili or berry dessert both satisfy for under $5
By Mary Bilyeu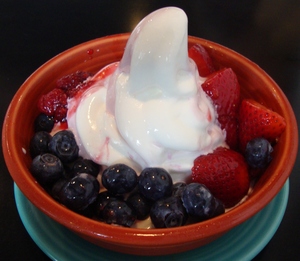 Mary Bilyeu | Contributor
I don't often go out to lunch on a weekday. So it was a great luxury to meet my friend Nancy recently at Afternoon Delight, when I took a few hours off for an abbreviated "girls' day out" to eat and then meander through a second-hand store hoping that something might call to us (but unfortunately hearing not even a whisper). Good food and friendship all in one afternoon!
Today's Frugal Floozie Friday feature is one I've meant to go back to for some time, and it was Nancy's first visit to the cafe... so many places to eat, so little time. Afternoon Delight is an Ann Arbor institution, serving great breakfasts and lunches, with an emphasis on fresh, healthy dishes and generous portions.
For a mere $3.25 — well within our mandatory budget of $5 per person or less — I ordered a cup of excellent beef chili. (A bowl of the daily house-made soup offerings would have cost $4.25, still a good deal.) I was offered a slice of bread or crackers to go with this, and the latter simply struck my fancy at that time for crumbling over the top. The chili was thick and slightly spicy, a perfect antidote to the blustery weather outside that day.
I also ordered The Berry Patch, pictured above, which is frozen yogurt topped with an abundance of perfect, fresh fruits. It costs only $4.50, and is a very large serving. I was given a choice of vanilla or raspberry yogurts or — best of all — a swirl of both which, needless to say, I picked. This was so rich and creamy, with gorgeous, sweet berries! It was a great dessert, but would also make a wonderful breakfast or snack.
Nancy chose the small salad bar — one trip — which just barely exceeded our Frugal Floozie Friday budget at $5.49. This gives you a choice of an abundance of beautiful greens, vegetables, dressings and prepared salads.
As we went through the cafeteria-style line to order and pay for our food, we noted the enormous brownies ($2.75) and muffins ($2.50). There are other desserts, too — such as pies, cookies, and sundaes — ranging in price from $1.95-$4.25.
A assortment of coffee drinks is available for less than $3 each, and many breakfast options are offered from $1.50-4.95. Afternoon Delight also serves a wide variety of sandwiches, which can be split to stay within the $5 budget per person.
Whether you're looking for a hearty breakfast, a light lunch or a quick snack, Afternoon Delight has something to tempt you... and for not very much money!
Afternoon Delight Cafe
251 East Liberty
Ann Arbor, MI 48104
(734) 665-7513
Monday - Saturday: 8 a.m.-3 p.m.
Sunday: 8:30 a.m.-3 p.m.

Mary Bilyeu
writes about her adventures in the kitchen - making dinner, celebrating holidays, entering cooking contests ... whatever strikes her fancy. She is also on a mission to find great deals for her Frugal Floozie Friday posts, seeking fabulous food at restaurants on the limited budget of only $5 per person. Feel free to email her with questions or comments or suggestions:
yentamary@gmail.com
.
You should visit Mary's blog — Food Floozie — on which she enthuses and effuses over all things food-related. And be sure to look for her monthly articles about holiday foods and traditions in the Washtenaw Jewish News.
The phrase "You Should Only Be Happy" (written in Hebrew on the stone pictured in this post) comes from Deuteronomy 16:15 and is a wish for all her readers - when you come to visit here, may you always be happy.