Posted on
Fri, Jul 26, 2013 : 1 p.m.
Frugal Friday at Ali Baba's Restaurant - sandwiches, salads and other menu items come in under $5
By Mary Bilyeu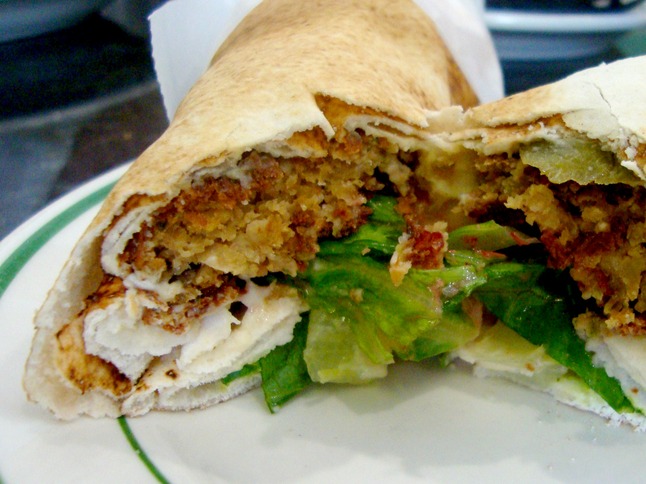 Mary Bilyeu | Contributor
Frugal Floozie Friday is a feature that seeks out dishes - appetizers, drinks, snacks, desserts, sandwiches, whatever - for $5 or less per person. Sometimes I split generously-sized items with loved ones, saving both money and calories; sometimes I find a great deal on a single serving that fits perfectly within the mandatory budget. I try to showcase several options to choose from, and you never know where I'll find them. Check out the column every Friday!
When it's wretchedly hot out, as it was for a seemingly endless string of days recently, even I don't want to cook. I almost — almost — don't even want to eat. So going out, and finding something light and nutritious, for dinner was the perfect option. And Ali Baba's Restaurant offered several dishes within our mandatory Frugal Floozie Friday budget.
The falafel sandwich features traditional "chickpea patties rolled in pita bread with hommous, lettuce, tomatoes and pickle" for $4.99. You could also order a hummous and salad sandwich, or try a labne variety (with low-fat yogurt, salad, and pickle) for less than $5.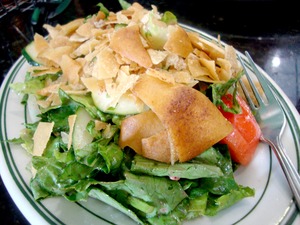 Mary Bilyeu | Contributor
A half-order of the fatoush salad — a huge serving — costs $4.99, as do half-orders of the tabbouli, Greek, tahini, and house salads. Appetizers for one that are available at frugal prices are the spinach and meat pies for $3.59; but several others, such as the falafel plate or starter combo (hommous, a deliciously smoky baba ghanouge, and tabbouli), were meant to be shared but still come in under our per-person price.
On hot days, you might also want to try one of the raw juices: carrot, apple, carrot and orange, carrot and celery, orange, grapefruit, mango, or guava for $2.49-3.99. A perfect summer treat, fresh lemonade, is offered for $2.99.
And then, of course, there's dessert. Rice pudding, one of my very favorites, can be enjoyed for $2.49. Or choose several pastries from an assortment — baklava, mini roses, mamoul, bird's nests — for $1.49 each. A cool drink and a lovely sweet treat would be a perfect summer snack.
Conveniently located near campus, Ali Baba's offers an array of items for good prices, is vegetarian- and vegan-friendly, and even features beautifully painted murals on the walls. A great respite from summer's heat!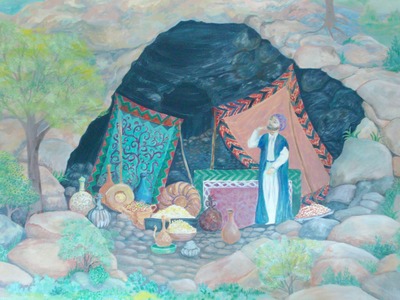 Mary Bilyeu | Contributor
Ali Baba's Restaurant
601 Packard St.
Ann Arbor, MI 48104
734-998-0131
Sunday - Saturday: 11 a.m. - 10 p.m.

Mary Bilyeu - a self-proclaimed Food Floozie (named for her blog, which is taking a summer vacation) - writes for AnnArbor.com on Tuesdays, Wednesdays, and Fridays, telling about her adventures in the kitchen. She is also on a mission to find great deals for her Frugal Floozie Friday posts, seeking fabulous food at restaurants on the limited budget of only $5 per person. Feel free to email her with questions, comments, or suggestions: yentamary@gmail.com.

The phrase "You Should Only Be Happy" (written in Hebrew on the stone pictured in this post) comes from Deuteronomy 16:15 and is a wish for all her readers - when you come to visit here, may you always be happy.