Posted on
Fri, Mar 15, 2013 : 10:55 a.m.
Frugal Friday at Backroom Pizza - real food at fast-food prices
By Mary Bilyeu
Frugal Floozie Friday is a feature that seeks out dishes — appetizers, drinks, snacks, desserts, sandwiches, whatever — for $5 or less per person. Sometimes I split generously-sized items with loved ones, saving both money and calories; sometimes I find a great deal on a single serving that fits perfectly within the mandatory budget. I try to showcase several options to choose from, and you never know where I'll find them. Check out the column every Friday!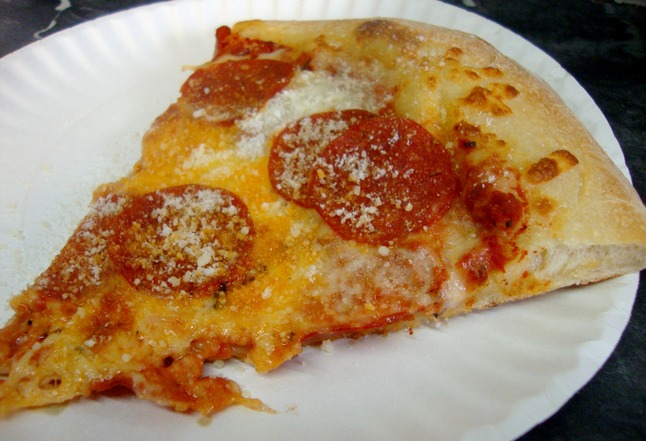 Mary Bilyeu | Contributor
You can't get much more frugal than today's Frugal Floozie Friday feature,
Backroom Pizza
. It offers tremendous deals and fast service. As Jeremy put it, you get "real food at Taco Bell prices."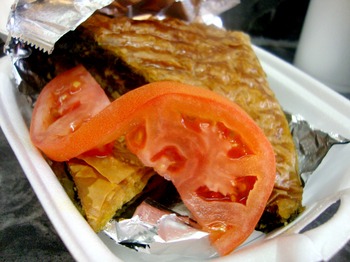 Mary Bilyeu | Contributor
Two slices of pepperoni pizza and a 24-ounce soda can be purchased for a mere $3.50. Individual slices of this variety cost only $1.50, so you can even add a third slice and stay within our mandatory budget of $5 per person. Or you can get two slices of cheese pizza with your soda for only $3; bought separately, the slices are $1 each, and the sodas are $1.25. Slices are ready when you are, if you only have time to run in and grab a quick meal.
For $4.50, you can get two good-sized portions of spinach pie plus a 24-ounce soda. The pie was not what I'd expected; I'd presumed there would be a lot of doughy crust and a tidbit of spinach. But I was very happy to find a very generous layer of spinach layered within flaky phyllo dough. This was a nice vegetarian meal.
Mary Bilyeu | Contributor
For $5, you can buy either a beef or a chicken burrito. Jeremy ordered the latter, which came with both salsa and sour cream. It was quite large and fully stuffed — a filling option with meat, rice, and vegetables.
The menu isn't extensive, but Backroom Pizza offers fast food and good quantities of it for very little investment. And while there are no tables — it's mostly a "grab 'n' go" kind of place that caters to students on campus. There is a small counter along the wall where you can stand and eat if you're not taking your meal with you.
Be forewarned that Backroom Pizza only accepts cash. But it won't take a lot of your money to get a quick, substantial meal.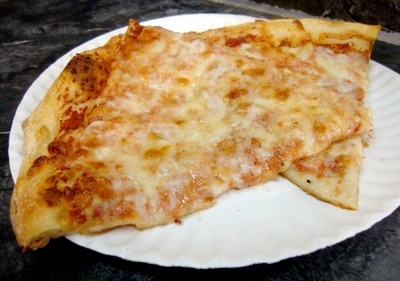 Mary Bilyeu | Contributor
Backroom Pizza
605 Church St.
Ann Arbor, Michigan 48104
734-741-8296

Mary Bilyeu writes for AnnArbor.com on Tuesdays, Wednesdays, and Fridays, telling about her adventures in the kitchen - making dinner, celebrating holidays, entering cooking contests, meeting new friends ... whatever strikes her fancy. She is also on a mission to find great deals for her Frugal Floozie Friday posts, seeking fabulous food at restaurants on the limited budget of only $5 per person. Feel free to email her with questions, comments, or suggestions: yentamary@gmail.com.

Go visit Mary's blog — Food Floozie — where she enthuses and effuses over all things food-related; and look for her monthly articles in the Washtenaw Jewish News. "Like" her on Facebook, or send a tweet on Twitter, too.

The phrase "You Should Only Be Happy" (written in Hebrew on the stone pictured in this post) comes from Deuteronomy 16:15 and is a wish for all her readers - when you come to visit here, may you always be happy.