Posted on
Fri, May 11, 2012 : 11:20 a.m.
Frugal Friday at Banfield's Westside Grill - gigantic plate of nachos can feed three
By Mary Bilyeu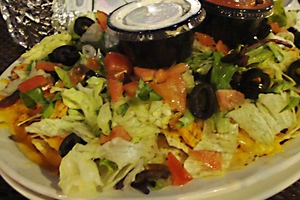 Mary Bilyeu | Contributor
Banfield's Westside Grill, today's Frugal Floozie Friday feature, offers a wide range of comfort foods, from pizza and burgers to salads and sandwiches. Many of these can be split, to stay within our mandatory budget of $5 or less per person.
But here's my recommendation for you: Order the nachos. For a mere $9.75, you will be served an entire platter of food that even three hungry eaters — my BFF Wendy, her sister Cheryl who was visiting from New York and I — couldn't finish. Not that we didn't try valiantly! It's just that the portion was so generous that, despite being ravenous because we didn't manage to find our way to dinner until after 9 o'clock on our Girls' Night Out, we still couldn't eat the entire dish.
You'll still stay within our required budget if you share the platter with only one other person; but I promise you'll have leftovers!
You can go to Banfield's to watch sports, to play video games, or — as we did — to sit outside on the patio on a beautiful spring night to enjoy the company of your friends while eating great food. You can choose to have bean, beef or chicken nachos, with no extra charge for meat; we ordered the chicken, which was very tender and slightly spicy. And because our dinner had such quantities of vegetables, with lots of lettuce and tomatoes on top of all the chips and cheese — we didn't even have to feel guilty about indulging in "junk" food!
If you're not feeling inclined to share your food, the soup, chili, sweet potato fries and small order of onion rings all cost less than $5.There's also a small Caesar salad for $4.25, not to mention desserts.
But if you're feeling more generous and more sociable, none of the appetizers costs more than $10; invite some friends along and order a variety to taste.
Comfortable and very informal with fabulously friendly service, Banfield's is a great place to just hang out and relax while enjoying good ol'-fashioned hearty food.

Banfield's Westside Grill
5510 Jackson Road
Ann Arbor, MI 48103
734-668-7800

Mary Bilyeu
writes about her adventures in the kitchen - making dinner, celebrating holidays, entering cooking contests ... whatever strikes her fancy. She is also on a mission to find great deals for her Frugal Floozie Friday posts, seeking fabulous food at restaurants on the limited budget of only $5 per person. Feel free to email her with questions or comments or suggestions:
yentamary@gmail.com
.
You should visit Mary's blog — Food Floozie — on which she enthuses and effuses over all things food-related. And be sure to look for her monthly articles about holiday foods and traditions in the Washtenaw Jewish News.
The phrase "You Should Only Be Happy" (written in Hebrew on the stone pictured in this post) comes from Deuteronomy 16:15 and is a wish for all her readers - when you come to visit here, may you always be happy.