Posted on
Fri, Oct 5, 2012 : 10 a.m.
Frugal Friday at Beezy's Cafe provides wholesome food, large portions at bargain rates
By Mary Bilyeu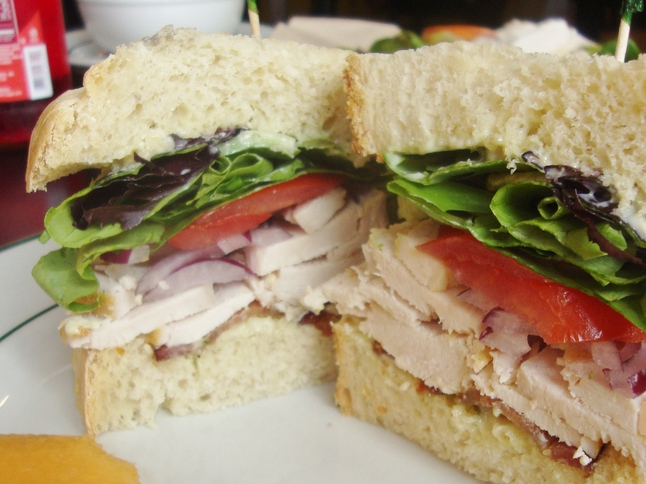 Mary Bilyeu | Contributor
Jeremy and I had a lovely lunch recently at
Beezy's
, on a beautiful fall day. I hadn't been there in ages, so it was good to have a chance to eat there again.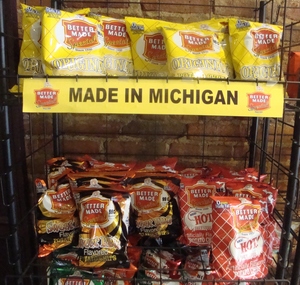 Mary Bilyeu | Contributor
We were given a tremendous greeting by Jesse, who was wonderfully welcoming and friendly. In just the few minutes it took to place our order, we exchanged names, discussed fashion and thrift shops, and had a grand time!
Jeremy chose the Roasted Chicken Club sandwich for $6.95: "Sliced Amish chicken breast with bacon, tomato, red onion and spring greens with blue cheese pesto mayo."
The sandwich is huge and can easily be split, even among two hungry people. Jeremy — a 21-year-old male, among the world's heartiest eaters — could only finish half of it. And if you buy two bags of Michigan-made Better Made products for 99 cents each, this lunch would, indeed, be "all that and a bag of chips" for two people while staying within our mandatory Frugal Floozie Friday budget of $5 per person.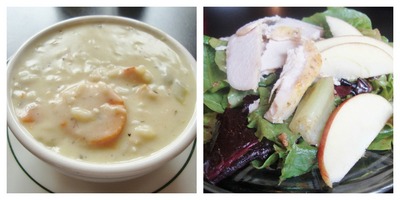 Mary Bilyeu | Contributor
The air was just crisp enough (for me, anyway, since I'm always cold) that it warranted soup. So I ordered a bowl of the Creamy Chicken and Garlic soup for $3.50. As you can see, it was thick and rich with huge chunks of meat and carrots. Warm and delicious, this was a perfect antidote to the slight chill.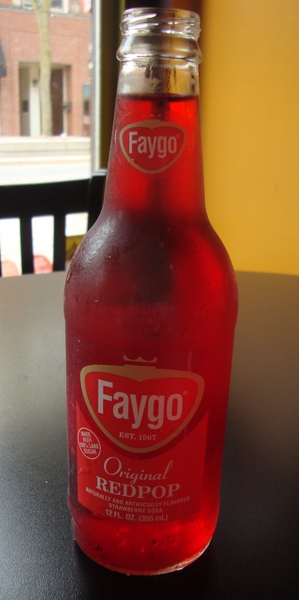 Mary Bilyeu | Contributor
I also ordered a small Washington Street salad for $4.95; this offered "greens tossed in maple vinaigrette and topped with sliced roasted Amish chicken breast, sliced apple, raisins, and spiced pecans." In other words, it offered sweet and savory, tenderness and crunch, a variety of tastes and textures all on one plate.
Beezy's offers a number of options for vegetarians, and each of the salads is available in a small option for less than $5. They promote Michigan products like the chips mentioned above, as well as Faygo sodas. The Redpops Jeremy and I each ordered were bright and fruity, and just seemed the perfect choice to complement our lunches.
For friendly service, good ol'-fashioned wholesome food, and a genuine feel for community - both in terms of being a gathering place and a supporter of both Ypsilanti and Michigan —Beezy's is the place to go!
Mary Bilyeu, Contributor
Beezy's 20 N. Washington St.
Ypsilanti, MI 48197
734-485-9625
Monday - Saturday: 7 a.m. - 4 p.m.
Sunday: 10 a.m. - 4 p.m.

Mary Bilyeu writes for AnnArbor.com on Tuesdays, Wednesdays, and Fridays, telling about her adventures in the kitchen - making dinner, celebrating holidays, entering cooking contests, meeting new friends ... whatever strikes her fancy. She is also on a mission to find great deals for her Frugal Floozie Friday posts, seeking fabulous food at restaurants on the limited budget of only $5 per person. Feel free to email her with questions, comments, or suggestions: yentamary@gmail.com.

Go visit Mary's blog — Food Floozie — where she enthuses and effuses over all things food-related; and look for her monthly articles in the Washtenaw Jewish News. "Like" her on Facebook, or send a tweet on Twitter, too.

The phrase "You Should Only Be Happy" (written in Hebrew on the stone pictured in this post) comes from Deuteronomy 16:15 and is a wish for all her readers - when you come to visit here, may you always be happy.