Posted on
Fri, Jun 22, 2012 : 11 a.m.
Frugal Friday at Bella Italia - get the perfect slice for the perfect price
By Mary Bilyeu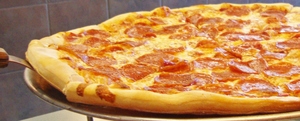 Mary Bilyeu | Contributor
A perfect slice — that's what you'll get at
Bella Italia
Pizza and Pasta, today's Frugal Floozie Friday feature. I grew up in New York City eating fabulous pizza. I expect a certain cheese blend, a sauce with flavor and zest (and just enough sauce, rather than gobs of it), a crisp crust, and the ability to fold my slice without it drooping. This pizza was perfect!
My friend Jesse Bernstein had recommended Bella Italia to me with such devotion that I simply had to visit:
"The owners are a young couple who have perfected and replicated the Dandy Pizza experience precisely. Dandy's was a pizzeria on Whitney Avenue, run by a Sicilian family who spoke no English but knew what you were ordering. My sister said she has been searching for 40 years to find the taste and here it was in Ann Arbor. This was confirmed by another neighborhood resident who now lives here and confirmed our assessment."
Ah, taste memory — that oh, so elusive and indefinable entity that is rarely satisfied!
Well, let me chime in that the pizza was just like what I remembered eating years ago, as well. That it perfectly fit our mandatory frugal budget of $5 per person — the 16-inch pizza with one topping was $14.50, making it perfect for my party of three — only made it better.
Bella Italia has a friendly and welcoming staff, including
Jim Millan
who owns the restaurant with his wife, Katie. And it offers lots of great deals that meet our Frugal Floozie Friday budget. There are even lunch specials for less than $4 — a 10-inch pizza with one topping, lovely pasta dishes, a rich tiramisu — each a very generous portion.
You can buy two slices of pizza for $5 or less if you pick cheese and/or pepperoni; a slice of a specialty pizza costs $3. Half salads (Caesar, Garden or Greek) cost just under $5. And the calzone, stromboli, and hot subs are a great deal — ranging in price from $7.75-$9.75 and easily split with a loved one to meet the mandatory budget constraints without anyone going hungry.
If you fancy yourself a competitive eater, you could either eat for free or earn yourself a share of $200 — even better deals than $5 per person!
If three people can finish a 30-inch pizza — with any toppings from cheese to an abundance of goodies — you can get it for free if you can eat the entire thing in 30 minutes or less. Or, if you think you and just one partner can polish off the 30"-inch Meat Lovers' pizza — topped with several pounds of sausage, pepperoni, bacon, and ham — within 60 minutes, you'll win yourselves $200.
As we ate dinner with Motown classics playing in the background, it was a perfect warm spring evening. We had a great time at Bella Italia for a very reasonable price, and look forward to eating there again.
Bella Italia Pizza and Pasta 895 Eisenhower Parkway (in the Colonnade shopping center) Ann Arbor, MI 48103 734-222-9993 Monday - Thursday: 11 a.m.-10 p.m. Friday: 11 a.m.-11 p.m. Saturday: Noon-11 p.m. Sunday: 4-10 p.m.

Mary Bilyeu
writes about her adventures in the kitchen - making dinner, celebrating holidays, entering cooking contests ... whatever strikes her fancy. She is also on a mission to find great deals for her Frugal Floozie Friday posts, seeking fabulous food at restaurants on the limited budget of only $5 per person. Feel free to email her with questions or comments or suggestions:
yentamary@gmail.com
.
You should visit Mary's blog — Food Floozie — on which she enthuses and effuses over all things food-related. And be sure to look for her monthly articles about holiday foods and traditions in the Washtenaw Jewish News.
The phrase "You Should Only Be Happy" (written in Hebrew on the stone pictured in this post) comes from Deuteronomy 16:15 and is a wish for all her readers - when you come to visit here, may you always be happy.