Posted on
Fri, Jul 27, 2012 : 8 a.m.
Frugal Friday at Bona Sera Cafe - the underground supperclub that has moved above ground
By Mary Bilyeu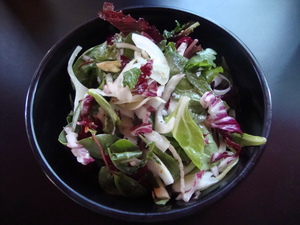 There are some bad women cookin' in downtown Ypsi, and they're making some really good food.
Bona Sera Cafe — formerly an underground secret supper club, now an above-ground restaurant — has just opened on Michigan Avenue, and you simply must go visit and find out what all the buzz has been about.
Wonder Woman and Bad Fairy, our mischievous but marvelous chefs and hostesses, offer sophisticated and delicious sandwiches, salads, and desserts for lunch and dinner; each is layered with flavors and textures, all working in perfect harmony. They also serve their very own coffee — Bad Ass Woman Brew — blended just for them by Ann Arbor's own Roos Roast. And much of this menu qualifies for our mandatory $5 or less per person budget, so it's a perfect Frugal Floozie Friday feature!
If you look over the menu, you'll see only a small selection of the offerings; chalkboards give daily specials, as well. But in perusing the menu, you will notice that some excellent ingredients — cheeses from Chelsea's Greystone Creamery, porchetta, pistachios, and my beloved fennel — are all featured prominently.
I ordered a small serving of the Crunch Time salad, pictured above, for $4.95, a tremendous deal for an excellent dish as large as half a cantaloupe. It features "Shaved fresh fennel, apple and mixed greens, lemon vinaigrette," and was crisp, fresh, and perfectly portioned so that the licorice-y fennel and sweet-tart apple didn't overwhelm the tender greens.
The dressing was so ideally coating the vegetables that they shone with its bright flavor but did not drip or get soggy. (Of course, the salad was so fabulous that I hardly gave them much opportunity to soak, either.) And Wonder Woman very graciously offered me a taste of the creamy, salty Sesame Peanut Noodle Salad that Bad Fairy had been making as I chatted at the counter while ordering.
Mary Bilyeu, Contributor
My dinner companions ordered sandwiches: the Porchetta Banh Mi, with Italian pork roast and a fennel-apple slaw, and a Chicken
Banh Mi
showcasing not just the poultry but also a zesty but not too hot
sriracha
mayonnaise. (The latter is pictured here, though they look remarkably alike in my photos; thus, no need to show both.) The traditional buns were so tender and flavorful, even with all those other ingredients attempting to show them up.
The banh mi were both served with a delicate, finely shredded cole slaw in a very light — not creamy, not vinegary — dressing. And they were quickly devoured; I wasn't even given a taste of the former! The latter was great, with tender strips of chicken and a wonderful mix of greens, carrots and cilantro, rather than merely some shreds of iceberg lettuce and a slice of tomato.
The Banh Mi cost $6.95, putting them over our budget for one person; but they're large enough to split, and then you'll have a spare $1.50 in your budget for tea or lemonade.
But, truth be told, you'll actually want to allow room both in your stomach and in your budget for dessert.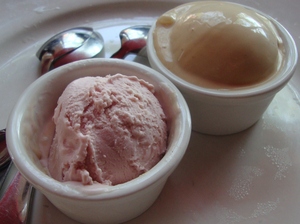 Mary Bilyeu | Contributor
Because your half-sandwich will cost $3.50-ish, that will leave $1.50 for a scoop of gelato — we tried both the raspberry, which was lovely, and the salted caramel. As I posted on Facebook after my dinner at Bona Sera, if the salted caramel gelato was my last dessert on this Earth, I could die "blissfully happy in a giddy reverie." It was buttery, salty, and like liquid gold as it melted on my tongue.
I've been craving it since I left, and promised Wonder Woman I'd be back for more. Even a two-scoop serving is within our frugal limits!
Bona Sera is not just dedicated to serving good food, but also to doing good work. In April the Ann Arbor Awesome Foundation, a local micro-philanthropic group, gave Wonder Woman and Bad Fairy a grant of $1,000 to help get the new cafe established. In presenting the prize, trustees noted that the secret supper club has "raised over $20,000 for area nonprofits" — including one of my personal favorites, SOS Community Services which serves the homeless — "by hosting clandestine dinner parties in secret locations across Southeast Michigan."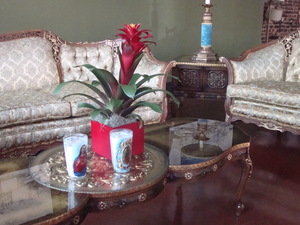 Mary Bilyeu | Contributor
The new restaurant "will not only create jobs in Ypsilanti, and draw more people downtown, but allow the organization to continue its charitable work as well." And Bad Fairy says that their new kitchen "will also be available to other local food industry start-ups for affordable rates as a way of encouraging and supporting other entrepreneurs."
Rather than being a standard restaurant with just a sea of tables or a stereotypical coffee shop with overstuffed chairs, Bona Sera ofers a mix of seating with a uniquely quirky decor that is spacious and welcoming. My friend Ruth Kraut noted how beautiful the space is. "So peaceful!" And I will admit to coveting the sofas, too, in addition to another serving of the salted caramel gelato.
So head on down to Bona Sera, and see what Bad Fairy and Wonder Woman are making. There's even a mannequin in the window who carries a sign advertising new dishes. Go for the food, go for the whimsy... whatever your reason, just go!
Mary Bilyeu | Contributor
Bona Sera Cafe
200 W. Michigan Ave.
Ypsilanti, MI 48197
734-751-4458
Tuesdays - Saturdays: 11 a.m. - 9 p.m.

Mary Bilyeu writes for AnnArbor.com on Tuesdays, Thursdays, and Fridays, telling about her adventures in the kitchen - making dinner, celebrating holidays, entering cooking contests, meeting new friends ... whatever strikes her fancy. She is also on a mission to find great deals for her Frugal Floozie Friday posts, seeking fabulous food at restaurants on the limited budget of only $5 per person. Feel free to email her with questions, comments, or suggestions: yentamary@gmail.com.

Go visit Mary's blog — Food Floozie — where she enthuses and effuses over all things food-related on Mondays, Wednesdays, and Fridays; and look for her monthly articles in the Washtenaw Jewish News. "Like" her on Facebook, or send a tweet on Twitter, too.

The phrase "You Should Only Be Happy" (written in Hebrew on the stone pictured in this post) comes from Deuteronomy 16:15 and is a wish for all her readers - when you come to visit here, may you always be happy.