Posted on
Fri, Aug 2, 2013 : 11:45 a.m.
Frugal Friday at BTB Cantina - filling meal with great flavor comes in under $5
By Mary Bilyeu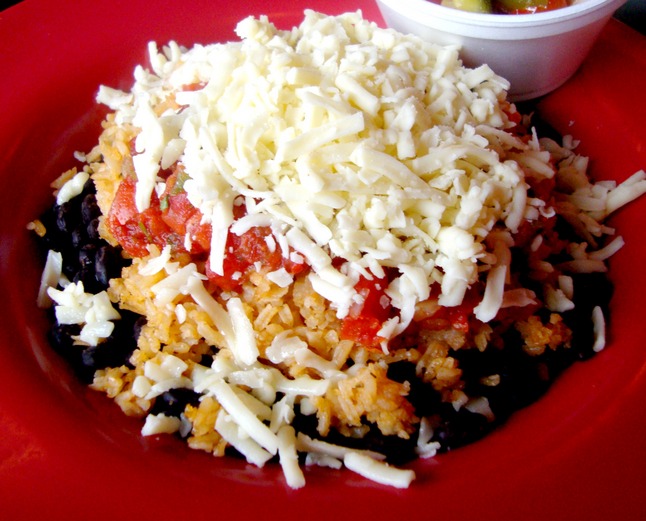 Mary Bilyeu | Contributor
Frugal Floozie Friday is a feature that seeks out dishes - appetizers, drinks, snacks, desserts, sandwiches, whatever - for $5 or less per person. Sometimes I split generously-sized items with loved ones, saving both money and calories; sometimes I find a great deal on a single serving that fits perfectly within the mandatory budget. I try to showcase several options to choose from, and you never know where I'll find them. Check out the column every Friday!
I took Jeremy and his buddy Nick out to dinner the other night at a mainstay of campus eateries: the BTB Cantina. It was a great way to feed two famished young men (college-aged males always seem to be famished!) for less than $5 per person, our mandatory Frugal Floozie Friday budget.
Not being a fan of refined carbs (my sweet tooth being a notable exception!), I ordered the vegetarian burrito bowl — all the same goodies that would usually be rolled inside a burrito, just without the tortilla. For $3.75 I found myself with an enormous serving of food that even I, a very good eater, could only finish half of; but since I love leftovers, I was happy to take the remaining portion home. Lots of rice, cheese, salsa, black beans — good flavor, and an excellent meal.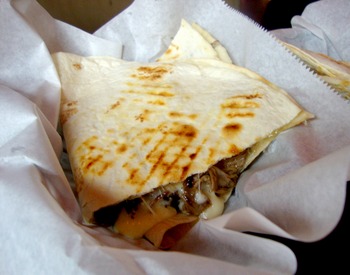 Mary Bilyeu | Contributor
Steak quesadillas for a mere $4.25 struck both Jeremy's and Nick's fancies, so they each ordered one. Generously-sized, not skimpy on the meat ... these were a huge hit.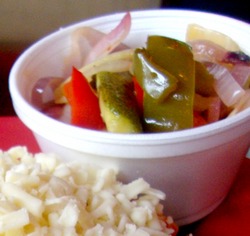 Mary Bilyeu | Contributor
Other options that meet our budgetary limits are: the Classic BTB Burrito for $3.25; the Super Bean & Cheese Burrito for $2.75; the chicken, beef, or vegetable quesadillas for $3.75; any of the tacos, from $2.25-$3.75; the vegetarian nachos for $4.75; or the vegetarian chimichanga for an even $5.
Virtually the entire menu at BTB (either the Cantina or the original BTB Burrito on State Street) qualifies for our mission! And the $2 roasted vegetables — zucchini, yellow squash, red and green peppers, onions — make a great accompaniment to any of the $3-or-under dishes, adding nutrition and flavor for not much money.
For a quick, hearty meal and a good deal, BTB Burrito is a great option!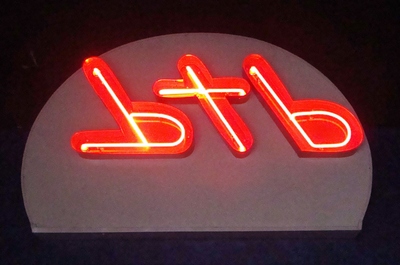 Mary Bilyeu | Contributor
BTB Cantina
1140 S. University
Ann Arbor, Michigan 48104
734-222-3715
Monday: 11 a.m. - 9 p.m.
Tuesday - Friday: 11 a.m. - 2 a.m.
Saturday: Noon - 2 a.m. Sunday: closed

Mary Bilyeu - a self-proclaimed Food Floozie (named for her blog, which is taking a summer vacation) - writes for AnnArbor.com on Tuesdays, Wednesdays, and Fridays, telling about her adventures in the kitchen. She is also on a mission to find great deals for her Frugal Floozie Friday posts, seeking fabulous food at restaurants on the limited budget of only $5 per person. Feel free to email her with questions, comments, or suggestions: yentamary@gmail.com.

The phrase "You Should Only Be Happy" (written in Hebrew on the stone pictured in this post) comes from Deuteronomy 16:15 and is a wish for all her readers - when you come to visit here, may you always be happy.