Posted on
Fri, Jul 13, 2012 : 8:55 a.m.
Frugal Friday at Cafe Ambrosia: Decadent pastries and specialty drinks can be frugal treats
By Mary Bilyeu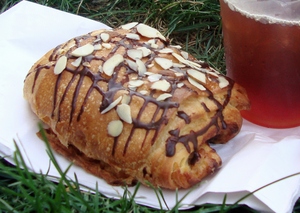 Mary Bilyeu | Contributor
On one of our recent wretchedly hot days, I stopped by Cafe Ambrosia for an iced tea to take with me as I continued on my afternoon of appointments and errands. Just as I was walking up to the door, a very nice gentleman passed by and told me, "They make great coffee there." He smiled as he walked away.
Unfortunately, the temperature was hovering 'round 100, and I don't like iced coffee, so I'll have to take this suggestion some time when it's merely summery rather than sweltering. But it was sweet of him to make the recommendation.
Once I found myself in the blissfully cool shop, I found that not only was the iced tea properly brewed (rather than the instant "tea" that is often served in restaurants), but I was also able to stay within my mandatory $5 budget and buy an utterly decadent chocolate-almond croissant to go with my drink. Sugar and chocolate are good, even when it's hot out. Thus, Cafe Ambrosia meets all the criteria to be today's Frugal Floozie Friday feature!
When I do go back for that cup of great coffee, I'll happily be able to splurge on another treat to go with it and still not have to spend a fortune; coffees — from a basic house cup to specialty drinks — range in price from $1.25 to $4.50. Chai and cocoa are also available within the same price range.
Baked goods are provided by the Pastry Peddler Bakery and are lovingly made by Kathryn Loy, a graduate of the French Pastry School in Chicago. My flaky, crumbly, perfect croissant — authentically made in the French manner with sticks of chocolate rather than chips — cost a mere $3.25, an extraordinary price for such an exceptional item. Palmiers and oatmeal raisin cookies cost only a $1 each; and other sweet treats, from pecan sticky buns to almond croissants, are less than $4.
So whether you're looking for a hot drink or a cold one, be sure to stop by Cafe Ambrosia to find what you need. And don't pass up the pastries... they are utterly sublime!
Cafe Ambrosia
326 Maynard
Ann Arbor, MI 48104
Monday - Thursday: 7:30 a.m.-10 p.m.
Friday: 7:30 p.m.-9 p.m.
Saturday: 8 a.m.-9 p.m.
Sunday: 11 a.m.-8 p.m.

Mary Bilyeu writes about her adventures in the kitchen - making dinner, celebrating holidays, entering cooking contests ... whatever strikes her fancy. She is also on a mission to find great deals for her Frugal Floozie Friday posts, seeking fabulous food at restaurants on the limited budget of only $5 per person. Feel free to email her with questions or comments or suggestions: yentamary@gmail.com.

You should visit Mary's blog — Food Floozie — on which she enthuses and effuses over all things food-related. And be sure to look for her monthly articles about holiday foods and traditions in the Washtenaw Jewish News.

The phrase "You Should Only Be Happy" (written in Hebrew on the stone pictured in this post) comes from Deuteronomy 16:15 and is a wish for all her readers - when you come to visit here, may you always be happy.