Posted on
Fri, Nov 9, 2012 : 10:45 a.m.
Frugal Friday at Chef Restaurant Mediterranean Grill - many filling options fit a tight budget
By Mary Bilyeu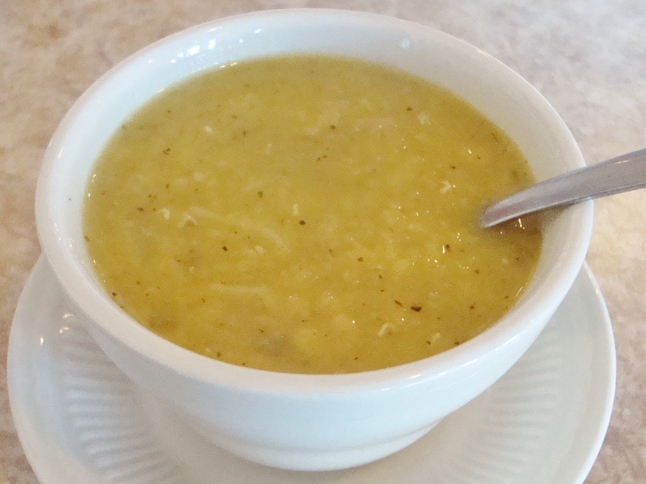 Mary Bilyeu | Contributor
Jeremy and I had a great dinner the other night, stopping by a new place I hadn't known of that we just serendipitously drove by:
Chef Restaurant Mediterranean Grill
. The bright, friendly restaurant is tucked into a strip mall across the street from
Eastern Michigan University
. Its convenient location, coupled with its excellent prices, make it today's
Frugal Floozie Friday
feature.
We were greeted by a very warm and friendly hostess/waitress, who let us pick whichever table we wanted. As we perused the menu, it was clear that there were many items which would qualify for our mandatory frugal budget of $5 per person: soups, sandwiches, salads, desserts... an entire array.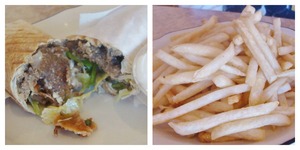 Mary Bilyeu | Contributor
Jeremy chose the Fried Kibbe sandwich for a mere $3.75. Longer than a dinner fork, it was tightly wrapped and fully stuffed with a generous quantity of lamb and vegetables. Jeremy loved it, and I think was even tempted to order a second one simply because it was so good!
He also ordered a side of fries for $2.95, which would make a nice snack with a soda or juice. The small order was still quite a good size, so I can't imagine how much you'd get for the large one!
I decided to start with a cup of the lovely lentil soup, which cost $2.50. It was rich, but not heavy, and subtly spiced. It was a perfect serving if you were going to help your son to eat the copious quantity of french fries he'd ordered.
Mary Bilyeu | Contributor
But I also heard the sandwiches calling to me, as Jeremy had, and ordered the Chicken Shawarma variety which cost $3.75. It was tender and garlicky, with crisp, fresh vegetables to complement the other flavors and textures.
The chef, who is originally from Lebanon and has an impressive background of international travel and culinary experience, came out to the dining area briefly and smiled happily as Jeremy and I told him how wonderful his food was. Our waitress then brought over a laptop, after watching me take the necessary pictures of our dinner, and showed gorgeous photos of elaborate displays that the chef has prepared. Had we ordered more expensive meals — none very highly priced, but more than our $5 budget would allow — our plates would have been works of art.
There are many vegetarian options at the Chef Restaurant, and everything we ate was fabulous. The next time you're craving Middle Eastern food, be sure to stop by and indulge for very reasonable prices!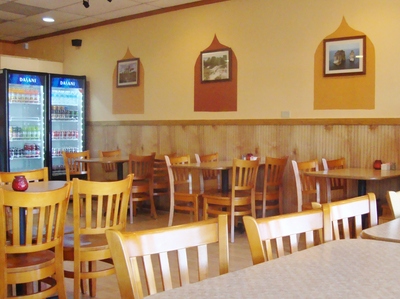 Mary Bilyeu, Contributor
Chef Restaurant Mediterranean Grill 1098 N. Huron River Drive Ypsilanti, MI 48197 734-544-1161 Monday - Friday: 11 a.m. - 9 p.m. Saturday: Noon - 9 p.m. Sunday: closed

Mary Bilyeu writes for AnnArbor.com on Tuesdays, Wednesdays, and Fridays, telling about her adventures in the kitchen - making dinner, celebrating holidays, entering cooking contests, meeting new friends ... whatever strikes her fancy. She is also on a mission to find great deals for her Frugal Floozie Friday posts, seeking fabulous food at restaurants on the limited budget of only $5 per person. Feel free to email her with questions, comments, or suggestions: yentamary@gmail.com.

Go visit Mary's blog — Food Floozie — where she enthuses and effuses over all things food-related; and look for her monthly articles in the Washtenaw Jewish News. "Like" her on Facebook, or send a tweet on Twitter, too.

The phrase "You Should Only Be Happy" (written in Hebrew on the stone pictured in this post) comes from Deuteronomy 16:15 and is a wish for all her readers - when you come to visit here, may you always be happy.