Posted on
Fri, Sep 14, 2012 : noon
Frugal Friday at Chela's - many filling items are available for less than $5
By Mary Bilyeu
Mary Bilyeu | Contributor
I'd heard so many wonderful things about
Chela's
from friends and readers that when my dinner date, Craig, was craving Mexican food, I thought this would be the perfect place to go for a Frugal Floozie Friday post. I'd been told that the prices definitely met my $5 per person mandatory budget, so we went off on an adventure.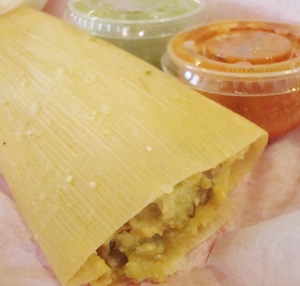 Mary Bilyeu | Contributor
The campechana taco pictured above — made with a combination of chorizo and carne asada on a corn tortilla — cost a ridiculously measly $1.85 I'm serious! And yet, there was no skimping on the filling, which was very flavorful and tender.
Accompanied by horchata — a creamy, sweet rice-almond drink — that cost a whopping $1 for the equivalent of, say, an average medium-sized drink, this would make a great light lunch or substantial snack. (Those commenters who quibble about my portion sizing could order a second taco and still come in at under $5. I might order a second taco too, just 'cause it was really good.)
We also ordered a pork tamale, yet another treat for a mere $1.85, simply because I love tamales. I've always wanted to go to a tamale-making party and have yet to receive an invitation; I was so jealous when my blogging buddy Jenn, of Jenn's Food Journey, wrote about her own opportunity to do so! I order them whenever I can, and was impressed again at the generosity of the serving and the filling at Chela's.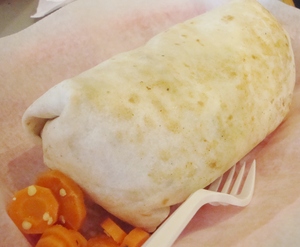 Black bean burrito
Complementary accompaniments to the dishes are offered at the counter: sour cream, a mild green sauce, and a vibrantly spicy orange hot sauce.
Craig had not only been dreaming of Mexican food, but specifically of a burrito. So he ordered the black bean variety, also stuffed with rice, cheese, guacamole, lettuce, and hot sauce; this is a great value at $6, even if it's just out of our mandatory price range for one person. It was a nice, fat, happy, round offering that could satisfy one hearty appetite, or two hungry people for only $3 each.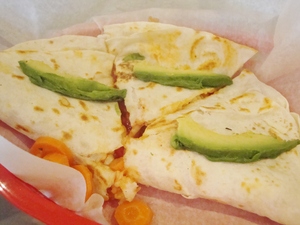 Cheese and vegetable quesadilla
Our final dish to sample was the cheese and vegetable quesadilla for exactly $5. It would be a lot of food for one person to finish, in all honesty, but would be great to share along with other inexpensive dishes. Filed with bright, colorful zucchini and peppers, this was far more than a mere serving of a tortilla and some cheese.
There are many varieties of each dish, as well as salads; and virtually everything on the menu comes in at under $5 period, not just per person. Desserts — cookies, rice pudding, and flan — are also available. And vegetarians can eat happily with lots of options. Brunch is served on weekends, and Huevos Rancheros as well as chilaquiles and a breakfast burrito all meet our budgetary requirement, too.
So, go try Chela's, a welcome addition to town!
I'm hosting a giveaway on my blog, Food Floozie: you could win two tickets to CRUSH Birmingham on Saturday, Sept. 22 at 6:30 p.m., to be held at the Townsend Hotel in Birmingham. A fabulous party featuring food, wine, area chefs, and master sommeliers, it's a benefit for The Children's Leukemia Foundation of Michigan. But you — yes, you! — might be able to win two tickets. Click here for more information.
Chela's
683 S. Maple Road
Ann Arbor, MI 48103
734-332-6055
Monday - Saturday: 10:30 a.m. - 9 p.m.
Sunday: 10:30 a.m. - 8 p.m.

Mary Bilyeu writes for AnnArbor.com on Tuesdays, Wednesdays, and Fridays, telling about her adventures in the kitchen - making dinner, celebrating holidays, entering cooking contests, meeting new friends ... whatever strikes her fancy. She is also on a mission to find great deals for her Frugal Floozie Friday posts, seeking fabulous food at restaurants on the limited budget of only $5 per person. Feel free to email her with questions, comments, or suggestions: yentamary@gmail.com.

Go visit Mary's blog — Food Floozie — where she enthuses and effuses over all things food-related; and look for her monthly articles in the Washtenaw Jewish News. "Like" her on Facebook, or send a tweet on Twitter, too.

The phrase "You Should Only Be Happy" (written in Hebrew on the stone pictured in this post) comes from Deuteronomy 16:15 and is a wish for all her readers - when you come to visit here, may you always be happy.