Posted on
Fri, Jun 21, 2013 : 4:45 p.m.
Frugal Friday at Conor O'Neill's Irish Pub and Restaurant - Share an appetizer or desserts for a low-cost sociable evening
By Mary Bilyeu
Mary Bilyeu | Contributor
Frugal Floozie Friday is a feature that seeks out dishes — appetizers, drinks, snacks, desserts, sandwiches, whatever — for $5 or less per person. Sometimes I split generously-sized items with loved ones, saving both money and calories; sometimes I find a great deal on a single serving that fits perfectly within the mandatory budget. I try to showcase several options to choose from, and you never know where I'll find them. Check out the column every Friday!
Well, it's turned into "Rhubarb Week" here. In fact, as I wrote up my posts for Tuesday and Wednesday, I realized I should celebrate rhubarb by visiting Conor O'Neill's Irish Pub and Restaurant, knowing that it serves a lovely Rhubarb and Strawberry Crumble.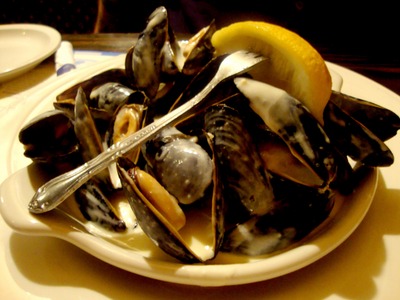 Mary Bilyeu | Contributor
But tempted as I was to order only dessert, Craig and Jeremy joined me in starting with our favorite appetizer: the Galway Bay Mussels for $10. (My family has ordered the mussels every time we've visited, for more years than I can remember.) Yes, indeed, it can be shared! There is not only a very generous quantity of the shellfish, but it is served in a very rich creamy garlic and sherry sauce. The mussels are accompanied by an assortment of white and traditional brown breads, and we've often asked for second helpings of the bread for dipping.
Not every gathering has to involve full three-course meals; sometimes you can just be sociable and enjoy a communal treat. But truly, the mussels are plenty of food for two.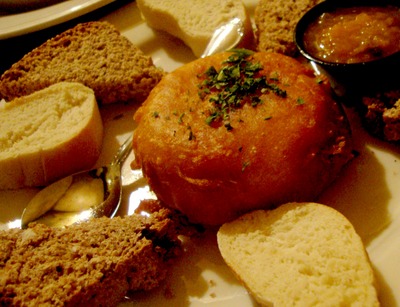 Mary Bilyeu | Contributor
We also ordered the Dublin Brie - "Imported brie cheese tossed in beer batter, served with peach chutney and a combination of Irish and French bread." At $9, this is another appetizer that's readily shared with another while staying within our $5 per person budget. Creamy, indulgent cheese, the vibrant brightness of the chutney, hearty bread... definitely a dish for two.
And then we moved on to dessert, the primary reason — though hardly the sole one — for visiting Conor O'Neill's. The Rhubarb and Strawberry Crumble is a generous serving of sweet-tart fruit, an oat-based topping, and two scoops of ice cream... again, perfect for two at $5.50. A soda for each of you, at $2.25 each, and a shared treat — it's a lovely romantic date for a mere $10 total.
Most of the desserts qualify for our mandatory budget limits. For $4.95, you can enjoy your own serving of chocolate cake, of Bailey's cheesecake, of a chocolate chip cookie sundae, or of a Guinness ice cream sundae.
But a pub is a communal place, a sociable one. Go with family or friends, share an appetizer or a dessert, enjoy some good food and even better company!
Conor O'Neill's Irish Pub and Restaurant
318 South Main St.
Ann Arbor, Michigan 48104
734-665-2968
Sunday - Saturday: 11:30 a.m. - 2 a.m.
Dining Hours
Sunday - Thursday: 11:30 a.m. - 11 p.m.
Friday and Saturday: 11:30 a.m. - midnight

Mary Bilyeu - a self-proclaimed Food Floozie (named for her blog, which is taking a summer vacation) - writes for AnnArbor.com on Tuesdays, Wednesdays, and Fridays, telling about her adventures in the kitchen. She is also on a mission to find great deals for her Frugal Floozie Friday posts, seeking fabulous food at restaurants on the limited budget of only $5 per person. Feel free to email her with questions, comments, or suggestions: yentamary@gmail.com.

The phrase "You Should Only Be Happy" (written in Hebrew on the stone pictured in this post) comes from Deuteronomy 16:15 and is a wish for all her readers - when you come to visit here, may you always be happy.