Posted on
Fri, Jan 27, 2012 : 8 a.m.
For a Frugal Friday at Conor O'Neill's, try the Galway Bay Mussels or a luscious dessert
By Mary Bilyeu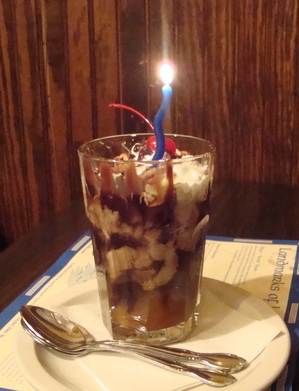 Mary Bilyeu | Contributor
A pint o' Guinness — or, at least, a pint of Guinness ice cream — for $4.95: that's the fabulous dessert Jeremy chose for his 21st birthday recently at today's Frugal Floozie Friday feature, Conor O'Neill's Traditional Irish Pub.
The Guinness ice cream sundae falls perfectly within our mandatory $5 budget and is an enormous, luscious concoction: three scoops of ice cream topped with chocolate fudge, caramel sauce, pecans, chocolate chips, whipped cream and the crowning cherry.
The birthday guest can choose either a dessert or a $10 card as the restaurant's gift. Jeremy had chosen the latter last time, as Conor O'Neill's is where he asks me to take him every year for his celebration, so he decided to indulge in the sugar rush this time.
Several of the desserts fall within our budgetary constraints for individual servings, but could happily be shared. The appetizers, which range in price from $6.50 to $8.50, are easily split as well so that they meet our $5 per person limit.
For as long as we've been going to Conor O'Neill's, we've ordered the Galway Bay Mussels appetizer, so I was astounded not to see it on the lunch menu at our visit; apparently it's only available at dinner now. But our very sweet waitress, Jennifer, checked with the kitchen and told us that they would make it in honor of Jeremy's birthday.
The cream sauce that the mussels are served in is rich with mustard, garlic and sherry; the dish also comes with slices of baguette and some hearty brown bread. At $8.95, this is a fabulous dish for two — far more than one person could eat alone, particularly before a meal. The real treasure is the sauce, though, which is just sublime! Order extra bread to sop it up, because you truly won't want to leave one tiny morsel on the plate.
I have never ordered anything at Conor O'Neill's that I haven't thoroughly enjoyed, from the Irish "fayre" (fish and chips, shepherd's pie, boxty, etc.) to the sandwiches, from the salads to the desserts. While they exceeded our Frugal Floozie Friday budget, our entrees — the Big House Burger (with cheese, bacon, mushrooms and onion rings) and Ploughman's Sandwich (grilled vegetables and cheddar) with a side salad — were so fabulous that they warranted a photo op, and a few moments of fame, nonetheless:
In addition to the excellent food, Conor O'Neill's also offers entertainment several evenings each week, from trivia contests to Irish jam sessions — you can find both food and fun for $5 or less per person! How great is that?

Conor O'Neill's Traditional Irish Pub
318 S. Main St.
Ann Arbor, Michigan 48104
(734) 665-2968

Mary Bilyeu writes about her adventures in the kitchen - making dinner, celebrating holidays, entering cooking contests ... whatever strikes her fancy. She is also on a mission to find great deals for her Frugal Floozie Friday posts, seeking fabulous food at restaurants on the limited budget of only $5 per person. Feel free to email her with questions or comments or suggestions: yentamary@gmail.com.
You should also visit Mary's blog — Food Floozie — on which she enthuses and effuses over all things food-related.


The phrase "You Should Only Be Happy" (written in Hebrew on the stone pictured in this post) comes from Deuteronomy 16:15 and is a wish for all her readers - when you come to visit here, may you always be happy.