Posted on
Fri, Jun 14, 2013 : 8 a.m.
Frugal Friday at Family Fried Chicken - Wednesday specials at this family-run eatery are budget-friendly
By Mary Bilyeu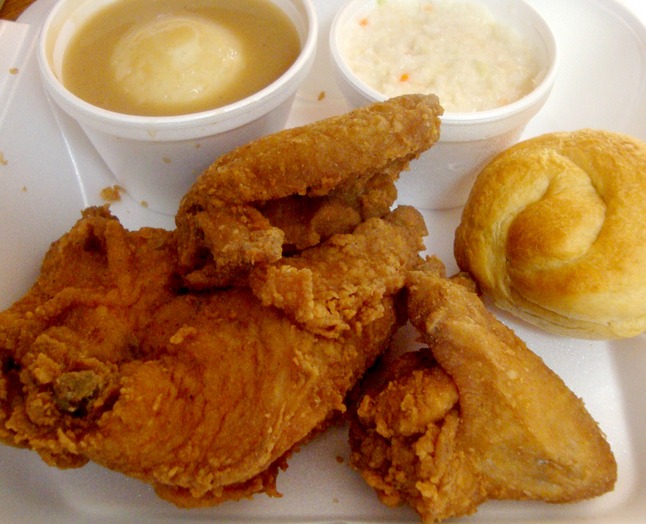 Mary Bilyeu | Contributor
Frugal Floozie Friday is a feature that seeks out dishes — appetizers, drinks, snacks, desserts, sandwiches, whatever — for $5 or less per person. Sometimes I split generously-sized items with loved ones, saving both money and calories; sometimes I find a great deal on a single serving that fits perfectly within the mandatory budget. I try to showcase several options to choose from, and you never know where I'll find them. Check out the column every Friday!
Jeremy called me one afternoon to tell me of a perfect Frugal Floozie Friday feature: Family Fried Chicken in Ypsilanti. On Wednesdays, the small but friendly place offers a dinner special for only $4.69.
Well, that's all I needed to hear — dinner for less then $5 per person, our mandatory budget? Let's go!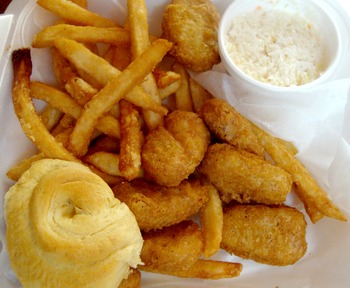 Mary Bilyeu | Contributor
I ordered the special, which offered three pieces of tender chicken and sufficiently generous helpings of side dishes that I couldn't finish the meal by myself. Jeremy ordered the eight-piece chicken nugget dinner for $4.99 and compared it — in typical 22-year-old male fashion — to
McDonald's
, saying the local family business offered better food and a better value.
Other options that meet our budget restrictions are the 21-piece shrimp-only dinner, for $4.93; the 8-piece thrift box of chicken, which is plenty to share with at least one other person; and the lunch special of two pieces of chicken, mashed potatoes, gravy, cole slaw, and a biscuit for $4.72.
The restaurant was very popular while we waited for our take-out order to be filled (there are a few chairs, but "to go" orders seem to predominate), with four other customers coming in during our short time there. Nice people running a family business, hearty portions, and a good price all combine to make Family Fried Chicken a worthwhile place to visit.
Family Fried Chicken
510 W. Michigan Ave.
Ypsilanti, MI 48197
734-485-1923

Mary Bilyeu - a self-proclaimed Food Floozie (named for her blog, which is taking a summer vacation) - writes for AnnArbor.com on Tuesdays, Wednesdays, and Fridays, telling about her adventures in the kitchen. She is also on a mission to find great deals for her Frugal Floozie Friday posts, seeking fabulous food at restaurants on the limited budget of only $5 per person. Feel free to email her with questions, comments, or suggestions: yentamary@gmail.com.

The phrase "You Should Only Be Happy" (written in Hebrew on the stone pictured in this post) comes from Deuteronomy 16:15 and is a wish for all her readers - when you come to visit here, may you always be happy.