Posted on
Fri, Jun 8, 2012 : 10:20 a.m.
Frugal Friday at Ann Arbor's newest location of Five Guys Burgers and Fries
By Mary Bilyeu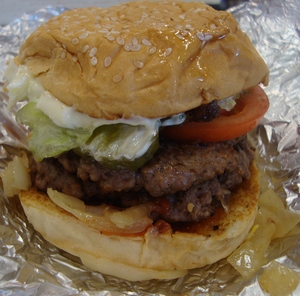 Mary Bilyeu | Contributor
I'd never been to a restaurant's pre-opening "dress rehearsal" before, so I was very excited to be able to take Jeremy to the trial run at the new Five Guys Burgers and Fries that just opened this Monday at Arborland. It makes a perfect Frugal Floozie Friday feature!
This will be the second Five Guys in Ann Arbor (the other is on State Street), but it was my first visit to one of these legendary burger joints. I'd heard nothing but good things about them, with significant awe about the generosity and freshness of the servings, so I was looking forward to sharing the feasting and fun with Jeremy.
As we walked up, the door was held open by a wonderfully friendly greeter with a radiant smile. Everyone, truly, flashed fabulous smiles — the hostesses who handed us menus, the cashier who took our order, the woman who explained the newfangled soda machine, the waitstaff who kept checking to ask if we needed anything, the man who thanked us for coming to visit and wished us a good evening... everyone. We felt so very welcome!
The menu is small — burgers, hot dogs, sandwiches, fries, and drinks; but it proves the adage that you should focus on a few items and then do them well. Given the number of happy people who joined us at the dress rehearsal, and the popularity of Five Guys around the country, it's clear they do this very well.
I ordered a little — ha! — hamburger, pictured above, for $3.79. I could have ordered up to 15 toppings for free, but settled for mayonnaise, lettuce, pickles, tomatoes, grilled onions and ketchup. This alone was an enormous quantity of food, a tremendous value for less than our mandatory Frugal Floozie budget of only $5 per person.
But then there were fries — a regular order costs only $1.99 and was so generous that many of them had fallen out of the serving cup and were strewn on the bottom of the bag our food had been served in. Two people could easily split these, each buy a drink for $1.99 (regular) or $2.29 (large), and still come in at less than $4. And you'd be full.
Fries can be ordered either "Five Guys Style," crisp and golden with a nicely blended seasoned salt, or "Cajun Style." Jeremy doesn't like spicy food, so I guess I'll just have to go back sometime and try those others for myself, huh? Gee, what a rough job!
I had never seen a soda dispenser like the one at the restaurant, so I was grateful to have a very patient woman standing near the machine to explain it. (Jeremy can attest — complete with annoyance, disgust, and a roll of his eyes — how little aptitude I have for new toys.)
There are 125 different beverages available, from the standard Coke products to variations I'd never heard of (peach Mountain Dew).
Touch the screen to pick the brand you want, then touch the screen again to make a selection when the assortment of flavors appears. As someone who has a terrible time making decisions — particularly when it comes to anything remotely food-related — I could easily have flipped from screen to screen trying to pick something. Fortunately, Jeremy nudged me along before I found myself taking up space for too long and getting in other people's way.
Just as the staff in the front of the house was tremendously friendly, the kitchen staff was astoundingly efficient. There were many people lined up preparing food at a furious pace, and everyone worked cooperatively and played well with the others. It was fascinating to watch them work, especially given that it is a brand new set of co-workers that already formed a cohesive team.
Other Five Guys menu items that meet our tight $5 Frugal Floozie Friday budget are the little cheeseburger and little bacon burger, which are each available with as many of those aforementioned 15 toppings that your heart (and stomach) could possibly desire. All four hot dogs — kosher style, cheese dog, bacon dog, and the decadent bacon cheese dog — as well as all three sandwich varieties (veggie, cheese veggie, and grilled cheese) qualify, as well. Even the large order of fries — and I can't imagine how enormous that portion might be, after seeing the smaller serving! — is only $4.99.
There was a very festive atmosphere at the dress rehearsal, and it was great to see many friends who'd also been invited to the event. If we'd had to wait awhile for our food, Jeremy and I could have shared a basket of fresh peanuts that are available to feed and entertain customers while the cooks do their job. But our dinner was brought out so quickly that we didn't even need any.
Five Guys Burgers and Fries offers a great value with tremendously friendly service. What more could you ask for?

Five Guys Burgers and Fries
3601 Washtenaw Ave.
Ann Arbor, MI 48104
734-971-5050
Monday - Sunday 11 a.m.-10 p.m.

Mary Bilyeu
writes about her adventures in the kitchen - making dinner, celebrating holidays, entering cooking contests ... whatever strikes her fancy. She is also on a mission to find great deals for her Frugal Floozie Friday posts, seeking fabulous food at restaurants on the limited budget of only $5 per person. Feel free to email her with questions or comments or suggestions:
yentamary@gmail.com
.
You should visit Mary's blog — Food Floozie — on which she enthuses and effuses over all things food-related. And be sure to look for her monthly articles about holiday foods and traditions in the Washtenaw Jewish News.
The phrase "You Should Only Be Happy" (written in Hebrew on the stone pictured in this post) comes from Deuteronomy 16:15 and is a wish for all her readers - when you come to visit here, may you always be happy.