Posted on
Fri, Dec 7, 2012 : 8 a.m.
Frugal Friday at Glee Cake & Pastry - satisfy your sweet tooth for less than $5
By Mary Bilyeu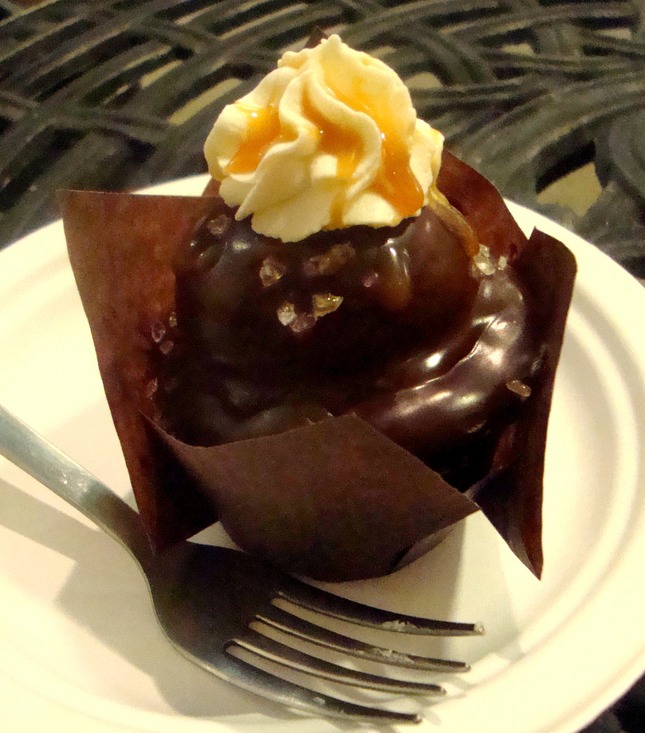 Mary Bilyeu | Contributor
My boyfriend, Craig, and I took a trip out to Chelsea last Saturday to putter around, to see the Christmas-y sites, and to revel in small-town friendliness, quaintness and charm. And a highlight of our afternoon, of course, was cupcakes. But not just any cupcakes — these were baked by
Glee Havens
, who won the
2012 Girl Scout Cookie Bake-Off Benefit
that I was thrilled to help judge this past September.
And so, when you can relish decadent treats like these for less than $5 per person, Glee Cake & Pastry is a natural fit for Frugal Floozie Friday!
There are so many treats to choose from: cupcakes, dessert bars, slices of tortes or cakes... sigh. I wandered back and forth from one display case to another (there are three); and instead of narrowing down my list of options, each time I considered my choices my list grew longer.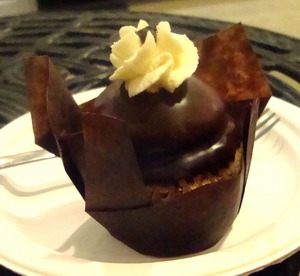 Mary Bilyeu Contributor
Craig knew readily what he wanted: the Boston Cream cupcake pictured at right: "A light moist vanilla cake topped with a rich vanilla custard and dipped in chocolate ganache." Having gone to graduate school in Boston, it was a taste of his former home. And who doesn't love this lovely, decadent treat?
I debated among the Peanut Butter and Ganache cupcake, the coconut-topped Toasted Mounds variety, and the Death by Chocolate (no surprise to learn this is the shop's best seller). But I succumbed ultimately to the Salted Butterscotch cupcake pictured at the top of the post — salty, sweet, and sublime.
Cupcakes cost $3 each — well within our mandatory Frugal Floozie Friday budget of $5 or less per person; but if you buy two or more, they are only $2.75. Slices of elegant, sophisticated, luscious cakes and tortes cost $4.25; and cookies, brownies, or bars range from 75 cents to $3 each.
Even better, if you visit Glee on a Sunday you can enjoy Happy Hour prices: from noon-5 p.m., "all items in the case are half off!"
Whether you're looking to enjoy treats for a special occasion, or just want a little something sweet "just because," be sure to stop by Glee's shop for wonderful items.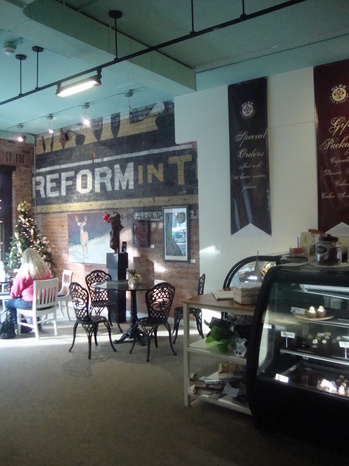 Mary Bilyeu, Contributor
Glee Cake & Pastry 117 S. Main Street Chelsea, MI 48118 734-475-3000 Tuesday - Thursday: 10 a.m. - 6 p.m. Friday - Saturday: 10 a.m. - 9 p.m. Sunday: noon - 5 p.m.

Mary Bilyeu writes for AnnArbor.com on Tuesdays, Wednesdays, and Fridays, telling about her adventures in the kitchen - making dinner, celebrating holidays, entering cooking contests, meeting new friends ... whatever strikes her fancy. She is also on a mission to find great deals for her Frugal Floozie Friday posts, seeking fabulous food at restaurants on the limited budget of only $5 per person. Feel free to email her with questions, comments, or suggestions: yentamary@gmail.com.

Go visit Mary's blog — Food Floozie — where she enthuses and effuses over all things food-related; and look for her monthly articles in the Washtenaw Jewish News. "Like" her on Facebook, or send a tweet on Twitter, too.

The phrase "You Should Only Be Happy" (written in Hebrew on the stone pictured in this post) comes from Deuteronomy 16:15 and is a wish for all her readers - when you come to visit here, may you always be happy.