Posted on
Fri, Jul 5, 2013 : 12:10 p.m.
Frugal Friday at Golden Egg - it's easy to find a filling breakfast on the cheap
By Mary Bilyeu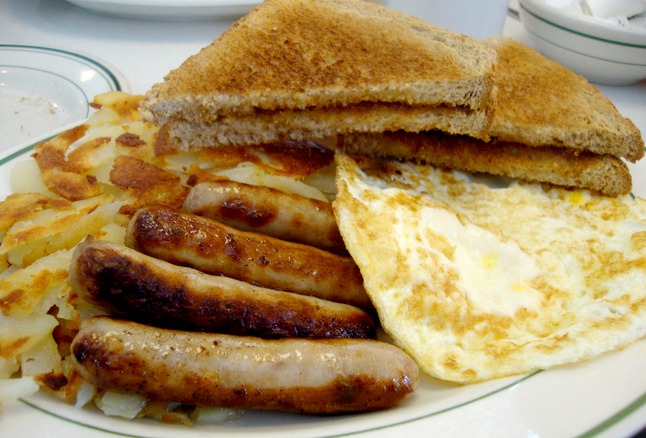 Mary Bilyeu, Contributor
Frugal Floozie Friday is a feature that seeks out dishes - appetizers, drinks, snacks, desserts, sandwiches, whatever - for $5 or less per person. Sometimes I split generously-sized items with loved ones, saving both money and calories; sometimes I find a great deal on a single serving that fits perfectly within the mandatory budget. I try to showcase several options to choose from, and you never know where I'll find them. Check out the column every Friday!
After several hours of rummage sale-ing one Saturday morning, it was time to find breakfast. As Craig and I drove down Washtenaw, we saw the Golden Egg - a family-style diner, the kind of place that can always be counted on for good, old-fashioned, hearty food.
Mary Bilyeu, Contributor
Craig ordered two pancakes with two pieces of meat (a choice of bacon, sausage, or ham). At $4.45, this was a very good value that was well within our mandatory budget of $5 per person. He raved about the pancakes, which were enormous, light, fluffy, and delicious.
I chose the Golden Egg Special (pictured above): 2 eggs with a choice of either four sausages, four strips of bacon, or three pieces of ham accompanied by American fries or grits, as well as toast and jelly. A tremendous amount of food for $4.99, even I - with a sturdy appetite - didn't come close to finishing it.
The Golden Egg offers lots of dishes that qualify for our Frugal Floozie Friday restrictions, whether you go for breakfast or for lunch. The Breakfast Sandwich - "Ham, Bacon or Sausage with egg" - costs $3.99; add cheese for an extra 50 cents. Everything from oatmeal to corned beef hash, from a bagel with cream cheese to an omelette, can be enjoyed for less than $5.
Cheese sticks served with Ranch dressing or breaded mushrooms cost $4.99. You can enjoy the soup of the day or the chili for less than $3.50, whether you order a cup or even a full bowl. A mini Greek salad is $3.99, as is a grilled cheese sandwich. And a Western Sandwich - "made with one egg, chopped ham, onion green peppers and served on toast of your choice" - costs $4.99. Or you could order Coneys or burgers or even chili cheese fries ... there are a lot of great deals on the menu that meet our frugal terms!
Dessert, of course, should not be missed. Beautiful cream pies are offered for $2.99 per slice; served with a $1.69 cup of coffee - refilled generously and often - it's a great treat.
For friendly service, a good wholesome meal, and value, go visit the Golden Egg!
Golden Egg 2660 Washtenaw Ypsilanti, Michigan 48197 734-434-0100 Sunday - Saturday: 7 a.m. - 4 p.m.

Mary Bilyeu - a self-proclaimed Food Floozie (named for her blog, which is taking a summer vacation) - writes for AnnArbor.com on Tuesdays, Wednesdays, and Fridays, telling about her adventures in the kitchen. She is also on a mission to find great deals for her Frugal Floozie Friday posts, seeking fabulous food at restaurants on the limited budget of only $5 per person. Feel free to email her with questions, comments, or suggestions: yentamary@gmail.com.

The phrase "You Should Only Be Happy" (written in Hebrew on the stone pictured in this post) comes from Deuteronomy 16:15 and is a wish for all her readers - when you come to visit here, may you always be happy.