Posted on
Fri, Oct 28, 2011 : 9 a.m.
Frugal Friday at Great Plains Burger - burger joint provides a hearty meal of comfort food for under $5
By Mary Bilyeu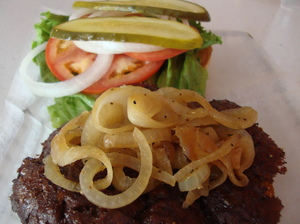 Mary Bilyeu | Contributor
After running some errands on a chaotic afternoon, Jeremy and I were in need of sustenance. We were hungry, and we were a bit frustrated after not accomplishing everything we'd hoped to. So we sought the comfort of a great burger with all the fixin's. We went to today's Frugal Floozie Friday feature —
Great Plains Burger
.
For $4.89 — perfectly within our mandatory $5 per person budget — you can get a single burger with either a beef, turkey or black bean patty. (Carnivores that we are, Jeremy and I both chose beef.) But then there are the freebies: mayonnaise, ketchup, mustard, Thousand Island dressing, barbecye sauce, steak sauce, lettuce, tomato, onion, pickles, green olives, jalapenos, grilled onions and sauteed mushrooms. For less than $5, you can have quite a feast!
I piled on the toppings, maximizing the value for my frugal meal. The patties are hand-formed, the vegetables are all fresh and crisp, and the burgers are made only when ordered, rather than loitering under lamps for awhile. Messy, flavorful and abundant... this was a great burger!
Great Plains Burger also serves milkshakes and fries that fall within our Frugal Floozie Friday limits. The fries are hot and crisp and perfectly cooked, and the shakes are unbelievably rich and creamy, featuring local favorite Guernsey ice cream.
So for a quick and hearty meal that doesn't cost a lot of money, Great Plains Burger is absolutely a fabulous choice!
Great Plains Burger
1771 Plymouth Road
Ann Arbor, MI 48105
734-769-6900

Mary Bilyeu has won or placed in more than 60 cooking contests and writes about her adventures in the kitchen. She was thrilled to have her post about Scottish Oatmeal Shortbread named as one of the daily "Best of the Blogs" by the prestigious Food News Journal.
Go visit Mary's blog — Food Floozie — on which she enthuses and effuses over all things food-related. Her newest feature is Frugal Floozie Friday, seeking fun and food for $5 or less ... really! Feel free to email her with questions or comments or suggestions: yentamary@gmail.com.
The phrase "You Should Only Be Happy" (written in Hebrew on the stone pictured in this post) comes from Deuteronomy 16:15 and is a wish for all her readers as they cook along with her ... may you always be happy here.