Posted on
Fri, Feb 15, 2013 : 11:30 a.m.
Frugal Friday at Grizzly Peak Brewing Co. - split a pizza or enjoy bread pudding for $5 per person
By Mary Bilyeu
Mary Bilyeu | Contributor
My friend Ruth Kraut "won" me last fall at
Gimme Shelter
, the primary fundraising event for
Alpha House
, which provides shelter and other support services to homeless families. I had donated a gift certificate to the silent auction, offering a chance to join me for a
Frugal Floozie Friday
write-up.
When offering these donations, one wonders who's bidding and who'll come out victorious. I was thrilled to learn that Ruth and I would be sharing a food tasting adventure!
We were finally able to schedule our lunch date, and had a fabulous time — and a great meal — at Grizzly Peak Brewing Co.. We were seeking vegetarian options, and my auction package had included an offer to order — and perhaps share, dependent upon price — an assortment of treats. So we debated among the bruschetta topped with tomatoes, basil, olives, garlic, and parmesan; the polenta fries served with housemade "catsup," recommended by our charming waiter; several varieties of the hearth-baked pizzas; and cheddar and ale soup. Each dish was tempting, each had merit.
We settled on three things, sharing each not only so that we could both have tastes, but because the servings were more than generous.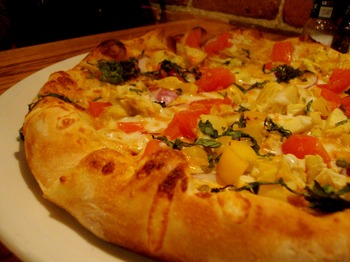 Mary Bilyeu | Contributor
As Ruth and I talked about our children, about blogging, about work, about barbecue competitions (
Memphis in May
as well as the kosher answer to this "
Super Bowl of Swine
," the
ASBEE Kosher BBQ Contest
), and about many other things, we started our meal with the soft warm pretzels pictured above, served with a hard cider-infused cheddar dipping sauce. With four large, tender breadsticks in the basket, as well as the rich cheese accompaniment, at $8.95 this was a great appetizer for two within our mandatory $5 per person budget.
Next we shared a pizza which, as Ruth noted, was truly large enough to have been our entire meal without any other dishes. We chose the one with roasted bell peppers and artichoke hearts, which was beautiful and flavorful all at once. For only $7.95, this was an exceptional value for a large amount of food.
We couldn't leave without dessert, especially since an AnnArbor.com reader who posts as DBH had recommended that I try the restaurant's cherry bread pudding.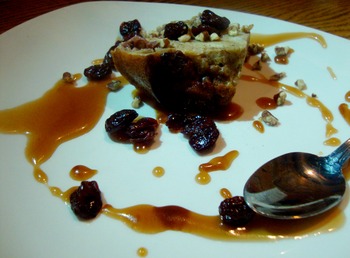 Mary Bilyeu | Contributor
At $4.95, Ruth and I could each have ordered our own and stayed within the budget; but it was rich enough — and we'd already enjoyed enough other items — that splitting it was perfect. (Our waiter even brought us individual plates, each with its own half-portion.)
If you ever just want coffee and a little sweet "something" to share with a date, I would highly recommend this. Featuring white chocolate, toasted pecans, and numerous tart cherries, the pudding is drizzled with a bourbon-caramel sauce that was an ideal accompaniment.
For attentive and friendly service, warm ambiance, and excellent food that offers great value and numerous frugal options, Grizzly Peak is a wonderful place to enjoy a meal with loved ones.
Grizzly Peak Brewing Co.
120 W. Washington
Ann Arbor, Michigan 48104
734-741-7325
Monday - Thursday: 11 a.m. - 11 p.m.
Friday - Saturday: 11 a.m. - midnight
Sunday: Noon - 11 p.m.

Mary Bilyeu writes for AnnArbor.com on Tuesdays, Wednesdays, and Fridays, telling about her adventures in the kitchen - making dinner, celebrating holidays, entering cooking contests, meeting new friends ... whatever strikes her fancy. She is also on a mission to find great deals for her Frugal Floozie Friday posts, seeking fabulous food at restaurants on the limited budget of only $5 per person. Feel free to email her with questions, comments, or suggestions: yentamary@gmail.com.

Go visit Mary's blog — Food Floozie — where she enthuses and effuses over all things food-related; and look for her monthly articles in the Washtenaw Jewish News. "Like" her on Facebook, or send a tweet on Twitter, too.

The phrase "You Should Only Be Happy" (written in Hebrew on the stone pictured in this post) comes from Deuteronomy 16:15 and is a wish for all her readers - when you come to visit here, may you always be happy.