Posted on
Fri, May 10, 2013 : 11 a.m.
Frugal Friday at Jefferson Market and Cakery - feed a sweet tooth for $5 or less
By Mary Bilyeu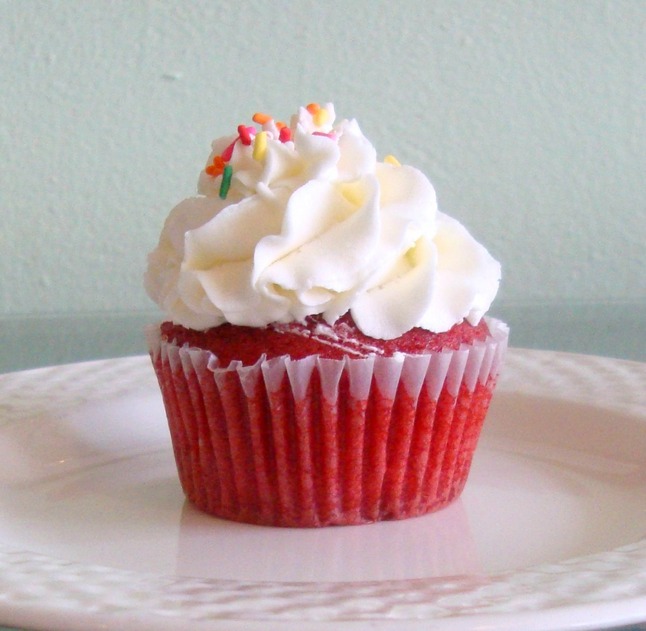 Mary Bilyeu | Contributor
Frugal Floozie Friday is a feature that seeks out dishes — appetizers, drinks, snacks, desserts, sandwiches, whatever — for $5 or less per person. Sometimes I split generously-sized items with loved ones, saving both money and calories; sometimes I find a great deal on a single serving that fits perfectly within the mandatory budget. I try to showcase several options to choose from, and you never know where I'll find them. Check out the column every Friday!
Craig has a sweet tooth. His makes my own infamous one hang its head in shame.
So it didn't take a lot of work to persuade Craig to join me at Jefferson Market and Cakery one afternoon for coffee and treats. Not a full meal, admittedly; but then, one doesn't always require a full meal. Sometimes one just requires a bit of comfort and a little something delicious. These desserts were perfect.
For less than $5 per person — our mandatory Frugal Floozie Friday budget — I was able to enjoy the gorgeous Red Velvet cupcake pictured above plus a cup of coffee: $1.75 for the former, $2 for the latter (a small one). Rich frosting, tender cake... a lovely snack.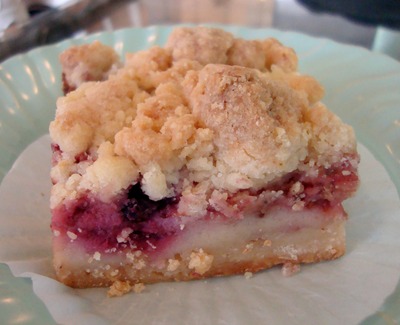 Mary Bilyeu | Contributor
Craig chose the beautiful Berry Bar for $3.50 - a crisp crust, a thin layer of custard, ripe fruits, and a crumbly topping. A bit sweet, a bit tart, and entirely wonderful!
Coffees and chai range in price from $2-2.75. Now that spring is here and cool drinks are desired, both lemonade and iced tea cost only $2.
You can also buy sandwiches, ranging in price from $6.99-7.99; they're served with house-made chips. One of these could be split, making sure to save room for one of the amazing pastries, and you could still come in under our mandatory budget.
Jefferson Market is a bright, friendly place that offers free wi-fi and a warm welcome to loiter while talking or working. And it's such fun to peer behind the back counter to watch the artists at the Cakery creating unique masterpieces for special events; they make such gorgeous celebration cakes!
Jefferson Market. As its own website says, "Cafe, Cakes ... Bliss!"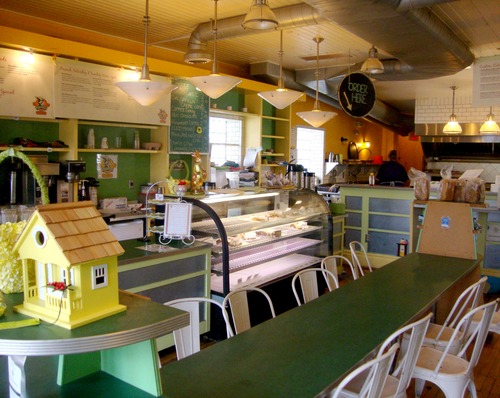 Mary Bilyeu | Contributor
Jefferson Market and Cakery
609 W. Jefferson
Ann Arbor, MI 48103
734-665-6666
Monday: Closed
Tuesday - Friday: 8 a.m. - 5 p.m.
Saturday and Sunday Brunch: 10 a.m. - 1 p.m.

Mary Bilyeu writes for AnnArbor.com on Tuesdays, Wednesdays, and Fridays, telling about her adventures in the kitchen - making dinner, celebrating holidays, entering cooking contests, meeting new friends ... whatever strikes her fancy. She is also on a mission to find great deals for her Frugal Floozie Friday posts, seeking fabulous food at restaurants on the limited budget of only $5 per person. Feel free to email her with questions, comments, or suggestions: yentamary@gmail.com.

Go visit Mary's blog — Food Floozie — where she enthuses and effuses over all things food-related; and look for her monthly articles in the Washtenaw Jewish News. "Like" her on Facebook, or send a tweet on Twitter, too.

The phrase "You Should Only Be Happy" (written in Hebrew on the stone pictured in this post) comes from Deuteronomy 16:15 and is a wish for all her readers - when you come to visit here, may you always be happy.