Posted on
Fri, Nov 18, 2011 : 1 p.m.
Try a hand-dipped caramel apple for a Frugal Friday at Kilwin's
By Mary Bilyeu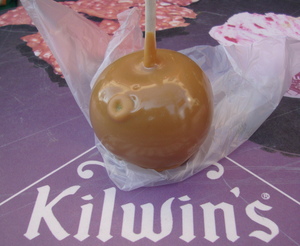 Mary Bilyeu, Contributor
Today's Frugal Floozie Friday post features the consummate, classic fall treat — caramel apples from Kilwin's.
These aren't just any ol' caramel apples, made with little cellophane-wrapped squares... nope. These are hand-dipped into caramel that has been tended in copper kettles, from the original recipe developed by Don Kilwin himself.
To their credit, Kilwin's uses Granny Smith apples, whose tartness perfectly complements the sweetness of the caramel, which tantalizes with just a hint of butterscotch. The texture is perfection — firm enough to adhere to the apple, soft enough to bite or cut directly into the sublime treat without resistance.
The apples that are dipped into nuts are just over our mandatory Frugal Floozie Friday budget; but the plain ones — a term which is woefully dismissive of a truly luxurious indulgence! — are a perfect $5.
I walk by the windows at Kilwin's on a regular basis, gazing at the beautiful rows of caramel apples each time; they are lined up in formation, ready to go to a good home. It is easy to be seduced by them when you see them in their beautiful simplicity. And once you've eaten one, you'll want to return again and again and again....

Kilwin's
107 E. Liberty St.
Ann Arbor, MI 48104
734-769-7759

Mary Bilyeu has won or placed in more than 60 cooking contests and writes about her adventures in the kitchen. She was thrilled to have her post about Scottish Oatmeal Shortbread named as one of the daily "Best of the Blogs" by the prestigious Food News Journal.
Go visit Mary's blog — Food Floozie — on which she enthuses and effuses over all things food-related. Her newest feature is Frugal Floozie Friday, seeking fun and food for $5 or less ... really! Feel free to email her with questions or comments or suggestions: yentamary@gmail.com.
The phrase "You Should Only Be Happy" (written in Hebrew on the stone pictured in this post) comes from Deuteronomy 16:15 and is a wish for all her readers as they cook along with her ... may you always be happy here.