Posted on
Fri, Sep 6, 2013 : 8 a.m.
Frugal Friday at La Casita Taqueria - hearty dishes won't break the bank
By Mary Bilyeu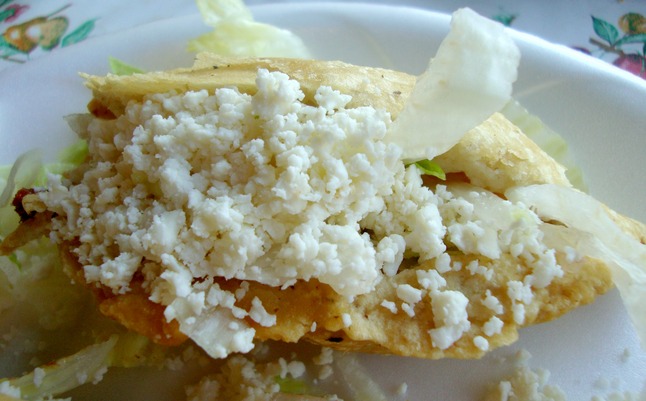 Mary Bilyeu, Contributor
Frugal Floozie Friday is a feature that seeks out dishes - appetizers, drinks, snacks, desserts, sandwiches, whatever - for $5 or less per person. Sometimes I split generously-sized items with loved ones, saving both money and calories; sometimes I find a great deal on a single serving that fits perfectly within the mandatory budget. I try to showcase several options to choose from, and you never know where I'll find them. Check out the column every Friday!
My friend and fellow AnnArbor.com contributor Peggy Lampman wrote to me awhile ago to let me know that "La Casita Taqueria has amazing value — I had a shrimp quesadilla for $2.50 that sent me to the moon."
Well, that was all the recommendation I needed. A trusted palate and a referral to a place that meets our mandatory Frugal Floozie Friday budget of $5 per person...? Off I went!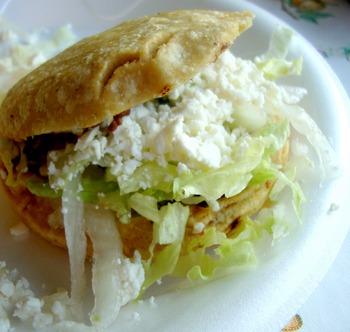 Mary Bilyeu | Contributor
So, of course, I ordered the shrimp quesadilla that had set Peggy's heart so a-flutter. A freshly fried, hot, crisp shell filled generously, it was very hearty all by itself, especially when paired with the chips and salsa basket that the waitress had brought to the table. To fill out the $5, I also ordered a gordita: a "Round Crispy Corn Tortilla Filled With ... Fresh Shredded Lettuce & Cheese." The Al Pastor — marinated roasted pork — cost $2.25. It was so much food that I actually had leftovers for the next day.
The tacos range in price from $1.69 (Al Pastor, Carne Asada, Carnitas, Chorizo, Lengua/Tongue, Chochinita/Pork) to $2 for Tripe. Pambazos — "Mexican Bun Filled With Your Choice of Meat & Drowned in Special Red Mild Sauce" — cost $4.50-$4.75, with fillings from chicken to pork to beef.
La Casita also offers breakfast, served with beans and rice, with platters costing $4.75 for eggs with a variety of accompaniments (chorizo, ham, vegetables). And you know dessert is always important! For $3.50, you can choose from Tres Leches Cake, Flan, and rice pudding.
For a wide variety of frugal and hearty options, La Casita Taqueria is a great find!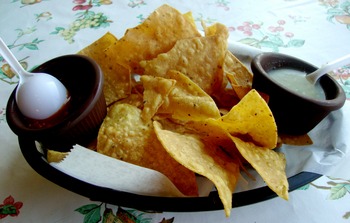 Mary Bilyeu | Contributor
La Casita Taqueria
2866 Washtenaw Ave.
Ypsilanti, MI 48197
734-434-0815
Monday - Thursday: 11 a.m. - 9 p.m.
Friday and Saturday: 11 a.m. - 10 p.m.
Sunday: 10 a.m. - 8 p.m.

Mary Bilyeu - a self-proclaimed Food Floozie (named for her blog, which is taking a summer vacation) - writes for AnnArbor.com on Tuesdays, Wednesdays, and Fridays, telling about her adventures in the kitchen. She is also on a mission to find great deals for her Frugal Floozie Friday posts, seeking fabulous food at restaurants on the limited budget of only $5 per person. Feel free to email her with questions, comments, or suggestions: yentamary@gmail.com.

The phrase "You Should Only Be Happy" (written in Hebrew on the stone pictured in this post) comes from Deuteronomy 16:15 and is a wish for all her readers - when you come to visit here, may you always be happy.