Posted on
Fri, Aug 9, 2013 : 8 a.m.
Frugal Friday at Mancino's Pizza and Grinders - eat healthy or indulge for $5
By Mary Bilyeu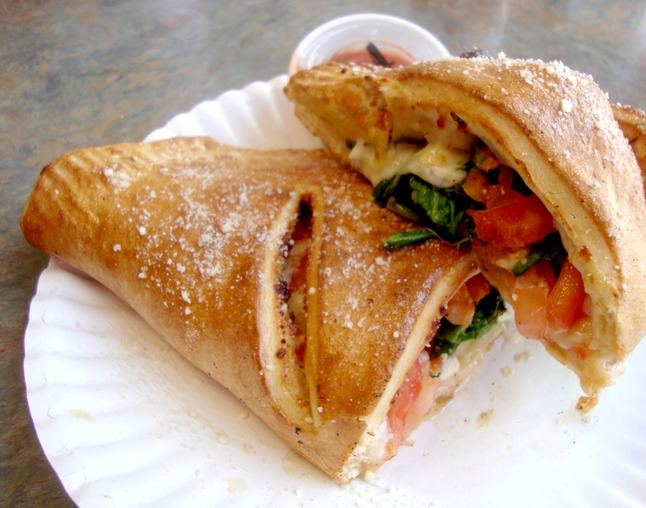 Mary Bilyeu | Contributor
Frugal Floozie Friday is a feature that seeks out dishes - appetizers, drinks, snacks, desserts, sandwiches, whatever - for $5 or less per person. Sometimes I split generously-sized items with loved ones, saving both money and calories; sometimes I find a great deal on a single serving that fits perfectly within the mandatory budget. I try to showcase several options to choose from, and you never know where I'll find them. Check out the column every Friday!
Mancino's Pizza and Grinders, with friendly staff and quick service, was the perfect place to stop for lunch recently when Jeremy, Craig, and I were out running errands. With hearty food and daily specials, it's as though they knew I was coming with my mandatory $5 Frugal Floozie Friday budget!
Saturday's special is a huge 9-inch calzone over-stuffed with two items for only... ta da!... $5. Jeremy ordered his with double cheese, for an extra ooey-gooey version. I chose fresh spinach and tomatoes, which offered nutrition, flavor, and inviting color. If you go to Mancino's on Mondays, the special is a half-grinder (the 9-inch ones) for $5.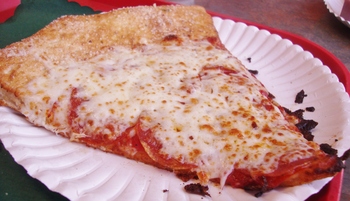 Mary Bilyeu | Contributor
Or, if you just want a good ol'-fashioned slice of New York-style pizza, you can get one with one item for $2.50 — order one slice of pizza and either a side salad for $2.39 or a brownie for $2.25. Or you could order two slices and a glass of water. Or, best of all: order just one generous slice along with a soda (small for $1.49, large for $1.99), then finish with a 50-cent cookie. There are many ways to configure your pizza meal without spending a lot of money.
Eat in, carry out, or get delivery. But for a great value, be sure to order from Mancino's!
Mary Bilyeu | Contributor
Mancino's Pizza and Grinders
2883 Carpenter Road
Ann Arbor, MI 48108
734-677-3655

Mary Bilyeu - a self-proclaimed Food Floozie (named for her blog, which is taking a summer vacation) - writes for AnnArbor.com on Tuesdays, Wednesdays, and Fridays, telling about her adventures in the kitchen. She is also on a mission to find great deals for her Frugal Floozie Friday posts, seeking fabulous food at restaurants on the limited budget of only $5 per person. Feel free to email her with questions, comments, or suggestions: yentamary@gmail.com.

The phrase "You Should Only Be Happy" (written in Hebrew on the stone pictured in this post) comes from Deuteronomy 16:15 and is a wish for all her readers - when you come to visit here, may you always be happy.