Posted on
Fri, Aug 10, 2012 : 8 a.m.
Frugal Friday at Mark's Carts, The Sequel
By Mary Bilyeu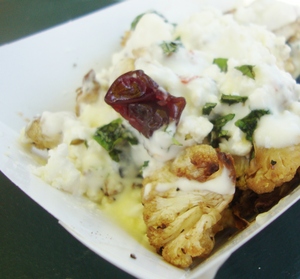 Mary Bilyeu | Contributor
Mark's Carts — Ann Arbor's food cart sensation — keeps growing and offering even more fabulous items. I leapt at the opportunity when my friend Ingrid Ault, the force behind Think Local First, suggested that we meet at the courtyard on a lovely sunny evening. I'd visited last year, the opening season, and I was looking forward to going back in order to enjoy great treats from some of the new vendors.
At entre-SLAM a few weeks ago, I was able to try a grilled cheese sandwich with corn relish from Cheese Dream and healthy Indian street food from Hut-K Chaats, since several of the entrepreneurial cooks offered dinner options for the event. Last summer, I ate a bratwurst from eat (which now has its own physical building instead of a cart) and a rich chocolate dessert from Darcy's Cart. I've also tried vegan foods — a salad and a variety of pies and cookies — from The Lunch Room. I've eaten very well, but there was more tasting to do!
It is very easy to eat at Mark's Carts within our mandatory budget of $5 per person. Salads, cookies, ice cream, entrees, beverages... all sorts of options abound for nutritious, locally sourced, creative, fun, and delicious food.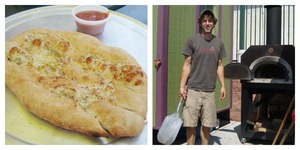 Mary Bilyeu | Contributor
I ordered breadsticks from A2 Pizza Pi for a mere $3, thinking this would be a small snack while I debated my other options among the carts that were open; these were prepared in a wood-fired stove right next to the cart by a very charming young man named Nick. (Each cart keeps its own hours, with some open throughout the day, though they primarily serve lunch and dinner).
Not only did I find myself with a serving the size of a dinner plate; but the breadsticks were crisp, chewy, tender, and utterly addictive. I offered Ingrid a taste, but she declined as she was waiting for a pizza; I proceeded to devour the entire serving myself, then, although I'd planned to only nibble.
Mary Bilyeu | Contributor
The Margherita pizza — a classic with simple but stellar ingredients of tomato sauce, cheese, and basil — cost only $8 and could easily serve four. It was a great value, which was prepared fresh to order in a matter of mere minutes, and thoroughly enjoyed.
A friend of Ingrid's, Johnny, and his friend Robert who'd recently moved to town from Chicago, joined us for some great conversation and more amazing food. We chatted about gardens, nightclubs, where to eat, what to eat, and all sorts of fun topics. Food, of course, was at the core; all of us want to support local restaurants, run by our friends and neighbors. And turning this into a social event to share makes it all the better.
I found that Robert is, remarkable as it sounds, as obsessive about food as I am. He stops by every menu posted in a restaurant window to evaluate the offerings and determine what he wants to try (yup), admits to using a bit of lard in pie crust for the flakiness and tenderness it offers (yup), and wholeheartedly agrees that Grade B maple syrup, in all its dark and rich glory, is the only appropriate choice rather than the lighter — in both color and flavor — Grade A (yup). A kindred spirit!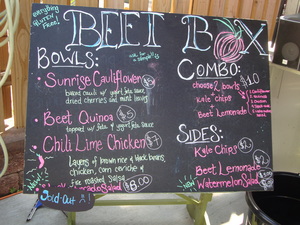 Mary Bilyeu | Contributor
So when Robert and Johnny ordered the Sunrise Cauliflower Bowl (pictured at the top of the post) from The Beet Box for an even $5, and then proceeded to rave about it, I knew it was great. (I had hoped to order the Watermelon Salad, but this cart hadn't been open when Ingrid and I first arrived, and I'd already filled up on the excellent breadsticks by the time the salad became available.)
Baked cauliflower is topped with a yogurt-feta sauce, dried cherries, and mint to create a unique and vivid dish. It's innovative and nutritious, and Robert declared that he has now become a fan of this underappreciated vegetable.
Ingrid and I had also ordered refreshing $1.50 limeades from The Lunch Room, and Johnny had selected their Pad Thai for his main course. Robert chose a banh mi from San Street to accompany the cauliflower.
And this showcases one of the best parts of eating at Mark's Carts: There is something for everyone, regardless of food and dietary preferences. Not only can each person in your party order something different, but you can make an entire meal for yourself from a variety of carts and cuisines. How perfect is this for someone like me, who likes so many foods and who is so notoriously indecisive?
Grab some family and friends, and head on down to Mark's Carts for great frugal dining options. And on Friday evenings from 7-9 p.m., there's even live music. Food and fun for $5 or less... just what I promise every week!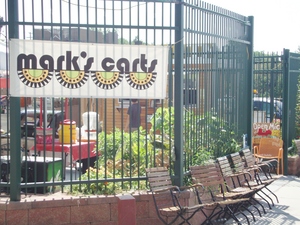 Mary Bilyeu | Contributor

Mark's Carts
211 W. Washington
Ann Arbor, MI 48104

Mary Bilyeu writes for AnnArbor.com on Tuesdays, Wednesdays, and Fridays, telling about her adventures in the kitchen - making dinner, celebrating holidays, entering cooking contests, meeting new friends ... whatever strikes her fancy. She is also on a mission to find great deals for her Frugal Floozie Friday posts, seeking fabulous food at restaurants on the limited budget of only $5 per person. Feel free to email her with questions, comments, or suggestions: yentamary@gmail.com. Go visit Mary's blog — Food Floozie — where she enthuses and effuses over all things food-related; and look for her monthly articles in the Washtenaw Jewish News. "Like" her on Facebook, or send a tweet on Twitter, too. The phrase "You Should Only Be Happy" (written in Hebrew on the stone pictured in this post) comes from Deuteronomy 16:15 and is a wish for all her readers - when you come to visit here, may you always be happy.