Posted on
Fri, Jun 28, 2013 : 11:20 a.m.
Frugal Friday at MO MO Tea - refreshing drinks, shaved ice won't break your budget
By Mary Bilyeu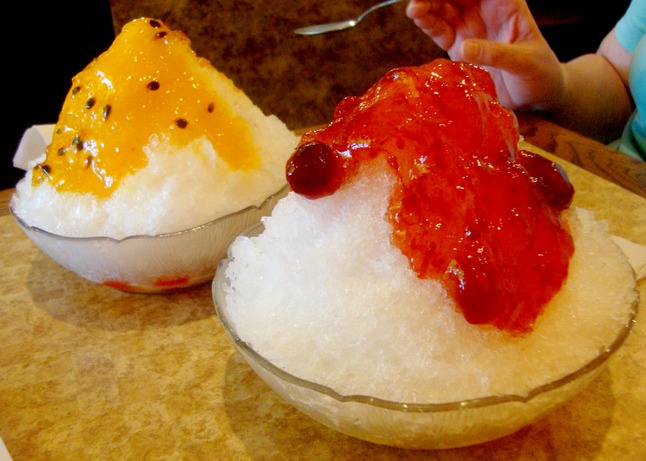 Mary Bilyeu | Contributor
Frugal Floozie Friday is a feature that seeks out dishes - appetizers, drinks, snacks, desserts, sandwiches, whatever - for $5 or less per person. Sometimes I split generously-sized items with loved ones, saving both money and calories; sometimes I find a great deal on a single serving that fits perfectly within the mandatory budget. I try to showcase several options to choose from, and you never know where I'll find them. Check out the column every Friday!
Ever since summer officially began, temperatures have risen in accordance with the calendar. People have complained about the heat, complained about the humidity, complained about how the humidity makes the heat worse ... sigh.
So when I met my good friend Carolyn at MO MO Tea, a traditional Taiwanese tea house, this week on a day that reached the very high-80s with threats of storms, we immediately decided upon the "Fantastic Shaved Ice." Although I would ordinarily be overwhelmed by a menu that offers more than 100 options, this was just too easy. But then we found out that there were decisions still to be made in terms of toppings and other items to complement the ice.
A very friendly and helpful server at the counter explained the concept to us: you get to pick three flavored items - boba (bubble tea tapioca bubbles), aloe, coconut jelly (jelly = gelatin), aiyu jelly, grass jelly, coffee jelly, green bean, red bean, taro, pudding, pineapple, or peach - which are placed in the bottom of the bowl. These are covered with a mound of ice, and then you get to choose a topping flavor from mango, green mango, kiwi, peach, strawberry, passion fruit, honeydew, pineapple, and green apple. Whew! We were offered tastes, we debated a bit more, and then we made our choices.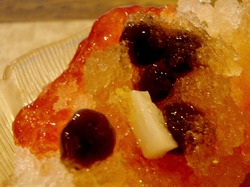 Mary Bilyeu | Contributor
Carolyn ordered the boba, the coconut jelly (which comes in thin white slivers), and the pudding which tasted very much like a
creme caramel
, and topped it with strawberry syrup. I chose three jellies - grass (which was fairly bland upon tasting but was reminiscent of
mastic
in a larger quantity), aiyu (very lemony), and coconut - and selected passion fruit syrup to top it all off. We ordered the small size, for $4.50 — a perfect fit for our mandatory Frugal Floozie Friday budget of $5 per person — and were then astounded to see bowls that were the size of half-cantaloupes!
The fantastic shaved ice was, indeed, a fantastic treat on such a hot day, cold and refreshing. We had planned to try other menu items, to offer a selection of frugal choices, but the ice was more than sufficient. Many, many items at this bright place, which also stocks cute and cuddly stuffed animals in the back of the shop, meet our very tight budgetary constraints.
Smoothies cost $3.95, FrosTea is $4.50, juices and lemonades are available for $3; and there are even some entrees, such as Minced Pork Rice, which can be enjoyed for $4.50. Snacks range in price from $2.75 for three Taiwanese Tea Eggs to $3.95 for Deep-Fried Squid Balls to $4.95 for two Fried Green Onion Pancakes.
A perfect place to stop on a hot day, or at any time that you just need a break and a bit of refreshment, MO MO Tea is definitely worth a visit.
MO MO Tea
1213 S. University
Ann Arbor, MI 48104
734-213-3300
Summer hours:
Sunday - Thursday: Noon - Midnight
Friday and Saturday: Noon - 1 a.m.

Mary Bilyeu - a self-proclaimed Food Floozie (named for her blog, which is taking a summer vacation) - writes for AnnArbor.com on Tuesdays, Wednesdays, and Fridays, telling about her adventures in the kitchen. She is also on a mission to find great deals for her Frugal Floozie Friday posts, seeking fabulous food at restaurants on the limited budget of only $5 per person. Feel free to email her with questions, comments, or suggestions: yentamary@gmail.com.

The phrase "You Should Only Be Happy" (written in Hebrew on the stone pictured in this post) comes from Deuteronomy 16:15 and is a wish for all her readers - when you come to visit here, may you always be happy.