Posted on
Fri, Aug 30, 2013 : noon
Frugal Friday at Mocha Monkey Cafe - fresh soups and sandwiches are $5 or less
By Mary Bilyeu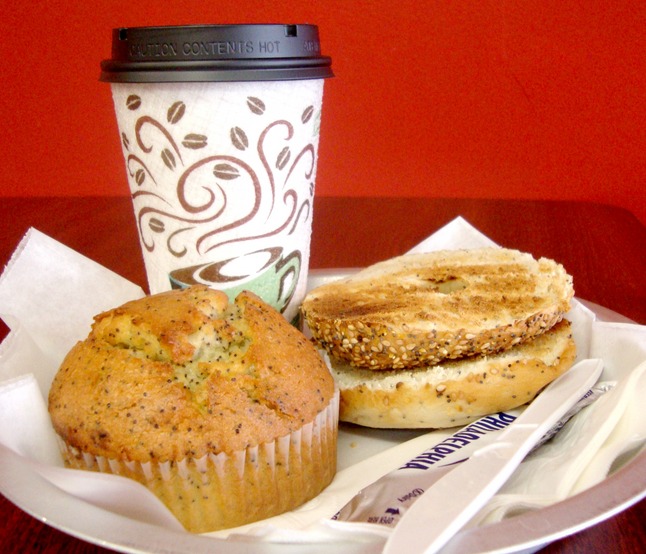 Mary Bilyeu | Contributor
Frugal Floozie Friday is a feature that seeks out dishes - appetizers, drinks, snacks, desserts, sandwiches, whatever - for $5 or less per person. Sometimes I split generously-sized items with loved ones, saving both money and calories; sometimes I find a great deal on a single serving that fits perfectly within the mandatory budget. I try to showcase several options to choose from, and you never know where I'll find them. Check out the column every Friday!
Whether you want a little something sweet or something savory, Mocha Monkey Cafe is the perfect place to stop. With warm and hearty greetings, friendly conversation, and a wide array of treats, it's a lovely destination or, perhaps, a serendipitous find. And given how close it is to the shopping corridors along both Carpenter Road and Washtenaw, it's also a great place to sit and relax a bit if you've been out running a lot of errands while getting ready to go back to school.
Craig and I happened to go to the cafe in the early afternoon — time for his first meal of the day (he's a late sleeper who isn't hungry when he wakes up) and my second (I'm an early riser who wakes up ravenous). Fortunately, Mocha Monkey served both our needs.
Craig ordered the $1.85 House Coffee — organic, and provided by The Great Lakes Coffee Roasting Co., a Michigan-based company — and a bagel for $2.10; he chose to schmear the cream cheese himself, since he doesn't like gobs of it, but was offered the option of having it spread for him... whichever suited him. And while waiting for the bagel to toast, he scanned the assortment of baked goods; he was unable to resist adding a lemon poppy seed muffin to his breakfast plate. It put the total cost over our mandatory $5 per person Frugal Floozie Friday budget, but shows another option to enjoy with your coffee or tea.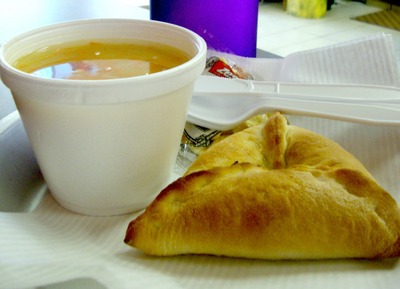 Mary Bilyeu | Contributor
I was ready for lunch, so I ordered the "Monkey Special" spinach pie with a cup of lentil soup; this filling meal comes in at $4.50. Many lentil soups are dense, but this one is very light; and the accompanying pie is very flavorful and generously filled.
Smoothies cost $3.75, and are "made from whole fresh fruits, vegetables and non-fat yogurt with no added sugar." Cups of soup (from chicken noodle to onion potato to creamy tomato) cost $2.80, bowls cost $3.65. You could also order a grilled cheese sandwich with a cup of soup for $4.50, or grab a caffeine fix with any of the Coffee Bar drinks that range in price from the $1.85 espresso to the $3.75 Polar Bear Mocha.
Baked goods are provided by the New Yasmeen Bakery in Dearborn, and you can choose from cookies and brownies, lemon cake, or an array of traditional Middle Eastern sweets.
Mocha Monkey Cafe opened on Valentine's Day. In honor of this, there is a heart-shaped wall mural where customers are welcome to write "peace" in any language they choose, some of which I didn't even recognize.
As we got ready to leave, Craig and I were sent off with a boisterous, "Tell all your friends!" I promised to not only tell my friends, but the entire city.
So be sure to stop by Mocha Monkey Cafe for good food, free wi-fi, a warm welcome, a peaceful respite, and great values.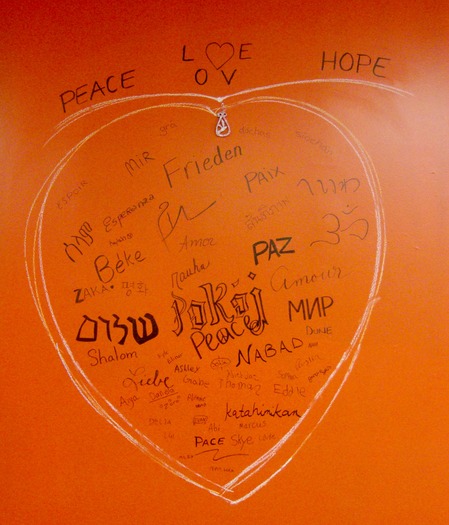 Mary Bilyeu | Contributor
Mocha Monkey Cafe
2871 Carpenter Road
Ann Arbor, MI 48108
734-975-1800

Mary Bilyeu - a self-proclaimed Food Floozie (named for her blog, which is taking a summer vacation) - writes for AnnArbor.com on Tuesdays, Wednesdays, and Fridays, telling about her adventures in the kitchen. She is also on a mission to find great deals for her Frugal Floozie Friday posts, seeking fabulous food at restaurants on the limited budget of only $5 per person. Feel free to email her with questions, comments, or suggestions: yentamary@gmail.com.

The phrase "You Should Only Be Happy" (written in Hebrew on the stone pictured in this post) comes from Deuteronomy 16:15 and is a wish for all her readers - when you come to visit here, may you always be happy.