YOU SHOULD ONLY BE HAPPY ....
food & grocery:

Frugal Friday at Morgan and York - Many treats available that won't break the bank

Posted on Fri, Apr 20, 2012 : 9 a.m.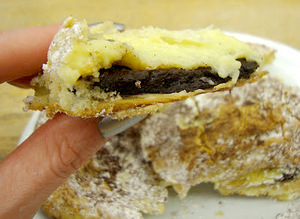 Mary Bilyeu | Contributor

My friend Deborah and I recently met for coffee and treats on a Friday afternoon at the wonderful Morgan & York specialty market. It's not a restaurant; but it does offer some seating and a warm welcome for loitering, so it is today's Frugal Floozie Friday feature.
This fabulous shop sells a wide array of items: exceptional wines, sublime cheeses, an astounding variety of sausages, beautiful crusty breads, locally produced sausages and dairy products, lovely condiments, old-fashioned candies, handmade chocolates, and much more.

And — even better — you'll find knowledgeable, friendly service and the opportunity to taste, and learn about, virtually anything that's for sale.

I didn't leave until I'd purchased some paper-thin slices of the mustard seed salami with just a hint of the namesake flavor peeking through; a spicy caliente salami somewhat reminiscent of pepperoni; and a true treasure, the Dutch Boerenkaas cheese that had been described as crystalline with hints of butterscotch... a perfectly seductive, and accurate, summary.
While I was waiting for Deborah, having remarkably arrived first (a rare occurrence for someone who runs a standard 10 minutes late), I was offered a cup of coffee to enjoy while perusing all the wonderful goodies. As I meandered around, I could only think of what I wanted to taste, what I would cook with this or that product, what would make a lovely gift, etc.
Once Deborah arrived, we had to choose what sort of treat we wanted. Cookies? Bagels? Candies? We settled on pastries, and agreed wholeheartedly that each wanted her own rather than splitting anything.

I told a story of an ex-boyfriend who actually once wanted to share a 25-cent frosting shot, rather than ingest too much fat or sugar ... pffft! We both chuckled and shook our heads as we anticipated the glee of our individual calorie and cholesterol fests.
And so, we ordered the chocolate almond croissants provided by
Cafe Japon
, a charming tea shop offering French and Japanese cuisine. You wouldn't guess to look at its exterior that this baked good is a croissant, and I'm not sure that I would call it that.
But as they say, a rose by any other name... If you gaze lovingly at the luscious, creamy, chocolaty, crisp, flaky pastry pictured above — the croissant broken apart for ease of eating — you can imagine how wonderful it was! And it was only $4, well within our mandatory expenditure of $5 or less per person.
Morgan & York sells a number of treats that meet the limits of our Frugal Floozie Friday budget, from coffee drinks to cookies, selections from the deli counter, chocolates, and other wonderful items. Stop by, and you'll find yourself unable to resist the delicious offerings!

Morgan & York
1928 Packard
Ann Arbor, MI 48104
734-662-0798
Monday - Saturday: 9 a.m.-9 p.m.
Sunday: Noon-6 p.m.

writes about her adventures in the kitchen - making dinner, celebrating holidays, entering cooking contests ... whatever strikes her fancy. She is also on a mission to find great deals for her Frugal Floozie Friday posts, seeking fabulous food at restaurants on the limited budget of only $5 per person. Feel free to email her with questions or comments or suggestions: yentamary@gmail.com.
You should also visit Mary's blog — Food Floozie — on which she enthuses and effuses over all things food-related.



The phrase "You Should Only Be Happy" (written in Hebrew on the stone pictured in this post) comes from Deuteronomy 16:15 and is a wish for all her readers - when you come to visit here, may you always be happy.