Posted on
Fri, Feb 8, 2013 : 11:30 a.m.
Frugal Friday at Quickie Burger Bar and Grill - battered onion rings among the many inexpensive comfort food options
By Mary Bilyeu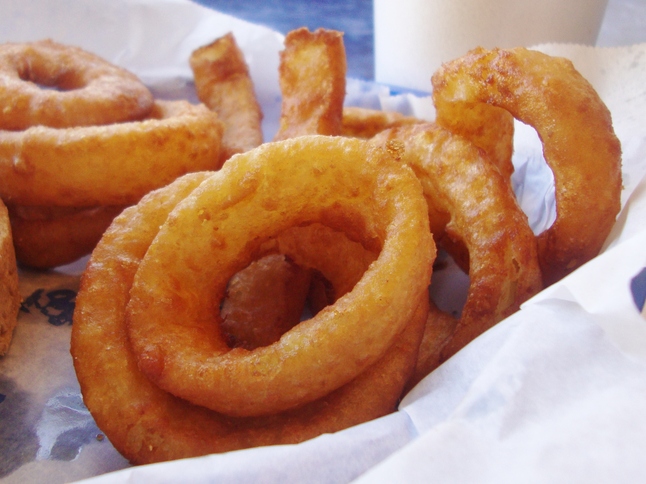 Mary Bilyeu | Contributor
I got out of work early one afternoon recently, so Craig and I went on a lunch date to the
Quickie Burger Bar and Grill
, today's
Frugal Floozie Friday
feature. Easy to find, in its signature maize 'n' blue, both the sun and the parking gods shone upon us as we found a spot for the car just across the street from the restaurant.
There are many options on the menu that qualify for our mandatory $5 per person budget. The third-pound Minor Cheeseburger costs $5, and comes topped with lettuce, tomato, pickles, onions, the Secret Quickie Sauce and a choice of cheese. Hot dogs, Italian sausage, and bratwurst range in price from $2.50-$4. Vegetarians can have homemade macaroni and cheese or a grilled cheese sandwich for $3 each; hummus with pita chips or spinach-artichoke dip cost $4 each.
There is also a wide variety of side dishes, if you're just in the mood for a quick snack: fries, battered mushrooms, jalapeno poppers, and mozzarella sticks all range from $2.50-$4. Shakes cost $3.50, malts cost $4, and each comes in a variety of flavors from the expected chocolate to the decadent Reese's Pieces or brownie or cookie dough (and many more).
Mary Bilyeu | Contributor
Craig ordered the excellent grilled chicken sandwich, which just exceeded our mandatory Frugal Floozie Friday budget, and we shared the crisp, freshly prepared beer-battered onion rings, which cost only $3.50. The restaurant's owner, who had greeted us very cheerfully and was patient as we sorted through our many dining options, recommended a special spicy sauce his wife prepares, which was a perfect complement to this treat.
I also chose the Double Egg, Sausage and Cheese Sandwich — two fried eggs, a sausage patty, and cheese all on a whole wheat bun that made me feel more virtuous than I should have. At $4, this was a very good value for a hearty lunch, which I was able to enjoy even in the afternoon because breakfast is served all day.
For fast, very friendly service, free wifi, TV and lots of comfort food at a reasonable price, be sure to stop by Quickie Burger!
Mary Bilyeu, Contributor
Quickie Burger Bar and Grill
800 S. State Street
Ann Arbor
734-222-4555
Sunday and Monday: 11 a.m.-midnight
Tuesday and Wednesday: 11 a.m.-3 a.m.
Thursday - Saturday: 11 a.m.-4 a.m.


Mary Bilyeu writes for AnnArbor.com on Tuesdays, Wednesdays, and Fridays, telling about her adventures in the kitchen - making dinner, celebrating holidays, entering cooking contests, meeting new friends ... whatever strikes her fancy. She is also on a mission to find great deals for her Frugal Floozie Friday posts, seeking fabulous food at restaurants on the limited budget of only $5 per person. Feel free to email her with questions, comments, or suggestions: yentamary@gmail.com.

Go visit Mary's blog — Food Floozie — where she enthuses and effuses over all things food-related; and look for her monthly articles in the Washtenaw Jewish News. "Like" her on Facebook, or send a tweet on Twitter, too.

The phrase "You Should Only Be Happy" (written in Hebrew on the stone pictured in this post) comes from Deuteronomy 16:15 and is a wish for all her readers - when you come to visit here, may you always be happy.