Posted on
Fri, Aug 17, 2012 : 11 a.m.
Frugal Friday at Red Rock Downtown Barbecue - many sides and appetizers are affordable on a budget
By Mary Bilyeu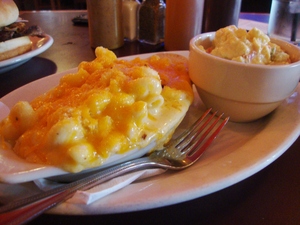 Mary Bilyeu | Contributor
Red Rock Downtown Barbecue
came with a tremendous reputation; I had heard nothing but stellar reports about its offerings. Sometimes, when you have such expectations (for a book, a movie, whatever), you can only be disappointed by reality. But I am here to say that Red Rock more than met my hopes, and is deserving of every rave review it has received.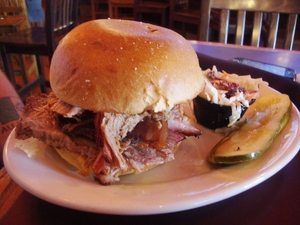 Mary Bilyeu | Contributor
Not only is this Ypsilanti restaurant serving great food, but it offers exceptional Frugal Floozie Friday deals, too. The Boulder sandwich Jeremy ordered — filled with beef brisket, pork, and bacon — is definitely large enough to split, so that it will come in at an even $5 per person. But you might want to save that for another time, because there are other items that cost even less... I'm serious!
The side dishes cost $3 each, and are generously portioned. The Country Potato Salad pictured above was very good — creamy, zesty, crunchy.
But the star of the show — the star of the entire meal — was the macaroni and cheese. What you see above is the small version ordered off the side dish menu; it was enough that I could very well order it for a full meal! And I'd be lucky to finish it... though it was so exceptionally rich and smoky and luscious that leaving any behind would be unforgivable. Jeremy and I literally scraped the bottom of the dish to make sure we didn't miss any of the goodness!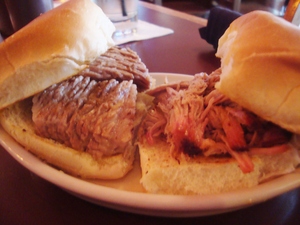 Mary Bilyeu | Contributor
I also ordered two of the sliders — beef and pork — for $2.50 each. But guess what? During Happy Hour, all appetizers are half price! So that means each slider is $1.25. One slider + one side order of mac 'n' cheese = $4.25, which is obviously well under our mandatory frugal $5 per person budget. And such amazing food, too, for such a meager amount of money!
Our server was very friendly and helpful, telling us a bit about the history of the restaurant and how recipes were developed, as well as letting us know about each of the four fabulous sauces. The meats are prepared with a dry rub and smoked; then you can mix 'n' match with more flavor to your heart's content. From sweet to spicy, and not neglecting the all important North Carolina vinegar sauce, there is a condiment to suit any taste.
Despite being a shrine to all things carnivorous, Red Rock also offers a number of vegetarian options, from the spectacular macaroni and cheese to a variety of salads and side dishes. A meal could easily be made from all the choices, and would offer an ideal "do it yourself" buffet either for those who don't eat meat or those, like me, who can't decide which fabulous option to choose.
I had heard rumblings that Red Rock could even rival what has become a Detroit institution: Slow's. I was dubious, and yet... Jeremy and I both agreed that while we adore Slow's, Red Rock — particularly the mac 'n' cheese — wins the showdown.
So, what are you waiting for? Go eat!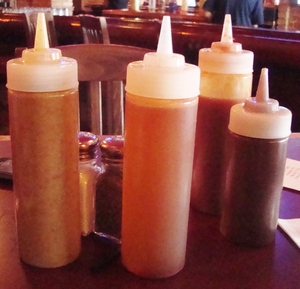 Mary Bilyeu | Contributor

Red Rock Downtown Barbecue
207 W. Michigan Ave.
Ypsilanti, MI 48197
734-340-2381
Kitchen Hours: Sunday: noon - 11 p.m.
Monday - Thursday: 11 a.m. - 11 p.m.
Friday - Saturday: 11 a.m. - midnight
Happy Hour: 3 - 6 p.m., 9 p.m. - close

Mary Bilyeu writes for AnnArbor.com on Tuesdays, Wednesdays, and Fridays, telling about her adventures in the kitchen - making dinner, celebrating holidays, entering cooking contests, meeting new friends ... whatever strikes her fancy. She is also on a mission to find great deals for her Frugal Floozie Friday posts, seeking fabulous food at restaurants on the limited budget of only $5 per person. Feel free to email her with questions, comments, or suggestions: yentamary@gmail.com.

Go visit Mary's blog — Food Floozie — where she enthuses and effuses over all things food-related; and look for her monthly articles in the Washtenaw Jewish News. "Like" her on Facebook, or send a tweet on Twitter, too.

The phrase "You Should Only Be Happy" (written in Hebrew on the stone pictured in this post) comes from Deuteronomy 16:15 and is a wish for all her readers - when you come to visit here, may you always be happy.