Posted on
Fri, Mar 22, 2013 : 10:30 a.m.
Frugal Friday at Roy's Squeeze Inn - majority of menu items are $5 or less
By Mary Bilyeu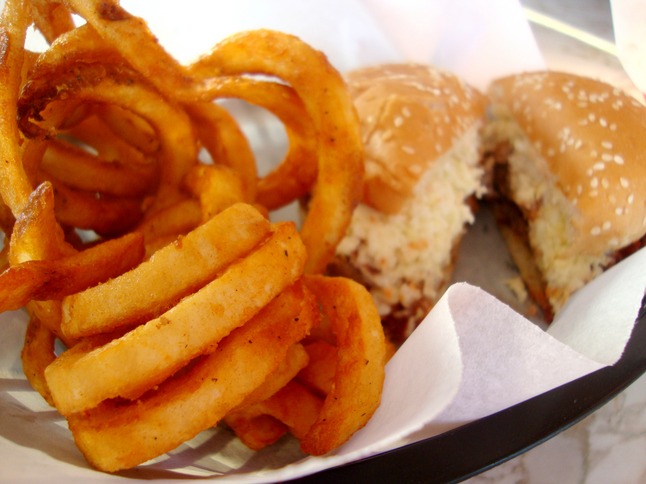 Mary Bilyeu | Contributor
Frugal Floozie Friday is a feature that seeks out dishes — appetizers, drinks, snacks, desserts, sandwiches, whatever — for $5 or less per person. Sometimes I split generously-sized items with loved ones, saving both money and calories; sometimes I find a great deal on a single serving that fits perfectly within the mandatory budget. I try to showcase several options to choose from, and you never know where I'll find them. Check out the column every Friday!
I had driven by Roy's Squeeze Inn so many times, but never managed to stop in. That's too bad, because it offers wonderfully friendly service, good food, and amazing prices. Thus, it is today's Frugal Floozie Friday feature!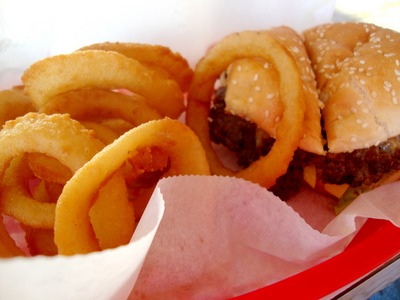 Mary Bilyeu | Contributor
Virtually every item — with the exception of a few of the burgers and the family-sized side orders — qualifies for our mandatory budget of $5 per person. So you could share the generous larger servings of fries, if you want to; but you can also get a meal for yourself within the price range.
I ordered the BBQ Pork Sandwich, pictured above, for $3.70. It was the size of a large burger, and — I was very pleased to find out — came topped with the coleslaw so that it wasn't necessary to place an extra order to put this together myself. I also wanted to see how generous the side dishes were, and found that the curly fries were a perfect single serving at $2.15. If you're just in the mood for a salty snack, they're ideal.
Craig chose the Quarter Cheese Squeeze burger that cost $3.70, and paired it with onion rings that also made for a nice-sized single serving, if you were to order them alone, for $2.20.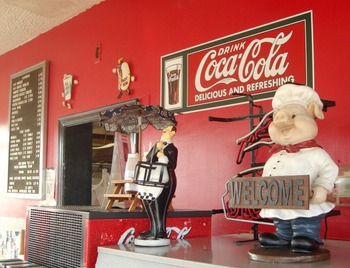 Mary Bilyeu | Contributor
Roy's is quaint and old-fashioned with a semi-circular counter and cute tchotchkes; but Craig and I were the only ones who chose to eat in the restaurant on the evening that we visited. I was impressed to see at least a half-dozen customers come in for take-out orders, and found the service to be tremendously friendly as well as efficient.
Vegetarians will have to make do with the side dishes, from potato wedges to fried mushrooms, as well as the options listed above. Carnivores, however, will be able to eat very well for very little money. "Sandwiches," as the menu calls them, range from hot dogs to ham sandwiches (with or without cheese) and also a chicken sandwich; prices range from $1.30 to only $4.
And then there are the burgers, from Little Squeeze sliders costing a mere $1.15 each to the half-pound Big Squeeze for $4.95. You can also add toppings — extra cheese, crispy bacon, jalapeno peppers, grilled mushrooms, coleslaw, or chili — for as little as 40 cents and as much as $1.50.
So sort through the various permutations and eat very well at Roy's for less than $5!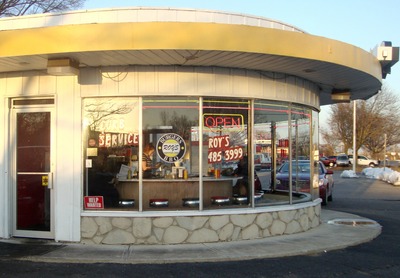 Mary Bilyeu | Contributor
Roy's Squeeze Inn
1315 E. Michigan Ave.
Ypsilanti, MI 48198
734-485-3999
Monday - Saturday: 10 a.m.- 10 p.m.
Sunday: 11 a.m. - 9 p.m.

Mary Bilyeu writes for AnnArbor.com on Tuesdays, Wednesdays, and Fridays, telling about her adventures in the kitchen - making dinner, celebrating holidays, entering cooking contests, meeting new friends ... whatever strikes her fancy. She is also on a mission to find great deals for her Frugal Floozie Friday posts, seeking fabulous food at restaurants on the limited budget of only $5 per person. Feel free to email her with questions, comments, or suggestions: yentamary@gmail.com.

Go visit Mary's blog — Food Floozie — where she enthuses and effuses over all things food-related; and look for her monthly articles in the Washtenaw Jewish News. "Like" her on Facebook, or send a tweet on Twitter, too.

The phrase "You Should Only Be Happy" (written in Hebrew on the stone pictured in this post) comes from Deuteronomy 16:15 and is a wish for all her readers - when you come to visit here, may you always be happy.