Posted on
Fri, Oct 21, 2011 : noon
Frugal Friday at Sabor Latino: excellent food and a warm welcome for under $5
By Mary Bilyeu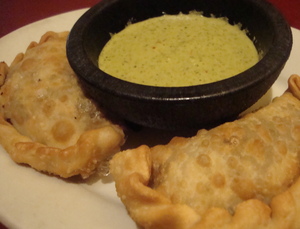 Mary Bilyeu, Contributor
My BFF, Wendy, and I went out to dinner on a cold, dreary, rainy evening recently. We had planned to perform Tashlich ([tahsh-LEEK]: a symbolic casting off of sins represented by tossing bread crumbs into a river at the Jewish new year), but it was postponed because of the muddy conditions near the Huron River.
Have no fear — we went to the Detroit River a few days later to cleanse our souls and affirm efforts to strive for "the highest light" (as the Indigo Girls sing in "Galileo").
But since our spiritual plans had been thwarted, we took care of nourishing our bodies instead. We headed to Sabor Latino, today's Frugal Floozie Friday feature that offers excellent Latin American food.
Wendy ordered the Empanadas Argentinas (pictured above): "Two Argentine style turnovers stuffed with ground beef, raisins, green olives, peppers and onions." These were served with a vibrantly-colored and flavored chimichurri sauce on the side, which was so good it would have been ideal served with almost anything! The empanadas cost a mere $4.25 — well within our mandatory Frugal Floozie Friday budget of $5 per person.
I chose a tostada topped with chorizo, which cost only $4.55. The fried tortilla was crisp, and loaded with all the fresh and delicious goodies one would expect: lettuce, onions, beans, tomato, cheese, avocado and sour cream. It was very good, and our waitress told us that it's one of her favorite menu items; she was sufficiently tempted by my order to even consider eating one during her break that evening.
In addition to the items we chose, Wendy and I also shared a basket of excellent chips and fresh salsa to round out our meal. And despite lingering as we chatted about life and love and loss, we were warmly welcomed to stay as long as we wanted to.
Sabor Latino offered us excellent food and a haven from the dreary weather, and I recommend it as a great Frugal Floozie Friday option!

Sabor Latino
211 N. Main St.
Ann Arbor, MI 48104
734-214-7775

Mary Bilyeu has won or placed in more than 60 cooking contests and writes about her adventures in the kitchen. She was thrilled to have her post about Scottish Oatmeal Shortbread named as one of the daily "Best of the Blogs" by the prestigious Food News Journal.
Go visit Mary's blog — Food Floozie — on which she enthuses and effuses over all things food-related. Her newest feature is Frugal Floozie Friday, seeking fun and food for $5 or less ... really! Feel free to email her with questions or comments or suggestions: yentamary@gmail.com.
The phrase "You Should Only Be Happy" (written in Hebrew on the stone pictured in this post) comes from Deuteronomy 16:15 and is a wish for all her readers as they cook along with her ... may you always be happy here.