Posted on
Fri, Jan 25, 2013 : 10:45 a.m.
Frugal Friday at Samosa House - Somali cuisine at reasonable prices
By Mary Bilyeu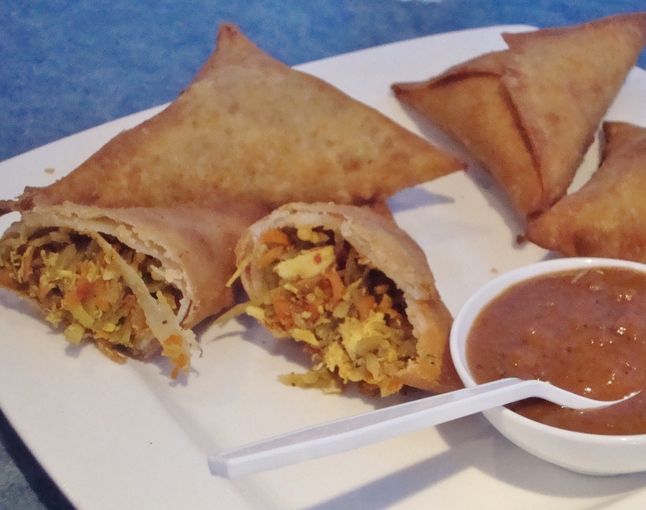 Mary Bilyeu | Contributor
I hadn't seen my friend Carolyn in some time, so it was wonderful to have a chance to get together and catch up when we met for lunch recently at today's
Frugal Floozie Friday
feature,
Samosa House
, which has brought the delicious food of Somalia to Ypsilanti.
I've been trying to get to Samosa House for ages, since a reader named Jamie first recommended it. I inevitably found my way there when it was closed — most notably when nothing was being served during sunlight hours during Ramadan, which I completely understand. Or I've looking for places to eat when my companions were not particularly adventurous, and disinclined to try something so different from what they're accustomed to... pffft.
But Carolyn is an adventurous eater who loves both spiced and spicy food. So we enjoyed an amazing lunch filled with all sorts of items that are somewhat familiar — as Somali cuisine shows influence from Indian, European, and other African cooking styles — and yet remains unique. I took Carolyn's recommendations, as she'd been fortunate enough to eat at Samosa House before and had suggested it for our lunch date. We also experimented a bit, trying several selections just to taste the variety.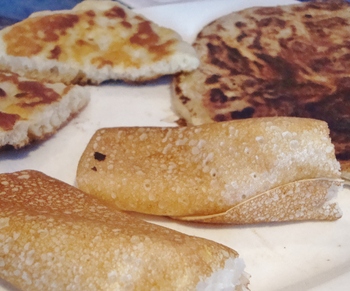 Mary Bilyeu | Contributor
We tried each of the crisp, flaky samosas (pictured above) — vegetable, chicken, beef, and lamb — which were beautifully spiced without being hot. The meats and vegetables are very finely shredded and chopped, and hints of coconut shine through. The dipping sauce is quite spicy but is a fabulous complement to the crunchy appetizers, which are very large and a tremendous bargain at only $1.48 each.
We also asked to try an assortment of breads — muufo, canjeero, and sabaayad — as each is completely different from the other. Muufo is cornmeal-based and tender. Sabaayad is very flaky, and canjeero is light and spongy. Together, the three cost $4.74.
Mary Bilyeu | Contributor
The breads can accompany the fragrant, delicious curry dishes. Carolyn and I split the Chicken Sukhar Curry — "Marinated chicken cubes cooked with onions, peppers and butter beans in special butter sauce" — which was accompanied by a beautiful, colorful rice. Tender meat and vegetables, and a luscious sauce, made for a fabulous entree that provided not only our lunch but generous leftovers as well; for $10.91, it could easily have served four along with the bread.
We also indulged in a small dessert, deciding to share a little something sweet to end our meal. Our waitress was very warm, friendly, and helpful; so when left to decide among an array of treats — cookies, baklava, coconut squares — we asked our server's recommendation. When she said that she particularly likes the coconut scones, we were determined to try one.
Not a traditional English scone, but rather crisp (like a cookie), filled (like a pastry), and glazed, the scone was crumbly and sweet and wonderful with a cup of coffee. Samosa House's coffee is infused with cinnamon, cardamom, and ginger; its scent is enticing, and it is lovely served with rich cream. The scone cost $2.12 and the coffee cost $1.37; together, these would make an excellent snack or treat.
One can readily eat exceptional and delicious food at Samosa House for very reasonable prices well within our mandatory Frugal Floozie Friday budget of $5 per person. The restaurant offers a unique and welcome addition to Ann Arbor's dining options!
Mary Bilyeu | Contributor
Samosa House
1785 Washtenaw Ave.
Ypsilanti, Michigan 48197
734-340-6121

Mary Bilyeu writes for AnnArbor.com on Tuesdays, Wednesdays, and Fridays, telling about her adventures in the kitchen - making dinner, celebrating holidays, entering cooking contests, meeting new friends ... whatever strikes her fancy. She is also on a mission to find great deals for her Frugal Floozie Friday posts, seeking fabulous food at restaurants on the limited budget of only $5 per person. Feel free to email her with questions, comments, or suggestions: yentamary@gmail.com.

Go visit Mary's blog — Food Floozie — where she enthuses and effuses over all things food-related; and look for her monthly articles in the Washtenaw Jewish News. "Like" her on Facebook, or send a tweet on Twitter, too.

The phrase "You Should Only Be Happy" (written in Hebrew on the stone pictured in this post) comes from Deuteronomy 16:15 and is a wish for all her readers - when you come to visit here, may you always be happy.