Posted on
Fri, Mar 29, 2013 : 8 a.m.
Frugal Friday at Satchel's BBQ - exceptional flavor at reasonable prices
By Mary Bilyeu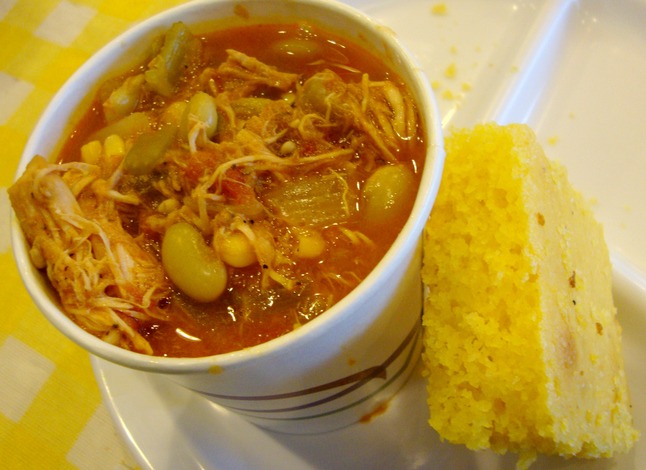 Mary Bilyeu | Contributor
Frugal Floozie Friday is a feature that seeks out dishes — appetizers, drinks, snacks, desserts, sandwiches, whatever — for $5 or less per person. Sometimes I split generously-sized items with loved ones, saving both money and calories; sometimes I find a great deal on a single serving that fits perfectly within the mandatory budget. I try to showcase several options to choose from, and you never know where I'll find them. Check out the column every Friday!
On a recent rainy, cold, dreary afternoon, Craig and I went in search of some good ol'-fashioned comfort food. And for frugal prices — within our mandatory budget of $5 per person — we found precisely what we sought at Satchel's BBQ.
I decided to try something a bit off the proverbial beaten path, so I ordered Satchel's Stew — "smoked chicken & pork, corn, okra in a tomato broth" — that comes with a large slice of cornbread for $5. I spooned the stew over the cornbread, which made for a very filling meal; I even brought half of the stew home with me, and it made an exceptional breakfast one morning. (Everyone else loves breakfast for dinner; I like that too, but I adore dinner leftovers for breakfast!) Accented with some of the vinegar sauce that's available at each table — there are four different varieties of barbecue sauce to choose from — it was rich and spicy and very good.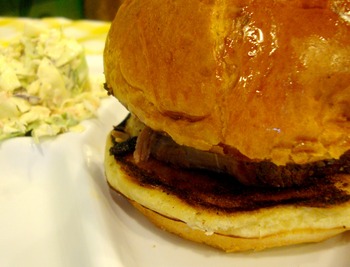 Mary Bilyeu | Contributor
Craig went for the classic pulled pork sandwich for exactly $5; the photo doesn't do it justice in showing how generous the portion of meat is. Tender and smoky, the sandwich was so good that Craig — who can be a picky eater, so his favorites should really feel complimented! — commented on how exceptional it was.
There are several frugal options to enjoy, including a pulled chicken sandwich. Side dishes cost $1.25 each; you could easily choose four of the options — cole slaw, potato salad, macaroni and cheese, baked beans, greens, or beans and rice — and make a meal from them. Or you can order a pint of any side dish for only $4, if you want to focus solely on one item.
The service at Satchel's was very friendly, and we were welcomed not only by the staff but also by the amazing aroma when we walked in. So for hearty food at reasonable prices, try Satchel's BBQ soon.
Satchel's BBQ
3035 Washtenaw Ave.
Ann Arbor, MI 48104
734-971-5100
Monday - Sunday: 11 a.m. - 9 p.m.

Mary Bilyeu writes for AnnArbor.com on Tuesdays, Wednesdays, and Fridays, telling about her adventures in the kitchen - making dinner, celebrating holidays, entering cooking contests, meeting new friends ... whatever strikes her fancy. She is also on a mission to find great deals for her Frugal Floozie Friday posts, seeking fabulous food at restaurants on the limited budget of only $5 per person. Feel free to email her with questions, comments, or suggestions: yentamary@gmail.com.

Go visit Mary's blog — Food Floozie — where she enthuses and effuses over all things food-related; and look for her monthly articles in the Washtenaw Jewish News. "Like" her on Facebook, or send a tweet on Twitter, too.

The phrase "You Should Only Be Happy" (written in Hebrew on the stone pictured in this post) comes from Deuteronomy 16:15 and is a wish for all her readers - when you come to visit here, may you always be happy.