Posted on
Fri, Oct 26, 2012 : 9:50 a.m.
Frugal Friday at Seva - small bites for small prices during Happy Hour
By Mary Bilyeu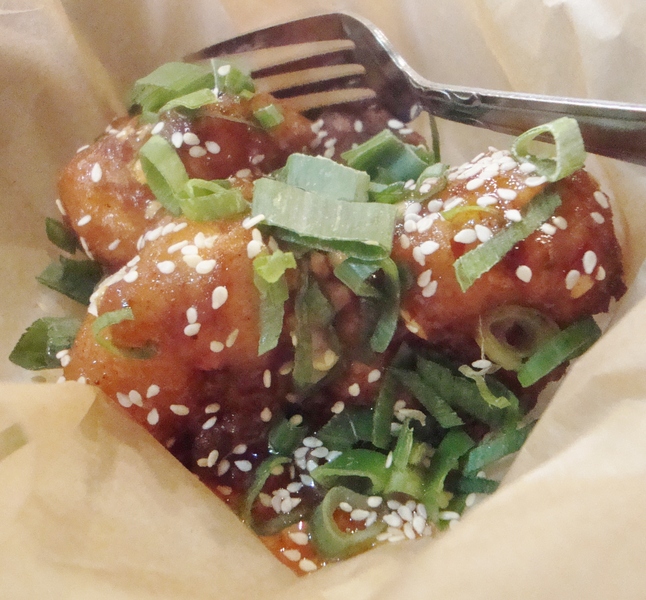 Mary Bilyeu | Contributor
I had read that
Seva
, the long-time Ann Arbor vegetarian institution, had a
"Happy Hour" menu
with remarkable prices: $1, $2, or $3 for tasting-sized dishes. Well, how could a frugal eater resist?
Craig and I headed there one evening to sample an inexpensive assortment of foods. So we tried a little bit within each price range.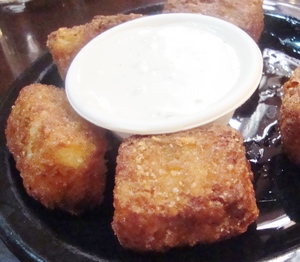 For $3, we ordered the General Tso's cauliflower, which is deep-fried and served with sliced scallions and a spicy sauce. Another $3 item was the Gouda Tots — breaded, fried cubes of cheese with a creamy herbed dipping sauce.
From the $2 menu, we decided to go for the classic chips 'n' salsa; they were brought later than the rest of the food, by which time I completely forgot to give them their photo op while I grazed and chatted. The chips were thick and crisp, and I liked them best when dunking them into the sauce that had been provided with the Gouda Tots.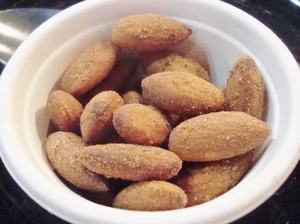 Mary Bilyeu | Contributor
Finally, from the $1 menu we tried the spiced nuts, which had a hint of curry to them.
There are also daily drink specials, to complement the food, which could qualify for our mandatory $5 per person Frugal Floozie Friday budget: Tuesdays offer half-price wine, Wednesdays bring half-price draft beers, and on Thursdays and Fridays you can get $1 off all cocktails.
Small bites for a small price, available during Seva's happy hour every Monday through Friday!
Seva 314 E. Liberty Ann Arbor, MI 48104 734-662-1111 Happy Hour: Monday through Friday, 4-6 p.m.

Mary Bilyeu writes for AnnArbor.com on Tuesdays, Wednesdays, and Fridays, telling about her adventures in the kitchen - making dinner, celebrating holidays, entering cooking contests, meeting new friends ... whatever strikes her fancy. She is also on a mission to find great deals for her Frugal Floozie Friday posts, seeking fabulous food at restaurants on the limited budget of only $5 per person. Feel free to email her with questions, comments, or suggestions: yentamary@gmail.com.

Go visit Mary's blog — Food Floozie — where she enthuses and effuses over all things food-related; and look for her monthly articles in the Washtenaw Jewish News. "Like" her on Facebook, or send a tweet on Twitter, too.

The phrase "You Should Only Be Happy" (written in Hebrew on the stone pictured in this post) comes from Deuteronomy 16:15 and is a wish for all her readers - when you come to visit here, may you always be happy.