Posted on
Fri, Dec 21, 2012 : 10:20 a.m.
Frugal Friday at Siam Cuisine - many options are $5 or under
By Mary Bilyeu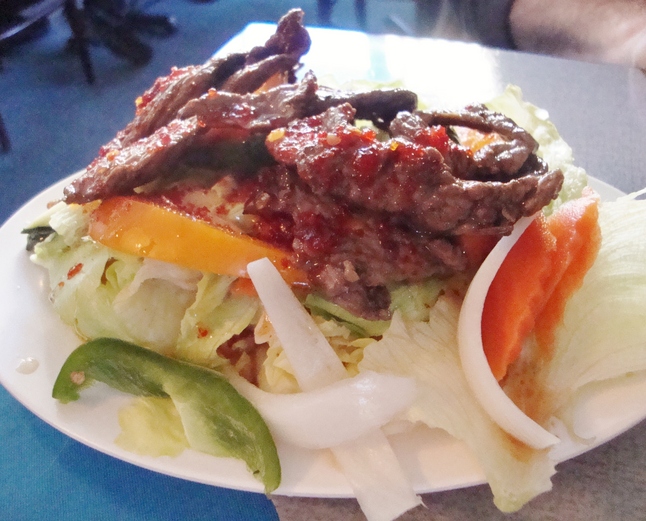 Mary Bilyeu | Contributor
Siam Cuisine
is today's
Frugal Floozie Friday
feature; the restaurant offers a variety of delicious treats available for less than our mandatory budget of $5 per person.
Craig and I enjoyed a really lovely lunch there recently, before heading off to an afternoon of holiday shopping. Rather than splitting a dish — though there are many that meet our criteria — we decided to sample an assortment of appetizers.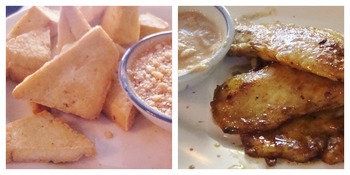 Mary Bilyeu | Contributor
We shared each of these, except for the Tao-Hu Tod (pictured at left) — "deep-fried bean curd, served with sweet and sour chili peanuts sauce." It cost a mere $3.50, and Craig loved it. The Chicken in Peanut Curry Sauce (at right), served with a dipping sauce as well, was wonderfully flavorful and tender; it was very, very good.
The beef salad pictured above was a generous serving for $5.25 — just over our individual budget — and enough to share with another appetizer for a light meal. Crisp, fresh vegetables topped with zesty, but not spicy, chili-sauced beef strips... it was an excellent dish.
Mary Bilyeu | Contributor
The Po Pia Tod — "Spring rolls stuffed with shredded chicken" — were crispy and not at all greasy. Overstuffed, like a comfy chair, they were a substantial starter. And at only $2.95 for two, the order can easily be split with a dining companion leaving room financially, and otherwise, for another option to round out your meal.
Our final choice was the Geaw Grob, which cost $3 for six large beautifully fried, crispy-on-the-outside and tender-on-the-inside shrimp. These were served with a cucumber chili peanut sauce for dipping, which was a perfect complement.
Siam Cuisine is at the front of the Braun Court strip of restaurants and small shops, in a warm and cozy house. Service is very friendly and welcoming, making customers feel very much at home.
So, for good food, good service, and good value, head over to Siam Cuisine for your next meal.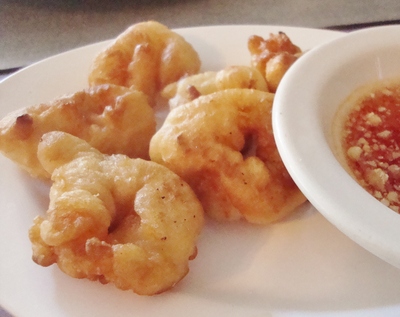 Mary Bilyeu | Contributor
Siam Cuisine
313 Braun Court
Ann Arbor, MI 48104
734-663-4083

Mary Bilyeu writes for AnnArbor.com on Tuesdays, Wednesdays, and Fridays, telling about her adventures in the kitchen - making dinner, celebrating holidays, entering cooking contests, meeting new friends ... whatever strikes her fancy. She is also on a mission to find great deals for her Frugal Floozie Friday posts, seeking fabulous food at restaurants on the limited budget of only $5 per person. Feel free to email her with questions, comments, or suggestions: yentamary@gmail.com.

Go visit Mary's blog — Food Floozie — where she enthuses and effuses over all things food-related; and look for her monthly articles in the Washtenaw Jewish News. "Like" her on Facebook, or send a tweet on Twitter, too.

The phrase "You Should Only Be Happy" (written in Hebrew on the stone pictured in this post) comes from Deuteronomy 16:15 and is a wish for all her readers - when you come to visit here, may you always be happy.