Posted on
Fri, Jan 18, 2013 : 10 a.m.
Frugal Friday at Star's Cafe - sandwiches are a good value
By Mary Bilyeu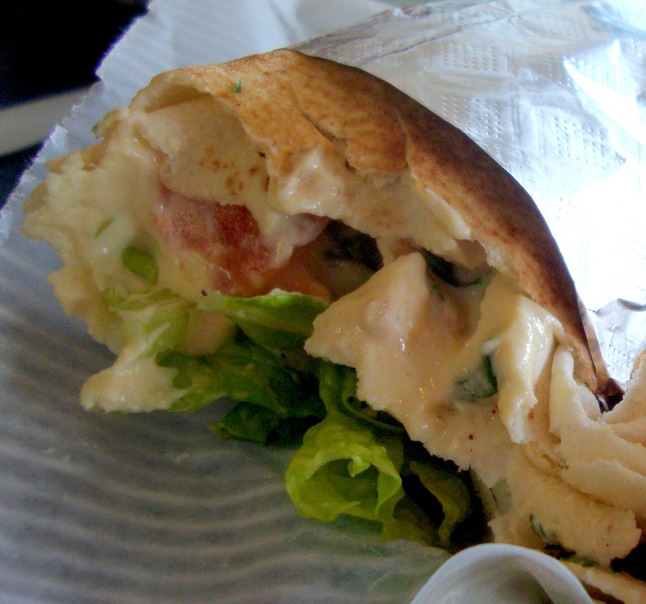 Mary Bilyeu | Contributor
Craig and I went out to lunch over the weekend at the lovely
Star's Cafe
, today's
Frugal Floozie Friday
feature. We ate very well within our mandatory $5 per person budget, with many fresh, flavorful options to choose from.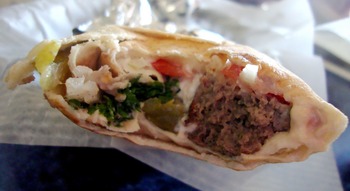 Mary Bilyeu | Contributor
I picked from among the vegetarian sandwiches, and selected the one stuffed with grape leaves, hummus, tabbouli, lettuce, tomatoes, and pickles (pictured above). Bright and lemony, it was unique and delicious; and it cost only $4.75 for a foot-long feast.
Craig chose the Shish Kafta sandwich — which also cost $4.75 — filled with ground lamb, onions, parsley, tomatoes, pickles, and hummus. He asked if he could also get a schmear of garlic sauce; any extra sauce costs just 50 cents. We also shared an order of exceptionally crisp, excellent fries for only $1.99.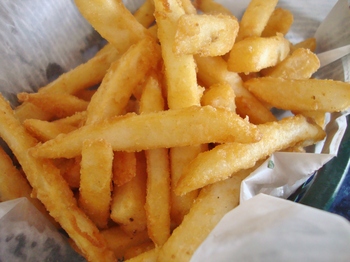 Mary Bilyeu | Contributor
Other options that fit within our budget would be hummus and baba ghannouj (small for $3.95, medium for $4.95), falafel for $3.95, and several salads from $2.95-$3.95 (garden, fattoush, Greek, tabbouli).
Most of the sandwiches cost $4.75, soups cost $2.75, and spinach or meat pies are a mere $2.25.
Star's Cafe also offers a variety of hot and cold drinks that all fit nicely within the Frugal Floozie Friday budget — smoothies, fresh juices, teas, and coffees. Traditional Middle Eastern pastries are available for $1 or less; and homemade baked goods are another temptation.
For friendly service, good food, and great value, Star's Cafe is a fabulous choice!
Star's Cafe
2575 Jackson Ave.
Ann Arbor, MI 48103
734-996-0299
Monday - Friday: 8 a.m. - 7 p.m.
Saturday: 9 a.m. - 7 p.m.
Sunday: closed

Mary Bilyeu writes for AnnArbor.com on Tuesdays, Wednesdays, and Fridays, telling about her adventures in the kitchen - making dinner, celebrating holidays, entering cooking contests, meeting new friends ... whatever strikes her fancy. She is also on a mission to find great deals for her Frugal Floozie Friday posts, seeking fabulous food at restaurants on the limited budget of only $5 per person. Feel free to email her with questions, comments, or suggestions: yentamary@gmail.com.

Go visit Mary's blog — Food Floozie — where she enthuses and effuses over all things food-related; and look for her monthly articles in the Washtenaw Jewish News. "Like" her on Facebook, or send a tweet on Twitter, too.

The phrase "You Should Only Be Happy" (written in Hebrew on the stone pictured in this post) comes from Deuteronomy 16:15 and is a wish for all her readers - when you come to visit here, may you always be happy.