Posted on
Fri, Dec 2, 2011 : 11 a.m.
Frugal Friday at the Bomber - One breakfast at this iconic Ypsilanti diner could feed a family of four
By Mary Bilyeu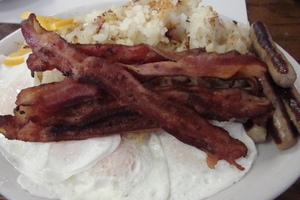 Mary Bilyeu, Contributor
It's Frugal Floozie Friday, and today's feature offers the most gargantuan quantity of food yet for our measly budget of $5 per person! What you see in the photo is the infamous Bomber Breakfast, found only at the Bomber restaurant.
Jeremy recently had an early morning appointment, and his dad, Stuart, and I went along with him. Afterwards, we decided we could use some breakfast; and so we ended up at this Ypsilanti institution:
"The Bomber opened in 1936 as Baldwin's Diner. In the 1940s the name was changed to the Bomber, only to be discarded in favor of Bob's Barbecue in the mid-1970s. Finally in 1986, the name Bomber returned, and the current owners John Sebestyen and Johanna McCoy purchased it in 1995."
The restaurant is noted for the historical artifacts linings its walls - everything from uniforms to posters to autographed photos to rifles — not to mention the 24 model airplanes which hang from the ceiling. It is also noted for friendly service, generous portions, and the kind of atmosphere that encourages eating, reading the paper, having just a little bit more coffee, chatting with other customers and making oneself at home.
The signature dish — the Bomber Breakfast — is so enormous that it was once featured on the Food Network's "Top Five Overindulgences" show. There is enough food, truly, to feed a family of four: a pound of hash browns with cheese and onions, two full slices of toast, four eggs any style, and a choice of six sausage patties or seven sausage links or 10 slices of bacon or two slices of ham. (Our waitress told us, upon seeing our eyes glaze over, that we could mix-'n'-match if we wanted to.)
So, how much does this platter full of food cost?
$9.95.
And since Stuart and I split it — though we couldn't finish it, despite valiant efforts! — it came in at under our mandatory $5 per person limit.
As though this wasn't enough indulgence, Jeremy ordered an obscenely rich and decadent breakfast for himself: Chocolate Hazelnut French Toast. A half order — two portions of thick bread filled with luscious Nutella, dipped in batter and drenched in syrup — costs only $4.95.
The Bomber also features weekday breakfast specials for $4.50, featuring everything from traditional pancakes, eggs and oatmeal to breakfast sandwiches. There are many items on the menu which could qualify for our Frugal Floozie Friday mission.
The Bomber is a great place to go for a hearty breakfast or lunch, and is easily a place where you could become a regular.
Bomber
306 E. Michigan Ave.
Ypsilanti, Michigan
734-482-0550

Mary Bilyeu has won or placed in more than 60 cooking contests and writes about her adventures in the kitchen. She was thrilled to have her post about Scottish Oatmeal Shortbread named as one of the daily "Best of the Blogs" by the prestigious Food News Journal.
Go visit Mary's blog — Food Floozie — on which she enthuses and effuses over all things food-related. Her newest feature is Frugal Floozie Friday, seeking fun and food for $5 or less ... really! Feel free to email her with questions or comments or suggestions: yentamary@gmail.com.
The phrase "You Should Only Be Happy" (written in Hebrew on the stone pictured in this post) comes from Deuteronomy 16:15 and is a wish for all her readers as they cook along with her ... may you always be happy here.