Posted on
Fri, Feb 22, 2013 : 9 a.m.
Frugal Friday at The Bread Basket Deli - many desserts and sides are less than $5
By Mary Bilyeu
Mary Bilyeu | Contributor
Frugal Floozie Friday is a feature that seeks out dishes — appetizers, drinks, snacks, desserts, sandwiches, whatever — for $5 or less per person. Sometimes I split generously-sized items with loved ones; sometimes I find a great deal on a single serving that fits perfectly within the mandatory budget. I try to showcase several options to choose from, and you never know where I'll find them. Check out the column every Friday!
Craig and I both grew up eating exceptional deli food — he in Southfield and me in New York City. We're kinda snobs about it.
Fortunately, Ann Arbor has a number of great delis, including today's Frugal Floozie Friday feature — The Bread Basket Deli.
There are so many sandwiches to choose from that easily come in under our $5 per person budget (and many of them are deli classics: pastrami, tongue, chopped liver). And yes, we're sharing today — the portions are so generous that a half sandwich is very filling and more than sufficient. Eat the entire thing, if you want to; but you'll certainly be satisfied with a more reasonable serving.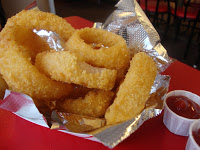 Mary Bilyeu | Contributor
Craig and I split a regular corned beef on rye with a schmear of mustard, which cost $8.99. (A small sandwich is only $6.99.) Thinly sliced meat which was exceptionally tender, a good chewy bread with a crisp crust... sigh. We both felt right at home, and happy.
We also split a small order of onion rings, which were nice and crunchy. A small order costs only $2.75, and could make a great snack or side dish.
Craig and I decided to enjoy some dessert, as well — a thick, dense slice of cheesecake for a mere $3.79. This is so rich that it could have been a single-serve lunch! It was definitely an ideal portion to share with a loved one. Dry, almost crumbly — as a proper New York cheesecake should be — and not too sweet, this was a fabulous indulgence.
All of the Bread Basket Deli's desserts — which are enormous — cost less than $5 each. Vegetarians can order vegetable or egg salad sandwiches. You can even find a knish, one of my favorite foods, for $4.25. The deli has something for everyone!
So, for good food and a great value, head over to The Bread Basket Deli.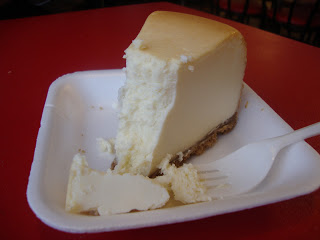 Mary Bilyeu, Contributor
The Bread Basket Deli 4003 Carpenter Rd. Ypsilanti, Michigan 48197 734-677-7717

Mary Bilyeu writes for AnnArbor.com on Tuesdays, Wednesdays, and Fridays, telling about her adventures in the kitchen - making dinner, celebrating holidays, entering cooking contests, meeting new friends ... whatever strikes her fancy. She is also on a mission to find great deals for her Frugal Floozie Friday posts, seeking fabulous food at restaurants on the limited budget of only $5 per person. Feel free to email her with questions, comments, or suggestions: yentamary@gmail.com.

Go visit Mary's blog — Food Floozie — where she enthuses and effuses over all things food-related; and look for her monthly articles in the Washtenaw Jewish News. "Like" her on Facebook, or send a tweet on Twitter, too.

The phrase "You Should Only Be Happy" (written in Hebrew on the stone pictured in this post) comes from Deuteronomy 16:15 and is a wish for all her readers - when you come to visit here, may you always be happy.