Posted on
Fri, Mar 2, 2012 : 10:40 a.m.
Frugal Friday at the Evergreen Restaurant - sharing dishes family style is an inexpensive but tasty option
By Mary Bilyeu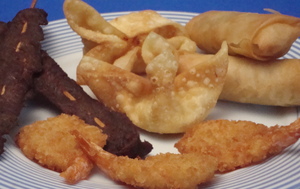 Mary Bilyeu | Contributor
I couldn't even tell you how long my family has been eating at the Evergreen Restaurant — likely since it opened in 1992. When my father was well enough to come visit in Ann Arbor, he inevitably took Jeremy and me to lunch there. So, because it's a long-time favorite, this seemed like a great place to feature today for Frugal Floozie Friday.
There are a remarkable number of dishes you can order that are well within our mandatory $5 per person budget. Above, you see the Evergreen Sampler for $8.99; it offers Spicy Beef Skewers, Tempura Shrimp, Spring Rolls, and Crab Rangoon. The fried items are all crisp and flaky, and the shrimp are tender and sweet within their coating. This appetizer was split among four people before eating dinner, and everyone enjoyed the treats.
After the first course, orders of Sweet and Sour Chicken, Mu Shu Pork and Mongolian Beef were shared. If a dish is designated as "spicy and hot," you can request varying degrees of heat which are always respected and prepared perfectly. Other favorites among loved ones include Almond Chicken, perfect with its crispy coating; General Tsou's Chicken, which I've tasted from mild to significantly intense; and Beef with Spicy Orange Flavor, which features dried orange peels that contribute both flavor and fabulous aroma.
Entrees are very generous at the Evergreen, and very few of them cost more than $10 per order; these can easily be shared among two or three family members and friends to stay within our strict fiscal guidelines. There is a tremendous variety of offerings, as well — I counted more than 110 options on just one side of the take-out menu before I got tired of adding them all up!
The restaurant features Mandarin, Sichuan, Hunan, Shanghai and Taiwan styles of cooking, which might make one wonder whether there is too little focus. But in 20 years of eating there, I have never encountered a bad meal or known anyone who didn't happily devour his or her food.
The staff is always very friendly and attentive. So stop by sometime and enjoy a great meal in a bright, welcoming atmosphere!
Evergreen Restaurant
2771 Plymouth Road
Ann Arbor, MI 48105
734-769-2748
Sunday - Thursday: 11 a.m. - 10 p.m.
Friday - Saturday: 11 a.m. - 10:30 p.m.

Mary Bilyeu writes about her adventures in the kitchen - making dinner, celebrating holidays, entering cooking contests ... whatever strikes her fancy. She is also on a mission to find great deals for her Frugal Floozie Friday posts, seeking fabulous food at restaurants on the limited budget of only $5 per person. Feel free to email her with questions or comments or suggestions: yentamary@gmail.com.
You should also visit Mary's blog — Food Floozie — on which she enthuses and effuses over all things food-related.


The phrase "You Should Only Be Happy" (written in Hebrew on the stone pictured in this post) comes from Deuteronomy 16:15 and is a wish for all her readers - when you come to visit here, may you always be happy.