Posted on
Fri, Dec 23, 2011 : 8 a.m.
You can split a Reuben sandwich for a Frugal Friday at the Maize and Blue Deli
By Mary Bilyeu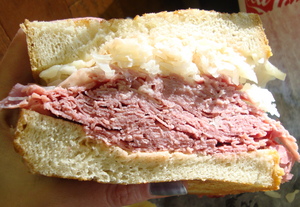 Mary Bilyeu, Contributor
Ever since we watched the "Man v. Food" episode in which host Adam Richman visited Ann Arbor, Jeremy has wanted to try the fabulous Reuben that was featured. So we recently headed down to the Maize and Blue Deli, today's Frugal Floozie Friday feature, to indulge in a hearty lunch.
Because my brain is a sieve and I couldn't remember which of the seven — yes, seven! — Reuben varieties we were supposed to pay homage to, we ordered the classic Coach's Reuben: "corned beef, Switzerland Swiss, sauerkraut and Russian dressing on grilled sourdough rye." It only cost $8.25, well within our mandatory $5 per person (or less) budget since we planned to share the sandwich.
The menu is extensive, and the deli was packed on the afternoon we visited; but the service was unbelievably friendly and welcoming, and our sandwich was made very quickly and brought to our table... the last two seats available, which Jeremy had nabbed as I placed the order.
The Reuben was very generous, but thankfully could still be held and eaten without the contents spilling everywhere. The corned beef was sliced to shaved-thin perfection, and there was a perfect balance of meat to sauerkraut and dressing — proportions matter greatly in this sandwich, after all. (Too much dressing makes it slippery, too much sauerkraut overpowers the tender meat.) And the bread was lightly toasted, leaving it still tender within its crisp exterior.
If he hadn't been on a Frugal Floozie excursion with me, Jeremy would certainly have eaten the entire sandwich himself — 20-year-old males are the secret weapon for someone who is immersed in food in order to write about new recipes and restaurants on a continual basis! But he also told me that the half-sandwich was actually very filling. We'd planned to spend the rest of the afternoon trolling our way through downtown in search of future Friday posts, but it was quite some time before either of us could manage to think about eating again.
There are lots of great sandwiches and other goodies at the Maize and Blue Deli, and the sandwiches are so large that they can easily be shared without going over the $5 Frugal Floozie Friday budget and without going hungry. And isn't this the best time to go, while all the students are away from campus for vacation?
Maize and Blue Deli
1329 S. University Ave.
Ann Arbor, MI 48104
734-996-0533

Mary Bilyeu has won or placed in more than 60 cooking contests and writes about her adventures in the kitchen. She was thrilled to have her post about Scottish Oatmeal Shortbread named as one of the daily "Best of the Blogs" by the prestigious Food News Journal.
Go visit Mary's blog — Food Floozie — on which she enthuses and effuses over all things food-related. Feel free to email her with questions or comments or suggestions: yentamary@gmail.com.
The phrase "You Should Only Be Happy" (written in Hebrew on the stone pictured in this post) comes from Deuteronomy 16:15 and is a wish for all her readers as they cook along with her ... may you always be happy here.