Posted on
Fri, Dec 28, 2012 : 8 a.m.
Frugal Friday at The Northside Grill - frugal options include breakfast dishes, soups and pastries
By Mary Bilyeu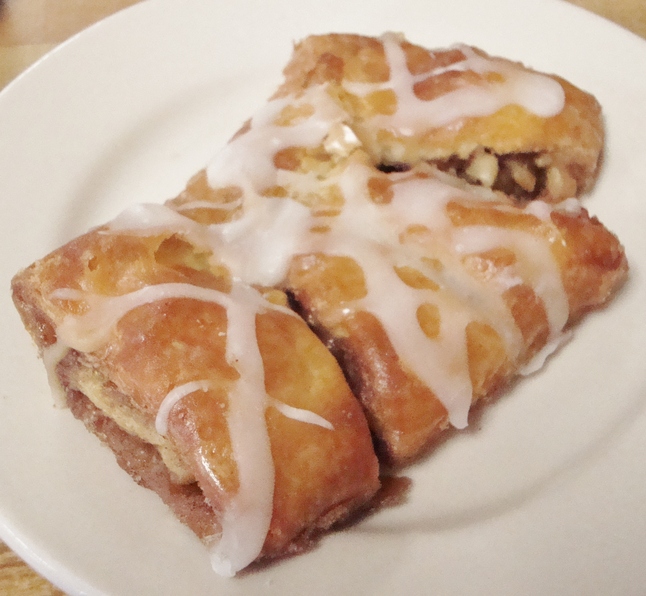 Mary Bilyeu, Contributor
Jeremy and I enjoyed a great breakfast at
The Northside Grill
this week, thus making it today's
Frugal Floozie Friday
feature. Tremendously friendly service, a festive atmosphere, and great food made it a wonderful place to visit!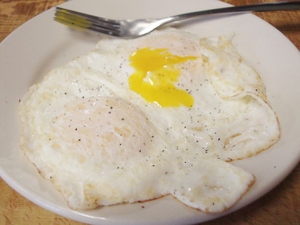 Mary Bilyeu | Contributor
I debated many options, as always, from the classic dish of an egg with hash browns and a biscuit to an assortment of side dishes to splitting a sandwich. But I settled upon two items, for a bit of variety: fried eggs served "over easy" plus a warm bear claw proudly made in-house. Generously filled with walnuts and fragrant with cinnamon, the pastry was perfect with my vanilla-flavored coffee. It was a tremendous value at only $2.29.
The eggs — costing a mere $1.25 each, ordered a la carte — were perfectly cooked, and were a nice complement to the sweet treat.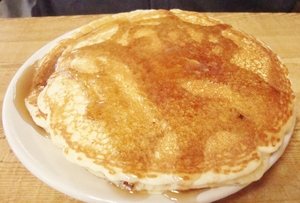 Mary Bilyeu | Contributor
Jeremy, as usual, was much more decisive than I was and readily settled upon the short stack of buttermilk pancakes for $4.39. This was an enormous serving that fully covered the plate, and I can't even imagine being able to finish a full portion! Tender and light, with just a hint of tartness in contrast to the syrup, Jeremy told me he can't remember the last time he enjoyed a plate of pancakes so much.
Another option, had we not been there for breakfast, would have been the Brownie Sundae "topped with ice cream, chocolate syrup, whipped cream, walnuts and a cherry. Enough for two!" At $5.75, this would readily have met our per person budgetary requirement.
From an assortment of side dishes to pastries, from muffins to soups and chilis, and even plate-sized single pancakes or servings of French toast, there are many frugal options to choose from at The Northside Grill. That you also get a warm welcome, free coffee refills, and the comfort of a neighborhood hang-out only makes the deals that much better.
Mary Bilyeu | Contributor
The Northside Grill
1015 Broadway
Ann Arbor, Michigan 48105
734-995-0965
Open 7 days a week from 7 a.m. - 3 p.m.

Mary Bilyeu writes for AnnArbor.com on Tuesdays, Wednesdays, and Fridays, telling about her adventures in the kitchen - making dinner, celebrating holidays, entering cooking contests, meeting new friends ... whatever strikes her fancy. She is also on a mission to find great deals for her Frugal Floozie Friday posts, seeking fabulous food at restaurants on the limited budget of only $5 per person. Feel free to email her with questions, comments, or suggestions: yentamary@gmail.com.

Go visit Mary's blog — Food Floozie — where she enthuses and effuses over all things food-related; and look for her monthly articles in the Washtenaw Jewish News. "Like" her on Facebook, or send a tweet on Twitter, too.

The phrase "You Should Only Be Happy" (written in Hebrew on the stone pictured in this post) comes from Deuteronomy 16:15 and is a wish for all her readers - when you come to visit here, may you always be happy.