Posted on
Fri, Jun 29, 2012 : 11 a.m.
Frugal Friday at The Songbird Cafe - try the baked goods and specialty drinks
By Mary Bilyeu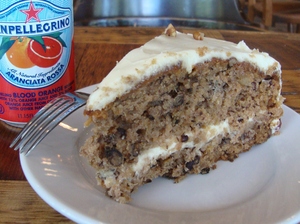 Mary Bilyeu | Contributor
The Songbird Cafe is the newest addition to the dining options on the northeast side of town, and so it's today's Frugal Floozie Friday feature in order to let everyone know that it's open for business and ready to welcome you.
Ann Arbor native Jenny Song and her mother, Youn, have opened this spot that is great whether you want to grab a quick coffee and cake to go or linger for awhile over a latte and lunch. (A greater variety of food options will be available imminently. But there are so many other treats that it's absolutely worth an initial visit before going back again once the salad bar, sandwiches and weekend brunch come along.)
The Hummingbird Cake pictured above — a Southern classic, and a very generous portion for $4 — is a rich, moist banana-walnut cake with a luscious, buttery, cream cheese frosting. This and other baked goods, such as scones and cookies, are provided by the People's Food Co-op, letting you support two local businesses at once when you cater to your sweet tooth.
I had heard the Samoa latte calling to me ever since the Cafe had posted about its "caramel, coconut, cocoa goodness" on Facebook a few days before my first visit. (And let me personally thank Taylor, one of the Songbird's "talented baristas," for creating this treat.) It was the liquid essence of my second-favorite Girl Scout cookie since, as we all know, Thin Mints reign supreme. This was creamy and definitely showcased the key flavors — a luxurious indulgence at $4.35.
All of the pastries, teas, coffees, juices, sodas, and specialty drinks fall within our mandatory frugal budget of $5 or less per person, ranging in price from $1.50 to $4.60. There are unique and intriguing lattes, from the seductive Nutella-flavored one to the Cardamom Rose and the Fig Vanilla Black Pepper varieties. There is also a Tangerine Lavender Hot Cocoa ... something to look forward to when cold weather returns to Michigan (and sadly, we all know it will ... though I wouldn't mind if it were just a tad cooler than 95 right now!).
Another really nice feature of The Songbird Cafe — besides the friendliness of Jenny and the staff, the delicious goodies, and the free wi-fi, among other perks — is the half-off sale on leftover baked goods. Stop by to pick up some scones or cookies for a midnight snack or for the next morning's breakfast!
Visit The Songbird Cafe and say "hi." With lots of light, it's very cheerful; with wood furniture, it offers warmth. And with great food and drink offerings, served by smiling staff, it'd be a lovely place to become a regular.



The Songbird Cafe
2707 Plymouth Road
Ann Arbor, MI 48105
734-761-1555
Monday: 7:30 a.m.-6 p.m.
Tuesday - Friday: 7:30 a.m.-10 p.m.
Saturday: 8 a.m.-10 p.m.
Sunday: 8 a.m.-6 p.m.

Mary Bilyeu
writes about her adventures in the kitchen - making dinner, celebrating holidays, entering cooking contests ... whatever strikes her fancy. She is also on a mission to find great deals for her Frugal Floozie Friday posts, seeking fabulous food at restaurants on the limited budget of only $5 per person. Feel free to email her with questions or comments or suggestions:
yentamary@gmail.com
.
You should visit Mary's blog — Food Floozie — on which she enthuses and effuses over all things food-related. And be sure to look for her monthly articles about holiday foods and traditions in the Washtenaw Jewish News.
The phrase "You Should Only Be Happy" (written in Hebrew on the stone pictured in this post) comes from Deuteronomy 16:15 and is a wish for all her readers - when you come to visit here, may you always be happy.