Posted on
Fri, Jul 20, 2012 : 10:30 a.m.
Frugal Friday at The Village Pub: Get a bargain with half-off appetizers on Sunday
By Mary Bilyeu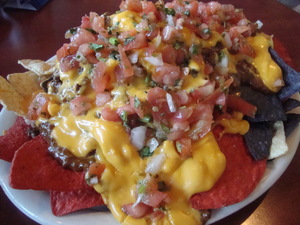 Mary Bilyeu | Contributor
Today's Frugal Floozie Friday feature —
The Village Pub
— is a boon to a hearty eater on a tight budget. Not only does it already offer very reasonable prices for generous portions of food; but my family and I found out completely serendipitously that on Sundays all appetizers — precisely what we'd ordered, without realizing there were any special circumstances — are
half-price
for the entire day.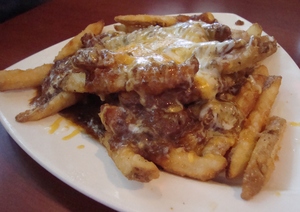 Mary Bilyeu | Contributor
So when Jeremy ordered the Loaded Fries at $4.99 for an entire plateful, we thought he was just squeaking in under our mandatory budget of $5 per person or less. Little did we know that this large serving (which he couldn't even finish, thus providing me with leftovers for an excellent breakfast the next morning) would ultimately cost only $2.50.
The chili had just the right amount of spice to it — not bland, not hot — and the fries that weren't buried were perfectly crisp on the outside and tender in the center. The potatoes weren't just an afterthought, a mere vehicle for the topping; they were excellent on their own.
Stuart and I split the Pile High Nachos, pictured above, which were laden with cheese sauce, spiced beef, onions and tomatoes; the dish is served with sour cream and a fresh salsa. These normally cost $7.99 ($4 on Sundays) and were a lot of food even for two good eaters. Both the nachos and the fries can be ordered either with shredded cheese or with the meltingly gooey sauce.
We received great friendly service, even though the bartender was manning the fort by himself and handling both bar and dining patrons. The space is sophisticated, featuring some lovely art work; it's not just a standard sports-watching venue even though a multitude of televisions lines the walls so that junkies can get their fix of baseball, soccer, NASCAR, dodgeball, or anything else that's being played.
Cottage Inn pizza is available, and there are substantial sandwiches to halve — steak or chicken Philly, New York Reuben, grilled salmon, or chicken bruschetta — ranging in price from $7.99-$8.99. There are a number of appetizers to choose from, and they're perfect for sharing with family and friends. For $7.99, you can split Village Wings, a chicken and vegetable quesadilla, or chicken tenders; for $8.99, you can share Big Bang Shrimp or calamari. And remember, on Sundays these starters are all half-price.
Perfectly located along Washtenaw, the Pub is across the street from Arborland Mall, ready to feed hungry shoppers. It's convenient for those travelling between Ann Arbor and Ypsilanti, those exiting off US-23... really, it's all about location, location, location. And great food at that location!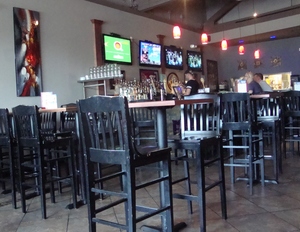 Mary Bilyeu, Contributor
The Village Pub
3452 Washtenaw Ave.
Ann Arbor, MI 48104
734-929-5370

Mary Bilyeu writes for AnnArbor.com on Tuesdays, Thursdays, and Fridays, telling about her adventures in the kitchen - making dinner, celebrating holidays, entering cooking contests, meeting new friends ... whatever strikes her fancy. She is also on a mission to find great deals for her Frugal Floozie Friday posts, seeking fabulous food at restaurants on the limited budget of only $5 per person. Feel free to email her with questions, comments, or suggestions: yentamary@gmail.com.

Go visit Mary's blog — Food Floozie — where she enthuses and effuses over all things food-related on Mondays, Wednesdays, and Fridays; and look for her monthly articles in the Washtenaw Jewish News. "Like" her on Facebook, or send a tweet on Twitter, too.

The phrase "You Should Only Be Happy" (written in Hebrew on the stone pictured in this post) comes from Deuteronomy 16:15 and is a wish for all her readers - when you come to visit here, may you always be happy.