Posted on
Fri, Jun 1, 2012 : 10:30 a.m.
Frugal Friday at the Wolverine Grill features inexpensive but quality diner fare
By Mary Bilyeu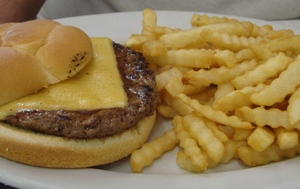 Mary Bilyeu | Contributor
Today's Frugal Floozie Friday feature is the Wolverine Grill, which is now under new and wonderfully friendly management. As Jeremy and I stood outside the restaurant perusing the menu, one of the waitresses came right out and welcomed us, inviting us in for lunch with such genuine warmth and sincerity that we couldn't have refused even if we'd had other plans.
The first thing we noticed was a sign advertising a great deal that just meets our mandatory $5 budget: a burger combo that includes fries and a 16-ounce drink. Just be sure to get to the Grill between 11 a.m. and noon (Early Bird) or 2-3 p.m. (Late Bird) Tuesday through Friday, and this great money-saver can be yours!

Although we didn't arrive during the appointed hours for the special pricing, we still ordered burgers, which we'd been craving. I ordered a plain one with creamy cole slaw while Jeremy ordered the cheeseburger pictured above, and they were brought out very quickly. We were enjoying the sunshine in the bright space and chatting with the wonderful waitresses about flip-flops and good weather and the variety of options on the menu, which only made our already-short wait seem even more brief.
Jeremy normally loads a burger up with condiments; but because this one had a nice charring from the grill and smelled so good, he tried it "as is." "I didn't even have ketchup or mustard on it, and it's delicious!" he declared.
And it really was very good — not doused with sauces or inundated with sloppy toppings that cover up the flavors. There is beauty in the simplicity of just a good ol'-fashioned burger, cooked to juicy perfection, on a summery day.
But even if you don't take advantage of that special $5 offer, there are lots of other ways to eat well at the Wolverine Grill while economizing. Breakfast is served at any time. And for $4.95, you can get two eggs "almost any style" with a choice of meat, plus potatoes and toast. A tall stack of three pancakes is only $4, or you can order a short stack for $3 and add in chocolate chips or blueberries for an extra $1.50.
The consummate comfort food — grilled cheese — is offered for $4.75, and includes a choice of "fries, cup of soup, a side salad, or coleslaw." Daily soups cost only $2. And to satisfy your sweet tooth, you can get a one-scoop hot fudge sundae for a mere $1.50, or floats made with either Vernor's or root beer for $3.
There are several vegetarian options, noted on the menu for ease in finding them, such as a side dish of vegetables with hummus for $4.95. The Wolverine Grill also features some Michigan-made items: Paramount Coffee, roasted in Lansing, is served Monday through Saturday, while beans from Ypsilanti's own Ugly Mug Cafe and Roastery are featured on Sundays (and refills are free). Dearborn Ham and Detroit Sausage Company products are also proudly offered.
The cook was helping out at the cash register as we left; I asked him about some of the more distinctive menu options, such as that day's special: a grilled pork chop with kale, braised cabbage, almonds, and grilled Yukon Gold potatoes. I was curious about his training, since he was offering something more distinctive than standard diner fare.
But he just chuckled and said he'd been a family cook for 13 years, and asked "Does that count for anything?" Clearly, he just likes to serve old favorites while giving some of them a new twist, keeping a wide range of customers happy.
I particularly love following the daily specials on the Grill's Facebook page; they're always accompanied by enticements such as "Hey Ypsilanti! I am thinking it's a sign that the freckles in our eyes are mirror images and when we kiss they're perfectly aligned" and "Can't think of anything that I'd rather do than spend some time showing that my love is true with my two favorite things — Dinosaur Jr. and you." The menu items sound wonderful, but the "pick-up lines" are the best!
The Grill's ambience is quaint, with traditional counters and booths as well as charming waitresses who make you feel as though you're visiting with old friends even on your first visit to the place. With blues playing overhead and the comfortable sense that you'd be welcome to loiter and chitchat all day long nursing coffee refills after your meal, the Wolverine Grill was a great place to visit, the kind of place where you'll want to become a regular.

Wolverine Grill
228 W. Michigan Ave.
Ypsilanti, MI 48197
734-483-1727
Summer Hours:
Monday - Friday: 9 a.m.-3 p.m.
Saturday - Sunday: 8 a.m.-3 p.m.

Mary Bilyeu
writes about her adventures in the kitchen - making dinner, celebrating holidays, entering cooking contests ... whatever strikes her fancy. She is also on a mission to find great deals for her Frugal Floozie Friday posts, seeking fabulous food at restaurants on the limited budget of only $5 per person. Feel free to email her with questions or comments or suggestions:
yentamary@gmail.com
.
You should visit Mary's blog — Food Floozie — on which she enthuses and effuses over all things food-related. And be sure to look for her monthly articles about holiday foods and traditions in the Washtenaw Jewish News.
The phrase "You Should Only Be Happy" (written in Hebrew on the stone pictured in this post) comes from Deuteronomy 16:15 and is a wish for all her readers - when you come to visit here, may you always be happy.