Posted on
Fri, Jan 20, 2012 : 10 a.m.
Frugal Friday at Tower Inn Cafe - inexpensive options range from appetizers to pizza and dessert
By Mary Bilyeu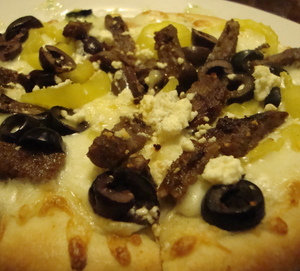 Mary Bilyeu | Contributor
My BFF Wendy and I ate a great dinner recently, at a place that she's been to numerous times but I hadn't been to in ages. Today's Frugal Floozie Friday feature is the Tower Inn Cafe, an Ypsilanti institution.
There is an extensive menu of appetizers, pizzas, pastas, sandwiches, salads and burgers ... needless to say, it took a bit of time to decide among all the fabulous options. Each of us ordered something that could be readily split and shared and which could come in at $5 or less per person to meet our mandatory budget.
The Parthenon-Greco pizza featured garlic, herbs, gyro meat, yellow peppers, feta cheese and Kalamata olives... sigh. The small pizza cost $10.99; it's 10 inches in diameter, so the servings are very generous even if shared with three others to bring it within our Frugal Floozie Friday budget. It was rich, salty, zesty and exceptionally good.
The Spinach Pie Bourekitos, for $7.99, were flaky and delicate; they also came with a lovely rice side dish featuring spinach and herbs for flavor.
And then there was dessert:

For $3.99, Wendy chose the Snickers cheesecake, and I was fortunate enough to snag the very last piece of the Oreo variety. Rich, creamy, and utterly decadent, these were so incredibly good, and a perfect way to end our meal.
The cafe has a wide range of options for Frugal Floozie Friday or for any time. As the owner, Rois Savvides, writes in a note on the menu: "Our food is made with tons of love, and we are trying to win your hearts as well, every day."
Tower Inn has, indeed, won our hearts.

Tower Inn Cafe
701 W. Cross St.
Ypsilanti, MI 48197
734-487-4000

Mary Bilyeu writes about her adventures in the kitchen - making dinner, celebrating holidays, entering cooking contests ... whatever strikes her fancy. She is also on a mission to find great deals for her Frugal Floozie Friday posts, seeking fabulous food at restaurants on the limited budget of only $5 per person. Feel free to email her with questions or comments or suggestions: yentamary@gmail.com.
You should also visit Mary's blog — Food Floozie — on which she enthuses and effuses over all things food-related.


The phrase "You Should Only Be Happy" (written in Hebrew on the stone pictured in this post) comes from Deuteronomy 16:15 and is a wish for all her readers - when you come to visit here, may you always be happy.