Posted on
Fri, May 31, 2013 : 12:50 p.m.
Frugal Friday at Uptown Coney Island - many inexpensive options for comfort food
By Mary Bilyeu
Mary Bilyeu | Contributor
Frugal Floozie Friday is a feature that seeks out dishes — appetizers, drinks, snacks, desserts, sandwiches, whatever — for $5 or less per person. Sometimes I split generously-sized items with loved ones, saving both money and calories; sometimes I find a great deal on a single serving that fits perfectly within the mandatory budget. I try to showcase several options to choose from, and you never know where I'll find them. Check out the column every Friday!
After a day of thrift shopping, Craig and I needed a bit of sustenance. We were near Uptown Coney Island, so decided to stop there for dinner; a bit of comfort food, and a menu with a great deal of variety, sounded ideal.
Mary Bilyeu | Contributor
You don't go to a diner for healthy options, so I didn't even bother looking at the array of salads. I ordered the Grilled Ham and Cheese pictured above, which came with pickles and chips for $4.99. A plain grilled cheese — triple stacked with your choice of American. Swiss, or Cheddar — costs $3.99. Or you could indulge in the classic BLT for $4.99.
A small order of the Chili Cheese Fries costs $3.29; a large costs $3.99. These were really good, as the fries were nice and crispy and held up to the chili. Often the fries are neglected in this dish (yes, I've tried enough samples to be able to discuss this!), since they're just getting buried anyway. But it's infinitely better when the fries are sturdy instead of soggy.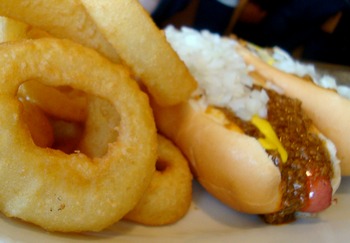 Mary Bilyeu | Contributor
Craig ordered the Coney Island because, of course, it's what these places do best! A single costs $1.99, and the Coney Special — topped with seasoned ground beef, chili, mustard, and onions — can be enjoyed for $2.99. Add fries, coleslaw, or soup for $1.59, or add cheese for 39 cents. The onion rings cost $3.49, ordered separately.
There are other options at Uptown Coney Island that qualify for our mandatory $5 per person Frugal Floozie Friday budget: a Cheese Quesadilla costs $4.99; soup is available for $1.99 (cup) or $2.99 (bowl); and chili for $2.29 (cup) or $3.09 (bowl). A cheeseburger costs $4.99.
Breakfast also offers many inexpensive choices: a cheese omelet for $4.79; a cinnamon roll for $2.39; a bagel with cream cheese for $2.29; or a short stack of pancakes with either blueberries or pecans for $4.49. The Bagel Breakfast — two eggs with bacon or ham or sausage, a choice of cheese, and hash browns — costs only $3.99. And Donna's Biscuits & Sausage Gravy with hash browns or two eggs is only $4.99.
And, of course, don't forget dessert; options range from baklava for $1.99 to slices of pie ($2.99-3.99), homemade Rice Pudding for $2.29 to the Brownie Delight (a sundae) for $3.59.
A very friendly, welcoming place with good food for good prices, Uptown Coney Island is definitely worth a visit!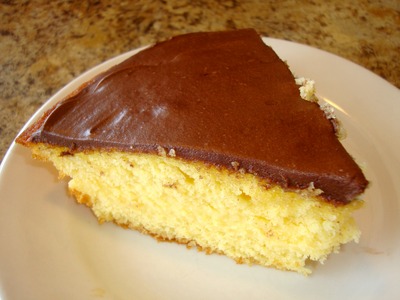 Mary Bilyeu, Contributor
Uptown Coney Island
3917 Jackson Road
Ann Arbor, MI 48103
734-665-5909
Monday - Saturday: 7 a.m. - 9 p.m.
Sunday: 7 a.m. - 4 p.m.

Mary Bilyeu writes for AnnArbor.com on Tuesdays, Wednesdays, and Fridays, telling about her adventures in the kitchen - making dinner, celebrating holidays, entering cooking contests, meeting new friends ... whatever strikes her fancy. She is also on a mission to find great deals for her Frugal Floozie Friday posts, seeking fabulous food at restaurants on the limited budget of only $5 per person. Feel free to email her with questions, comments, or suggestions: yentamary@gmail.com.

Go visit Mary's blog — Food Floozie — where she enthuses and effuses over all things food-related; and look for her monthly articles in the Washtenaw Jewish News. "Like" her on Facebook, or send a tweet on Twitter, too.

The phrase "You Should Only Be Happy" (written in Hebrew on the stone pictured in this post) comes from Deuteronomy 16:15 and is a wish for all her readers - when you come to visit here, may you always be happy.