Posted on
Fri, Jun 7, 2013 : 8:45 a.m.
Frugal Friday at Village Kitchen - carrot cake is just one of many inexpensive comfort food options
By Mary Bilyeu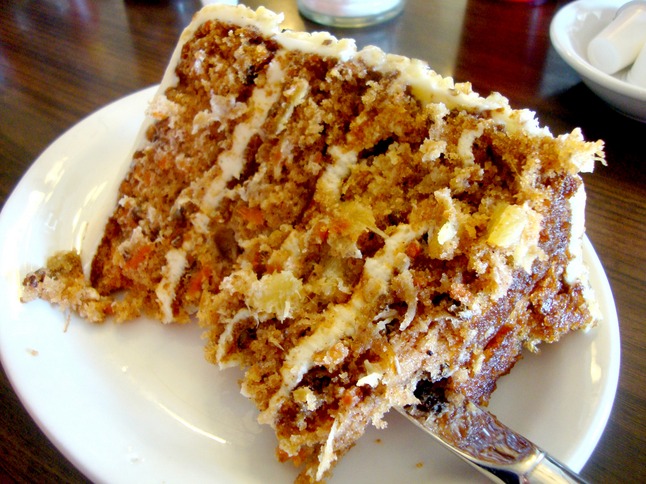 Mary Bilyeu | Contributor
Frugal Floozie Friday is a feature that seeks out dishes - appetizers, drinks, snacks, desserts, sandwiches, whatever - for $5 or less per person. Sometimes I split generously-sized items with loved ones, saving both money and calories; sometimes I find a great deal on a single serving that fits perfectly within the mandatory budget. I try to showcase several options to choose from, and you never know where I'll find them. Check out the column every Friday!
Jeremy, Craig, and I recently stopped by Village Kitchen for a late afternoon snack; I thought I might have something small, something savory.
And then I walked past the dessert case, and became completely smitten with the carrot cake. It was all I could think of, all I could hear calling me.
I was seduced. I succumbed.
But even I couldn't eat this entire four-layer sugar-fest all by myself; happily Craig split it with me. This is so rich, so intense, so wonderful! I couldn't resist. And at nearly $8 per slice, it's an ideal sweet treat to share with a sweetheart while staying within our mandatory $5 per person Frugal Floozie Friday budget.
Besides the array of lovely desserts, there is an entire array of other cost-conscious options at Village Kitchen.
Start your morning with a short stack of pancakes for $4.29 or hot oatmeal with sliced banana and brown sugar for $4.49. If you want something sweet, a warm danish costs $2.59.
Moving on through the day, Ms. Elizabeth's Soup Kettle offers selections that are made fresh daily. The Village Chili Bowl with cheddar cheese and onions can be enjoyed for $3.59 (cup) or $4.79 (bowl). The soup of the day, served with bread and butter or with crackers, costs $2.79 for a cup and $3.59 for a bowl. On Fridays, you can have chowder for an extra $1 beyond the soup prices.
Everything on the "Kids' Corner" menu costs $4.99: an egg and toast, silver dollar pancakes, or French toast are all served with bacon or sausage; a grilled cheese sandwich or two chicken strips come with applesauce; and spaghetti is accompanied by garlic toast.
While all of this sounds great — comfort food extraordinaire — I have to admit that when I go back to Village Kitchen, I'll still likely enjoy the carrot cake again. And I'll still share it with a loved one.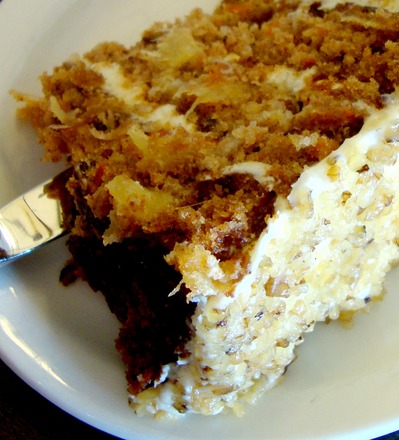 Mary Bilyeu, Contributor
Village Kitchen
241 N. Maple Road
Ann Arbor, MI 48103
734-995-0054

Mary Bilyeu - a self-proclaimed Food Floozie (named for her blog, which is taking a summer vacation) - writes for AnnArbor.com on Tuesdays, Wednesdays, and Fridays, telling about her adventures in the kitchen ... whatever strikes her fancy. She is also on a mission to find great deals for her Frugal Floozie Friday posts, seeking fabulous food at restaurants on the limited budget of only $5 per person. Feel free to email her with questions, comments, or suggestions: yentamary@gmail.com.

The phrase "You Should Only Be Happy" (written in Hebrew on the stone pictured in this post) comes from Deuteronomy 16:15 and is a wish for all her readers - when you come to visit here, may you always be happy.