Posted on
Fri, Nov 23, 2012 : 5 p.m.
Frugal Friday at Zamaan Cafe - meat pies or grape leaves will satisfy without emptying your wallet
By Mary Bilyeu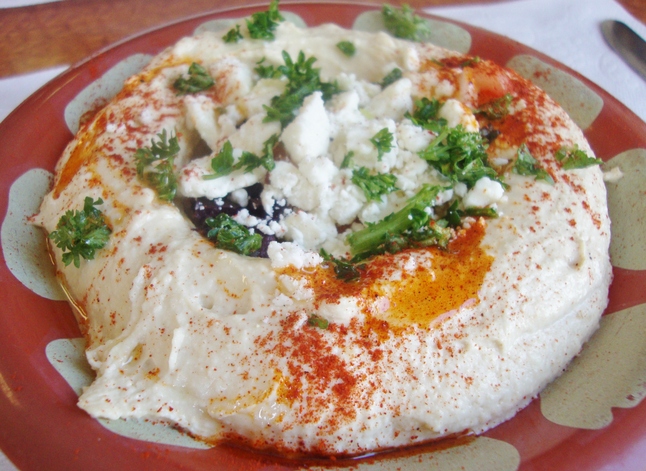 Mary Bilyeu | Contributor
I've enjoyed several lovely meals with loved ones, recently, at
Zamaan Cafe
— today's
Frugal Floozie Friday
feature. Good food, good service, good prices ... what more do you need?
The Baladi pictured above — hummus topped with tomatoes, red onions, black olives, parsley, and feta — was rich, creamy, and presented beautifully. (Hummus is a fairly bland-looking beige food, most of the time; this was enticing!) Served with a generous portion of pita bread, it was large enough to share but good enough to guard selfishly against those who might want to help deplete your supply.
At only $4.99, it falls within our mandatory $5 per person budget either way. Craig was happy to help me polish off the serving, which was larger than I could finish on my own despite my being a hearty eater.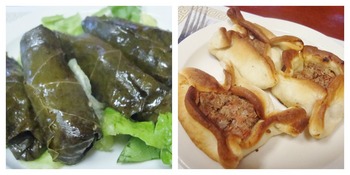 Mary Bilyeu | Contributor
The meat pies are tender, with a soft rather than stiff dough; the filling is enhanced with onions, tomatoes and spices. Often these can be dry, but at Zamaan Cafe they are very moist and full of flavor. At $3.99, they are an excellent value. Spinach pies are available, too, for the same price.
A plate of grape leaves, either meat-filled or vegetarian, costs $4.99. The latter variety — stuffed with rice, parsley, onions, tomatoes, spices and olive oil — are tender, and feature a bright tartness. Jeremy has never been a fan of these before and yet helped me devour this plateful.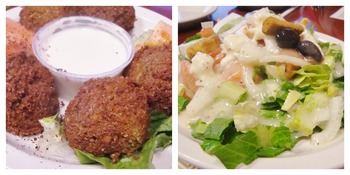 Mary Bilyeu | Contributor
The falafel, at $4.99, was another excellent value. Jeremy polished these off without even offering me a taste! But since I was enjoying my small — in name only — Greek salad (a mere $3.99), that was okay.
A pastry case offers different varieties of baklava, as well as honey cake; desserts cost less than $2 each, some far less. The walnut and pistachio treats pictured here cost $1.29 each, and are a perfect way to end a meal.
For friendly service, great value, and delicious food, try Zamaan Cafe!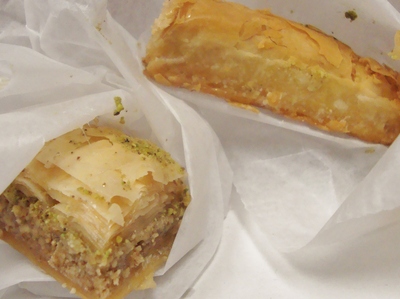 Mary Bilyeu, Contributor
Zamaan Cafe
3580 Plymouth Road
Ann Arbor, MI 48105
734-213-3350
Monday - Saturday: 10:30 a.m. - 9 p.m.
Sunday: 11 a.m. - 8 p.m.

Mary Bilyeu writes for AnnArbor.com on Tuesdays, Wednesdays, and Fridays, telling about her adventures in the kitchen - making dinner, celebrating holidays, entering cooking contests, meeting new friends ... whatever strikes her fancy. She is also on a mission to find great deals for her Frugal Floozie Friday posts, seeking fabulous food at restaurants on the limited budget of only $5 per person. Feel free to email her with questions, comments, or suggestions: yentamary@gmail.com.

Go visit Mary's blog — Food Floozie — where she enthuses and effuses over all things food-related; and look for her monthly articles in the Washtenaw Jewish News. "Like" her on Facebook, or send a tweet on Twitter, too.

The phrase "You Should Only Be Happy" (written in Hebrew on the stone pictured in this post) comes from Deuteronomy 16:15 and is a wish for all her readers - when you come to visit here, may you always be happy.