Posted on
Tue, May 10, 2011 : 11:22 a.m.
Garlic-Herb Papparadelle with Fiddlehead Ferns and Tomatoes
By Peggy Lampman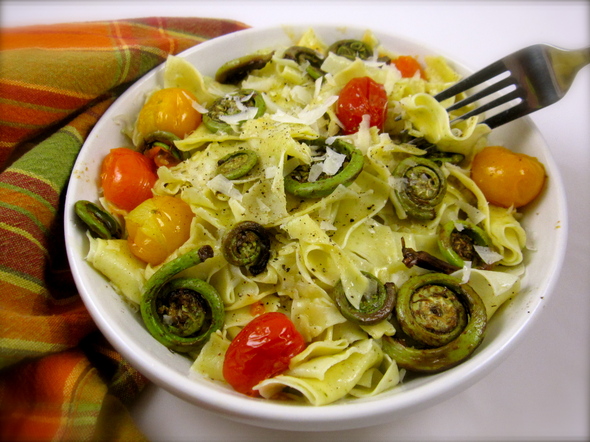 Peggy Lampman | Contributor

Peggy Lampman's Tuesday dinnerFeed
If I could bestow a flavor profile to the woods after a rainfall in May, its taste would be fiddlehead ferns and morel mushrooms. In fact, about this time last year I made a Morel and Fiddlehead Fern Gratin, in celebration of the spring.
According to Wikipedia, fiddlehead ferns, named after the scroll of a violin, are the unfurled fronds of a fern, available fresh only in the spring. I picked up a batch at The Produce Station.
In Indonesia, fiddleheads are sometimes cooked with coconut milk, peppers, lemongrass, galangal and turmeric leaves. In Korea they may be found as a component in bibimbap. In North America they are often blanched and eaten, like asparagus, with lemon-butter sauce or hollandaise.
In fact, the flavor of these snail-resembling fronds taste like earth asparagus. Flavor of garlic and herbs in the locally-produced Al Dente Pasta was all the seasoning this simple supper required.
Yield: 2-3 main course servings
Ingredients
2 cups fiddlehead ferns, washed
3 tablespoons extra virgin olive oil
2 cups cherry tomatoes
8 ounces paparadelle, such as Al Dente Garlic-Herb Papparadelle
Parmesan Reggiano
Directions
1. Bring two large pots of salted water to a boil. In one pot, blanche fiddleheads, as you would fresh asparagus, 2-3 minutes or until crisp-tender. Drain in colander and reserve. Meanwhile, bring a large pot of salted water to a boil and cook noodles according to package instructions, or until they are tender yet firm. Drain and toss with 1 tablespoon olive oil so they don't stick together.
2. Heat remaining olive oil in a large sauté pan to medium heat. Add tomatoes to pan and cook until they are just beginning to wrinkle. Add fiddleheads to pan and continue cooking until tomatoes are just beginning to collapse and release their juices.
3. Toss vegetables with pasta. Season to taste with kosher salt, freshly ground pepper and Parmesan and serve.

Looking for a specific recipe? Click here for dinnerFeed's recipe search engine; type the recipe or ingredient into the search box. I am a real-time food writer and photographer posting daily feeds on my website and in the Food & Drink section of Annarbor.com. You may also e-mail me at peggy@dinnerfeed.com.